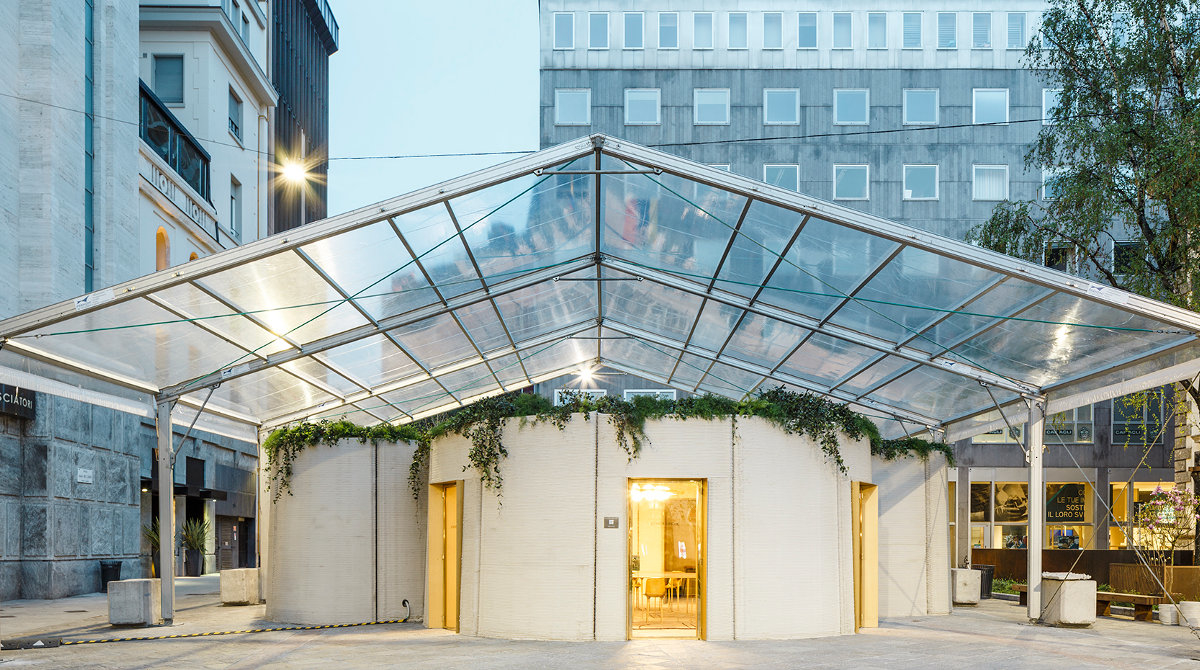 Engineering firm Arup and architecture studio CLS Architetti recently developed a 3d-printed 100 sq.m. house, printed onsite on Milan's Piazza Cesare Beccaria, over the course of a week. Made up of 35 modules, the house features curved walls, a living area, bedroom, kitchen and bathroom.
For the interiors the studio worked with equally strong and timeless materials: the brass of the window frames, the marble of the bath fixtures, the smoothed plaster as one of the possible wall finishes, the sheets of polished brass for a reinterpreted industrial kitchen. The stratification of the concrete generates a pattern, a surface on which climbing plants can grow spontaneously, reaching the roof which becomes an urban garden. "The project comes from the desire to think about our future, to improve quality of life through the revolution of technology." CLS Architetti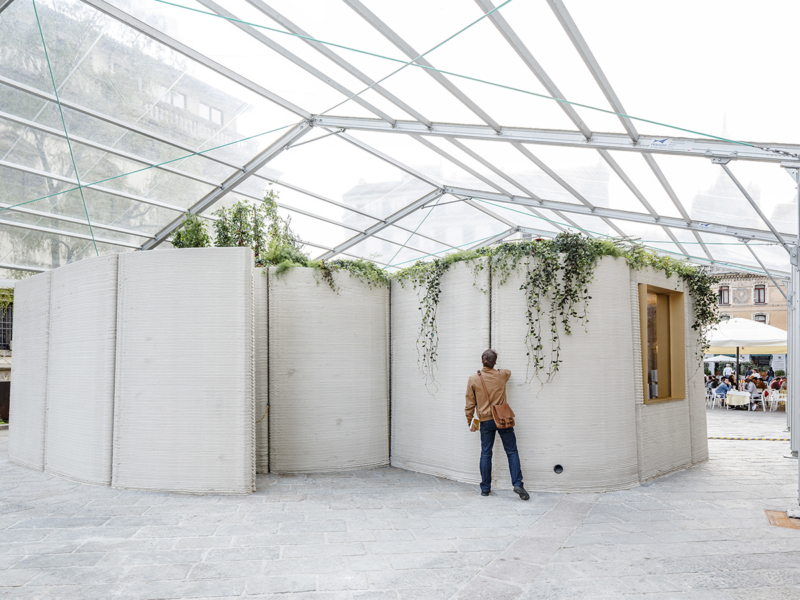 The walls were was built by a robot designed by Cybe Construction, a 3D printing company from Poland, using a special mix of concrete and additives developed by Italcementi, one of the world's largest cement suppliers; roof, windows and doors were added afterwards. Arup stated that the full house was printed in just 48 hours effective time.
"Each section of wall takes around an hour to build and the concrete cures in five minutes…There are possibilities to programme the robot to make them larger or smaller or maybe even different shapes. You can also print furniture." said CLS Architetti studio. "We really hope to move the project on to build a real house as this one is only a prototype… We want to study the foundations, joints and connections and understand how it can last not only for just one week, but for years."
The printed house is a prototype but the firms are working to develop it. CLS Architetti believes that the technology could be used to create housing quickly and cost-effectively where it is needed the most. At the end of Milan design week, the house will be transported to Italcementi's headquarters to be displayed, each of the modules will be lifted and transported separately, then reassembled on site.
Vist CLS Architetti website to know more about the project!
All Rights reserved to CLS Architetti