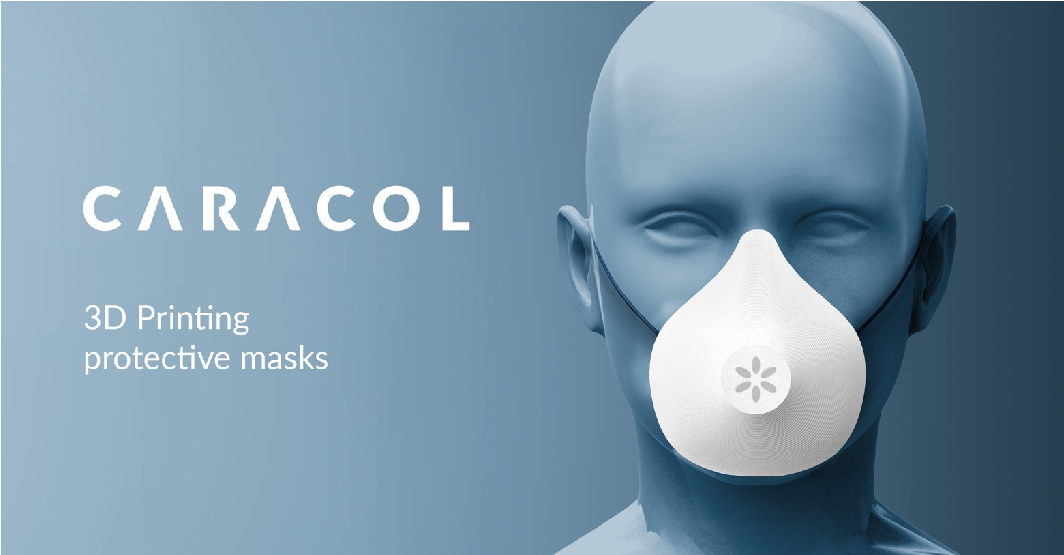 3D PRINTED FILTERED PROTECTIVE MASKS, CARACOL
During such a difficult time for our country, inspired by the many initiatives that have been launched to support who is fighting COVID-19 on the frontlines, Caracol (previously on WeVux) couldn't sit and watch. The company decided to fully dedicate 15 of its 3D industrial printers in its Lomazzo production center to print protective masks intended for all those who are working on the frontlines.
The protective masks are printed in a polymeric material and, thanks to the collaboration with a certified company in the medical sector, they are equipped with a substitutable electrostatic filter, antibacterial and antiviral. The characteristics of this mask allow it to be disinfected and reused every day, simply by substituting the filter daily. This guarantees a safe and sustainable product.
After having concluded the development, design and engineering phases, the product was prototyped. This allowed Caracol to proceed with the certification process, aligned with the directions provided in the Art.15 of the law decree from March 17, 2020, n.18, ensuring the product's compliance with the needs of institutions.
After having received approval line production will start, initially producing around 2500 individual protection devices per week and 75 thousand single use filters. The objective is to extend production in a very short time, up to 10 thousand devices per week and 300 thousand filters.
Caracol is open to receiving collaboration and support on the project from whoever wants to help by lending some of their production capacity, supplying accessories (e.g., elastic, packaging, …), and supporting the project.
You can help who's fighting on the frontlines with a donation and by sharing this initiative! Here you can find Caracol's GoFundMe campaign for 3D Printed Antiviral Filtered Protective Masks!
To fight this battle, we need everyone's contribution and network.
v