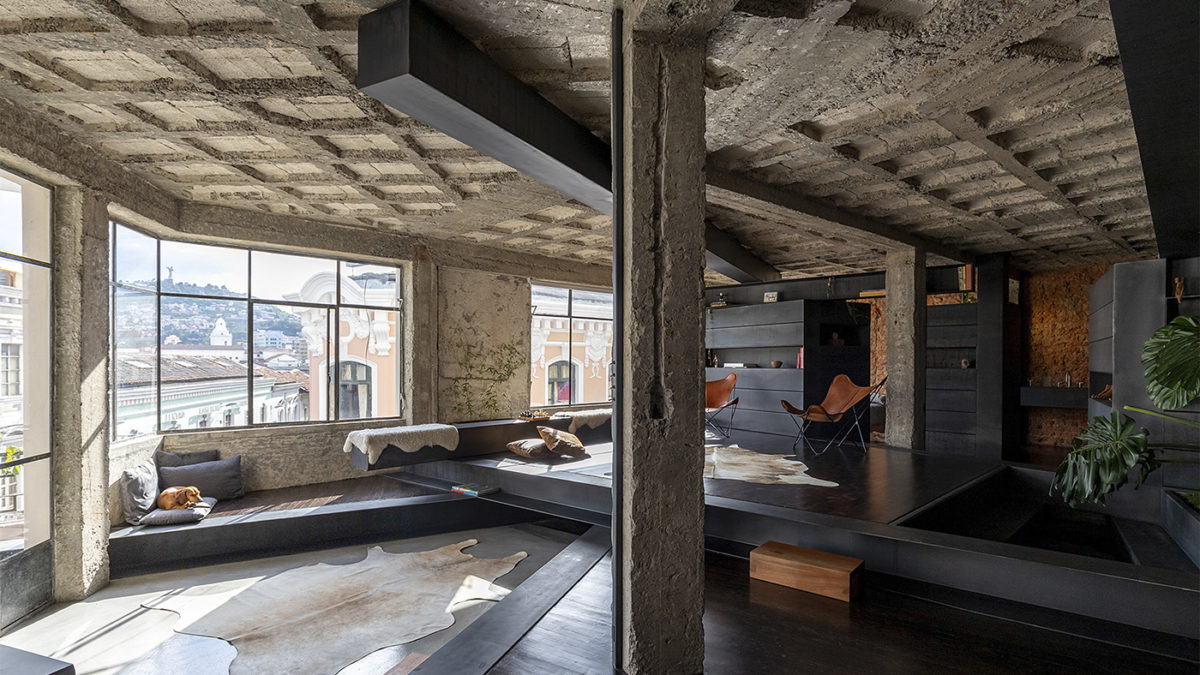 A FOREST HOUSE, rethinking domestic spaces
A Forest House is a renovation project for an apartment located in a 1970s building in Quito's historic center, Ecuador. Following a request from the couple's son who said he "wanted to feel part of the house at all times". Local architect Aquiles Jarrín started looking for a new interpretation of the space. He demolished all the dividing walls of the residence and removed the finishes, revealing the existing rough ceilings, brick walls, and concrete columns. The latter formed a defining part of the project development, no longer structural elements but "tree trunks".
This metaphor of the space was defining for the entire design and understanding of the project: it's no longer a domestic space, but a wilder world, a forest.
c
c
Jarrín added a series of black-metal interventions, including floor beams that change levels to different areas, and ceiling beams that act as bookshelves and planters and cabinets. All the elements were manufactured within the space, transforming it into a temporary lab. "Metal was the most suitable material for this project because its characteristics allowed a more versatile use; the pieces could be structural and part of the furniture at the same time…" the architect said.
The different floors are covered in dark chonta wood from South America, chosen to match the hues of the black steel. The changing floor levels are used to frame a lounge on the lowest level with views of the surrounding city. One of the gaps between the crisscrossing beams forms a pool in the middle of the lounge. The kitchen occupies a level one step up and features a black metal island. At the rear of the apartment, large cabinets act as dividers to two bedrooms and two bathrooms. One of the bedrooms abuts to a patio that is filled with green and wrapped by glazed walls. Additional privacy can also be provided by curtains that attach to the beams via magnets. There are no doors but only curtains, inviting new logics of respect and intimacy among the inhabitants of the forest.
Follow Aquiles Jarrín on Instagram!
Photo by JAG studio
C