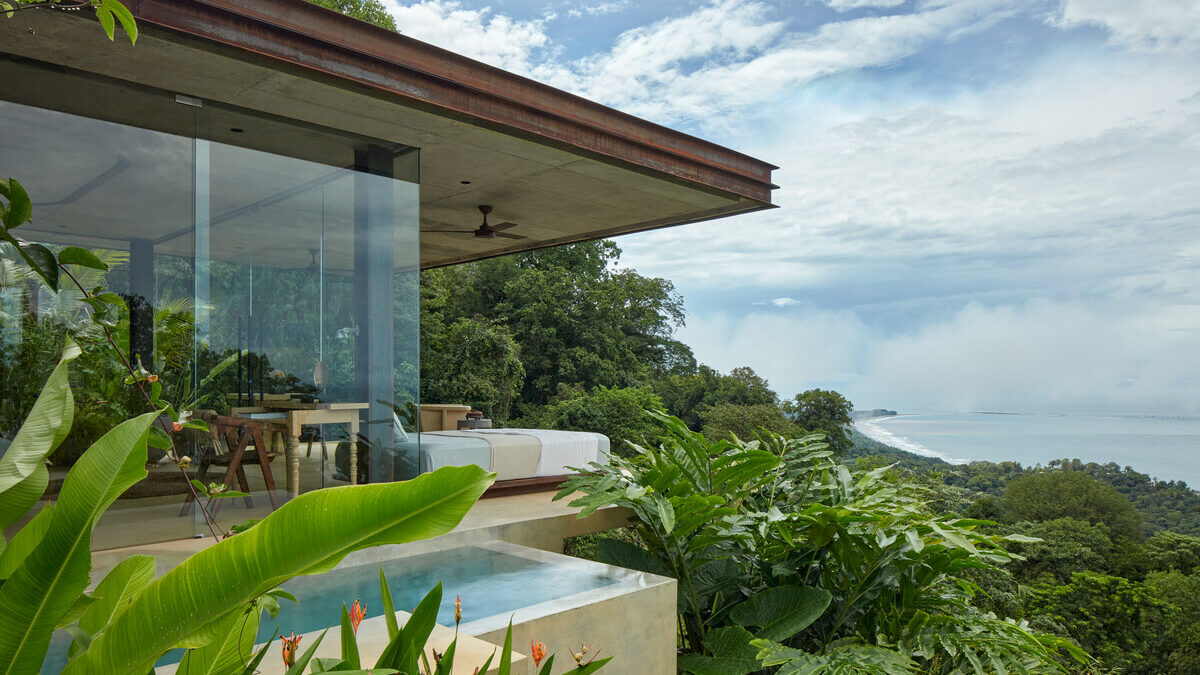 ACHIOTÉ, two rammed-earth villas by Formafatal
Achioté is the very first rammed-earth implementation in Costa Rica. Designed by Formafatal studio, previously on WeVux with the COCO Art Villas, the two summer houses are located on a jungle-overgrown hill near the town of Uvita, on a plot of 11,000sqm, 300m above the sea. Both villas, which seem to levitate above the steep slope, are designed for short-term recreational rentals. Each of them has an area of 90 sqm.
Dagmar Štěpánová, founder of Formafatal, says "My intention was to design sustainable houses with biophilic interiors, which will be sophisticatedly thought-up and at the same time their shaping will be strongly minimalist and simple. No unnecessary extra element, but also nothing to miss."
To realize the rammed-earth walls, she invited a specialist from Brazil, the owner of the Terra Compacta company, Daniel Mantovani. He trained several local artisans and together they created the first rammed-earth architecture in Costa Rica. All these walls were created using clay soil from the excavations for the construction.
c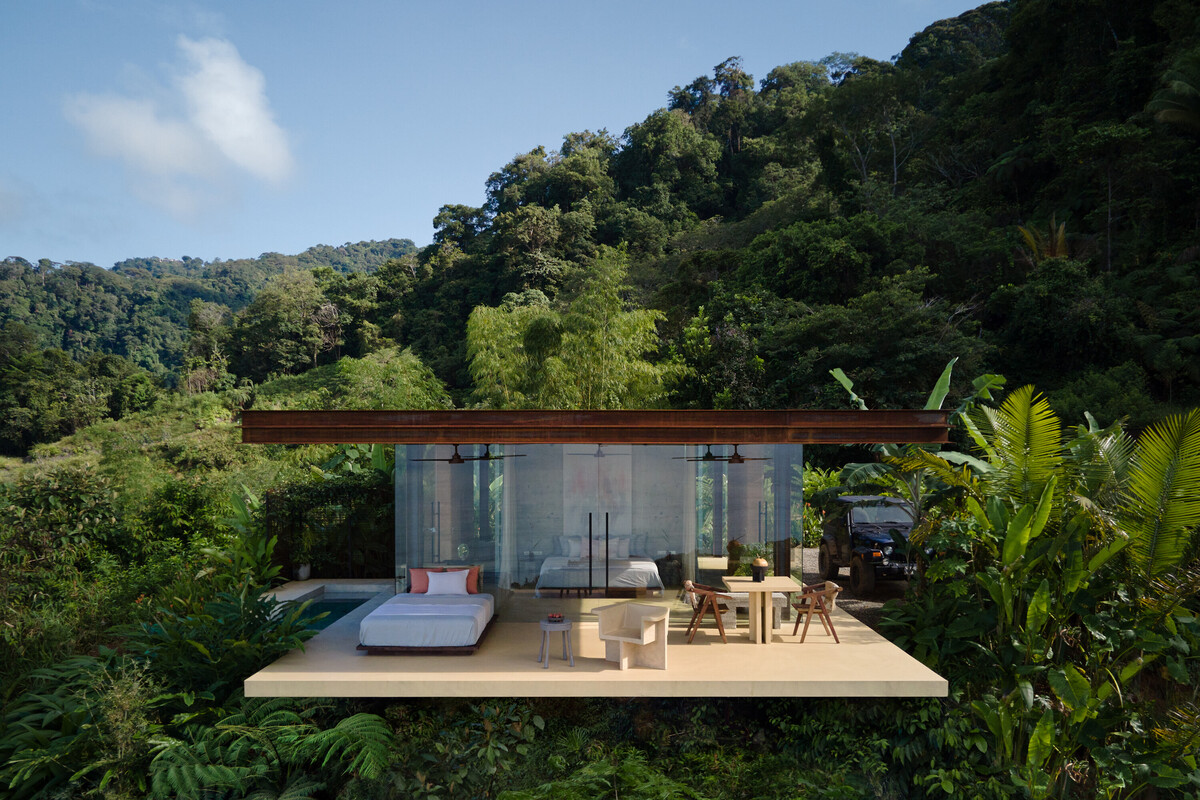 c
The architecture of the villas, with its thin and sharp lines, is designed in contrast to the lush tropical vegetation, but the chosen materials and colors are perfectly in harmony with the surrounding environment. Both villas are architecturally the same. Materials, floor plan layout and orientation are also identical. However, they differ in the interiors, especially by the color concept, which is also partly reflected in the exteriors.
As Dagmar says, "Jaspis Villa (jaspis = jasper, luminous villa) is a reflection of yin energy.It is connected to the ocean and sky, not only visually, but also its vibrations. With a color concept in sand shades, I respond to this interconnection. Nefrit Villa (nefrit = jade, dark villa) is a reflection of yang energy. In the Nefrit villa you can feel the connection with the ground and the jungle. Here, too, the chosen color concept is reaction to these energies and the red-terracotta color of the concrete floor transmits the shade of local soil to the interior of the house."
From the outside, both villas seem very inconspicuous, humble. However, as soon as you enter, you realize the generous spaces and terraces with a flush swimming pool, overlooking the ocean, for an experience not to be missed.
For more information about Achioté visit Formafatal and follow the studio on Instagram!
Photography BoysPlayNice
Collaborators
Rammed earth walls: Terra Compacta [Daniel Mantovani]
Statics: Ch. Vargas Garden: Dagmar Štěpánová [part of the architectural project]
Realization: construction leader Willy Jeferson Céspedes Vargas + local workers
Realization of screed surfaces: Different Design [Pavel Trousil], www.different-design.cz
Graphic design [logo]: Zuzana Vemeová
Original text: Dagmar Štěpánová
c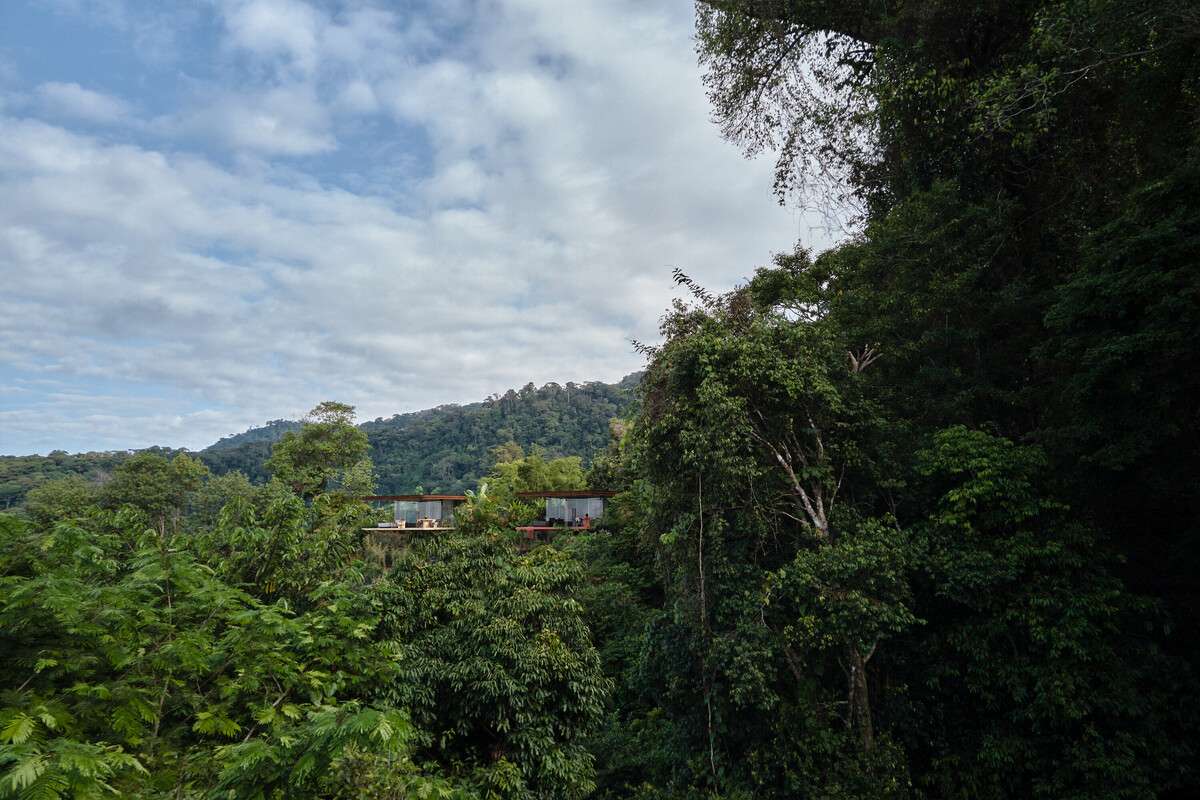 c