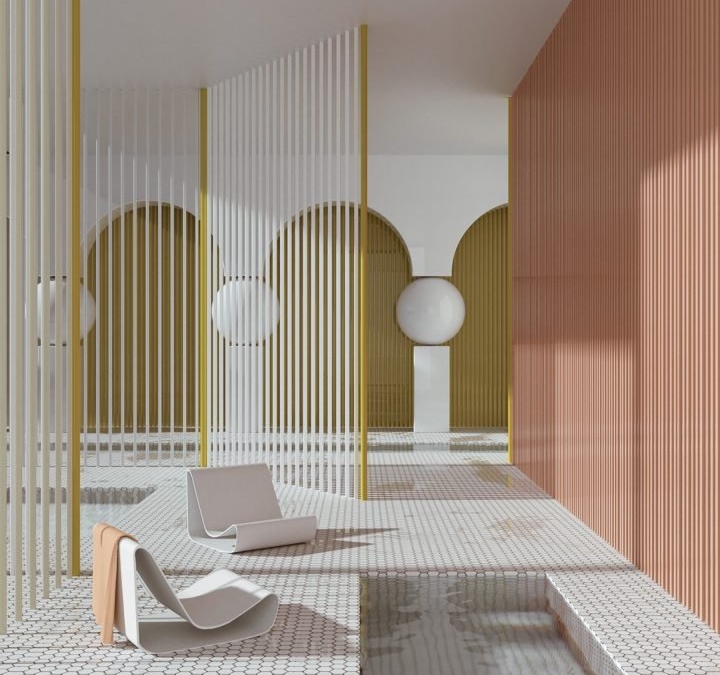 Having worked as a copywriter for the past decade, Cape Town-based artist Alexis Christodoulou became interested in rendering as a hobby. He simultaneously satisfied his childhood fascination of artificial worlds. "Since I was young I've always been fascinated by the worlds created in video games," he explains, "but became frustrated at their lack of modern aesthetics and tendency to always be rooted in fantasy, science fiction or some 20th century war." As such, Alexis has established his own unique aesthetic — reimagining our world stripped of any unnecessary elements to heighten the focus on the form, structure and color choices which characterize each artwork.
"The images I create are a simple extension of the desire to see fantastic spaces come to life that echoes a more modern and clean aesthetic," he explains. Alexis usually begins with a sketch of a space either inspired by a familiar building in Cape Town, or from renowned modern architecture. "It could be the muted tones of an Aldo Rossi drawing, concrete colliding with plaster from a David Chipperfield interior or a grid from a Superstudio drawing stretching on into infinity." Alexis tells iGNANT "Inspiration comes from many sources but I always try to create a space that interests me in form and material, but most importantly in the use of light… My scenes are always void of any human beings. I prefer the viewer to imagine how they would exist in the space, sometimes leaving a small clue as to a past presence but never leading you down any specific narrative. I'd prefer if you go explore by yourself."
Visit Alexis' Instagram and his tumblr Global Illumination for more architectural renders!
All Rights Reserved to Alexis Christodoulou
(via ignant)