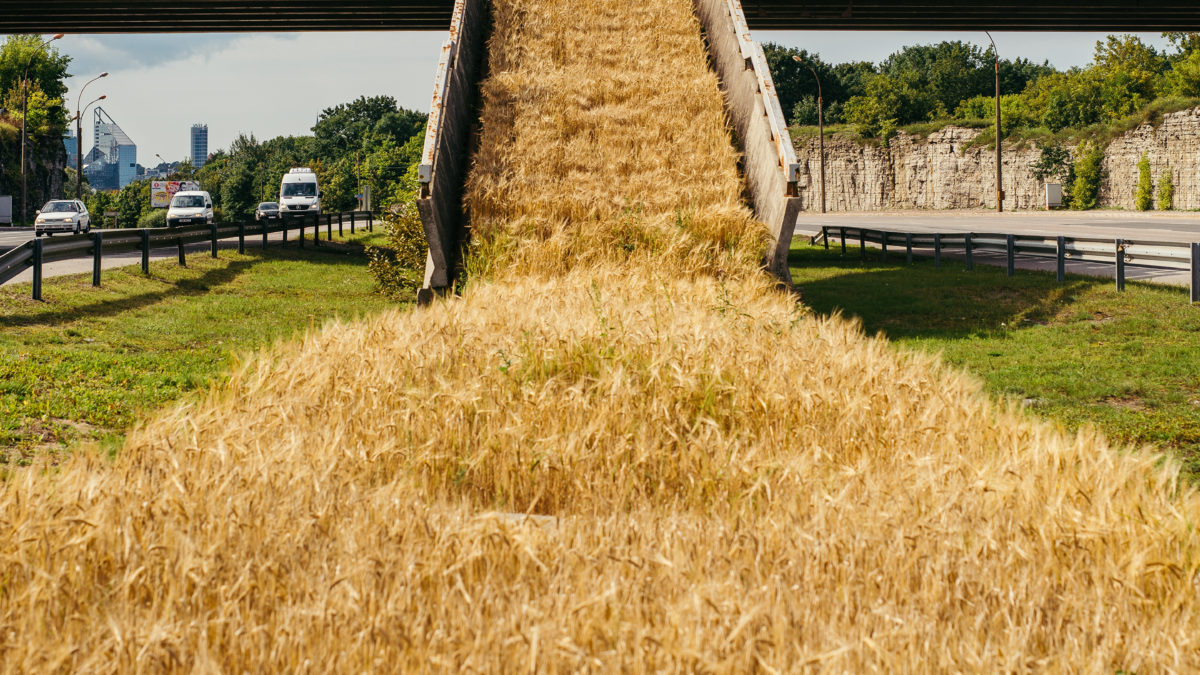 An Urban Barely Field / LasnaVILJAmäg_Ann Press & Andrea Tamm
The district Lasnamäe was built in the late 70's in Estonia's capital, Tallinn, and it is one of the example all over East Europe of Soviet-era residential areas fallen into stagnation. In this case there is also a vast traffic channel to the city center that is waiting for a planned-but-neverbuilt central tramway. "The road, the bridges, and the stairways-to-nowhere are completed, desperately waiting for the tram."
Ann Press and Andrea Tamm took advantage of their school project to build an interesting intervention, "An Urban Barely Field / LasnaVILJAmägi". They are both Master's degree students at the Estonian Academy of Arts' Interior Architecture Department. "What started off as schoolwork for us grew into a significant urban installation:
We started making a campaign to collect money from the crowdfunding platform Hooandja. After fulfilling the budget and getting all necessary agreements from the government and other city institutions we built the structure for the installation and created a barley field with the help of voluntary citizens. The installation was in its place till the end of September and ended with harvest party."
"The idea of a barley field installation came from history—barley was the earliest crop grown in Estonia and was grown in the area of Lasnamäe in circa 500-600 BC. Because the culture of barley growing was brought to Estonia from Russia, and the tramway stairs mark the border between Estonian- and Russian-speaking districts, the art installation carried an idea of integration for us. The aim of the barley field was to bring some contrasting softness, some life and progress to this industrial area, but also to encourage the locals to take steps towards changing their living environment, instead of waiting for the authorities to do it, given that the tram has still not arrived after over 40 years. This project was founded by a crowdfunding campaign, built and cut with the help of volunteers. The soil—45 tons of it—was carried on the stairs bucket by bucket. By the end of September, the crop was ripe and we held a harvesting party for the stair-field. The harvested crop was made a gift for the crowdfunders; some if it is now living a new life as jewelry, while some of it was taken to a laboratory for tests that will calculate air pollution levels of the area. Throughout the summer, the stairs of barley offered the district a new puff of life—young, verdant seedlings growing and turning into a ripe yellow barley field, reminding us of the cycles of nature and life."
As they said, "instead of waiting for the authorities to do it", they implemented their school project to be real and they did it with a beautiful result: not only an urban installation that wants to remind us the importance of nature and life cycles, but also an opportunity for people to meet and collaborate for a common goal, to give again life to a forgotten area that belongs to the citizens. To know more about "An Urban Barely Field / LasnaVILJAmägi" visit the Tumblr and Facebook page!
All Right are Reserved
Images by A. Press, H. Osula, M. Tamm, T. Tunnel, M. Veltman
Please seek permission before using