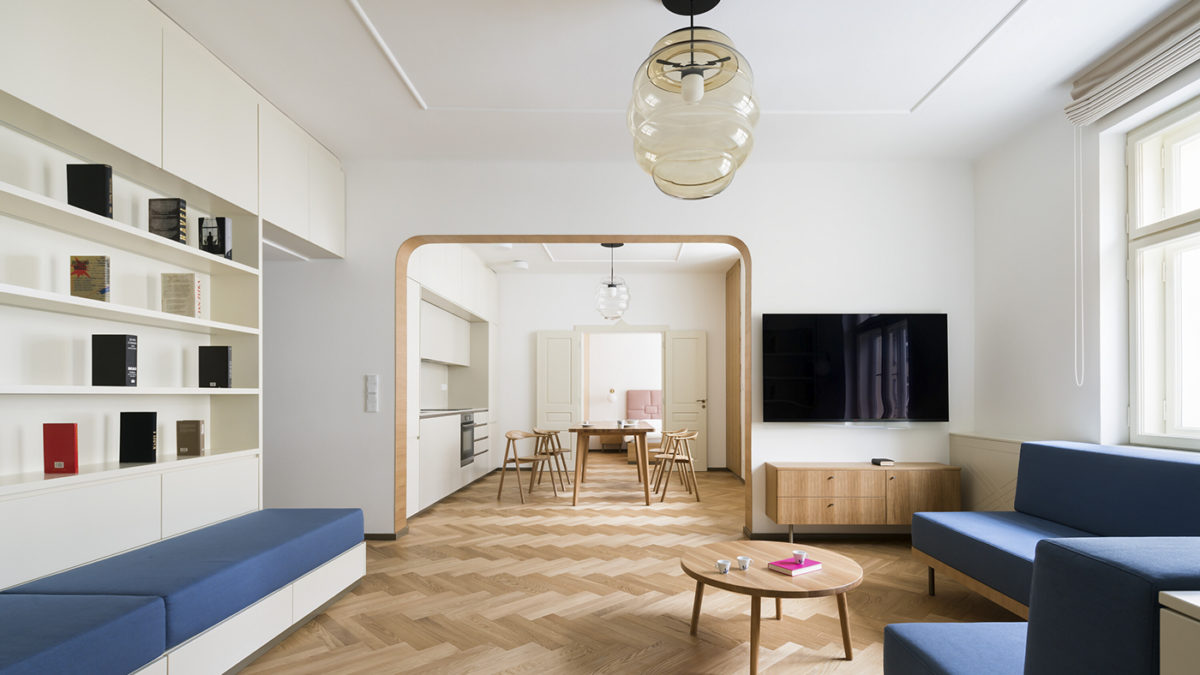 APARTMENT IN DEJVICE, PRAGUE. No Architects
Creating a home from a worn-out space formed by series of rooms grouped along one wall, connected by a dark hall, could be seen as a demanding assignment for an architect. On the contrary, No Architects studio decided to take advantage of the sixteen-meter-long, straight view of the whole flat, to renovate this apartment in Dejvice, historic district of Prague.
The center of the house consists of the living room and the kitchen with the dining room, while bedrooms are situated at the opposite ends of the long space. No Architects has kept the floor plan thus creating a linear point of view that goes from room to room, passing through the entire space. Although the master bedroom connects directly to the living area, it remains an intimate space with a dressing room and ensuite bathroom.
The elegant nature of the building constructed in the early twentieth century was replicated in the interior of this apartment in Dejvice. Therefore the details of the walls and common areas were designed taking inspiration from the style in which the house was built: the motifs on the radiator covers were inspired by the patterns on the building staircase, pointed door jambs duplicated stucco walls around windows, and the upholstery was inspired by the communal door design.
Visit No Architects to know more about the project or follow them on Instagram!
Texts by Jakub Filip Novák, Daniela Baráčková, Barbora Jelínek
Photography by Studio Flusser
C