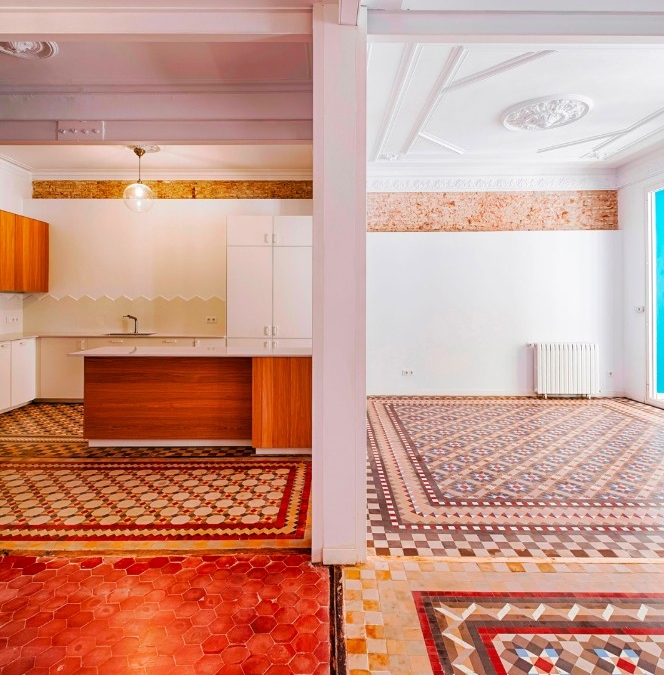 APARTMENT RENOVATION_ Hiha Studio
Hiha Studio, Barcelona-based architecture practice, recently renovated an apartment in the Raval historical district, carrer Carme. The projects aims to generate a symbiotic relationship between existing and newly added elements.
The intervention detected, exploited and enhanced the modernist inspired elements, such as pavements and roof moldings.
LASTLY, WE SOUGHT TO PROVIDE THE MAXIMUM AMOUNT OF NATURAL LIGHT INTO THE INTERIOR OF THE HOUSE BY ADDING INTERIOR WINDOWS, BEING THAT THAT IT IS A GROUND FLOOR SPACE WITH OVER 30 METERS OF DEPTH.
Existing floors, windows, wooden beams and masonry are project's starting ingredients. The renovation by the Catalan practice is sensitive and substantial. The historical elements do not prevent a significant space reorganisation to meet contemporary needs and lifestyles.
The arrangement of internal windows favours the entrance of natural light towards the inner spaces. Windows also serve to remodel relational and visual relationships between spaces. According to the architects "The interior windows provide identity themselves and dilute the central passageway thanks to the visual interplay between the rooms". Ultimately, Hiha Studio succeeded in the difficult task of dealing with a heavy historical context, giving a contemporary character to the spaces of the house.
(via domus)