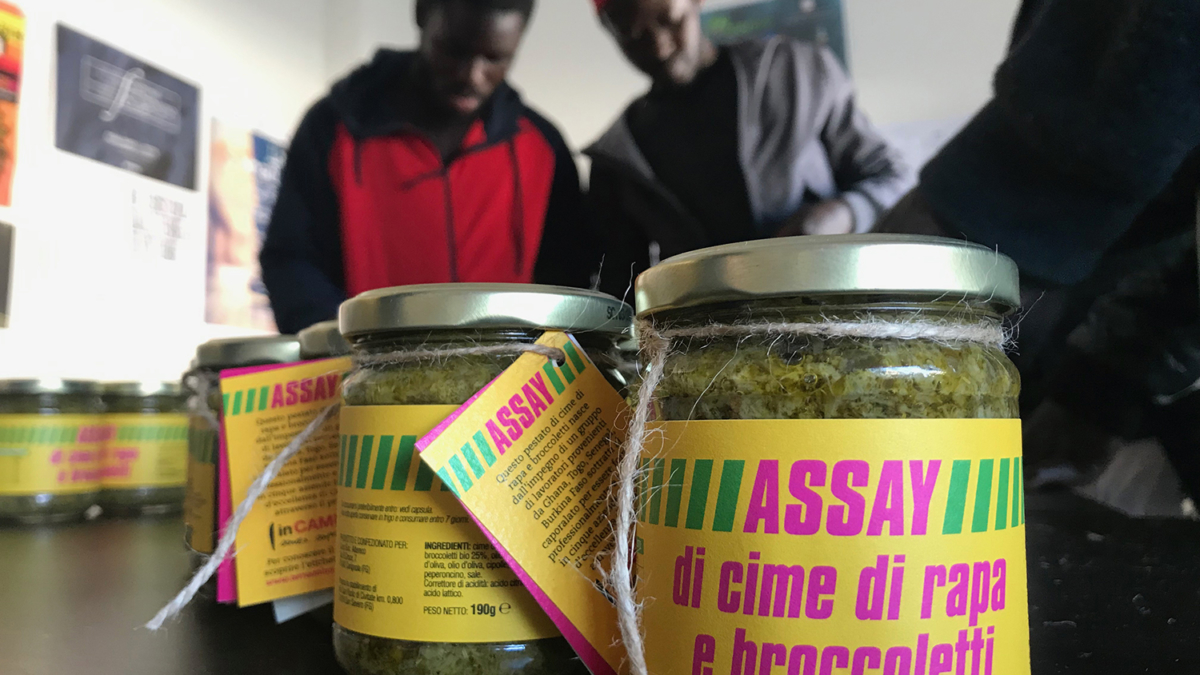 ASSAY, more than a simple product
Yusuf, Mounir, Paap, Hussein, Ibrahim, Matthew, Guebre, Abdoulaye and Mamadou are the protagonists of the project "IN CAMPO! Senza caporale". They come from Ghana, Burkina Faso, Senegal and Togo, almost all of them crossed the Libyan hell before sailing the Mediterranean on makeshift boats. Arrived in Italy, after the first reception, they ended up to live in shacks with no water or light, waiting to be recruited by the corporals for a few days of work.

For those who don't know it, "caporalato" is an informal system to organize temporary agricultural workers, included in work groups (teams) of different size (from few individuals to several hundreds), lead by a caporale. Unfortunately, most of the time the workers are migrants and refugees, exploited and with no rights.

To avoid this, the environmental association Terra! has activated the project "IN CAMPO! Senza caporale", 10 months of training and internship in agriculture with the aim of ensuring a decent future for all participants, helping them to enter an employment system that is part of an increasingly restrictive and unfair reception system. The protagonists were able to study Italian, attend a professional training with 5 organic farms from the area (La Cooperativa Sociale Altereco, La Cooperativa Sociale Pietra di Scarto, le aziende agricole Aquamela bio, Roberto Merra e Domenico Russo), learn their workers' rights and take an important step towards true integration.

The project was partly concluded with the launch on the market of ASSAY, product from an ethical and transparent supply chain, a "pesto" of turnip tops and broccoli, result of the collaboration between migrant workers and top biological companies. The product name ASSAY is a typo in a chat. Since Guebre wrote "assay" instead of "assai" ("a lot" in Italian), the word has become a catchphrase. In English, then, it means tasting: one more reason that led the boys, guided by an expert marketing strategist, to choose this name.

ASSAY tells a story of integration and rights, of ecology and clean supply chains. Terra! Association invites you to buy it to support the protagonists of this journey.

What are you waiting for? Visit the Asscoiation website and buy Assay!
v
All Rights reserved to Terra! Onlus