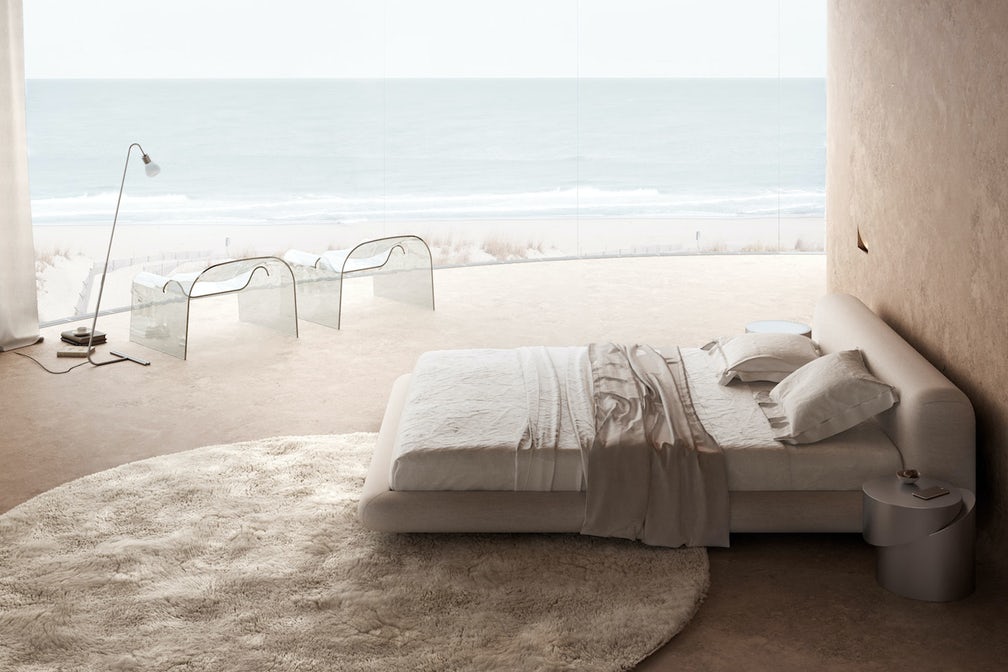 Ukranian studio Sivak+Partners love to design and implement bold projects, from high-rise architecture, offices of thousands of square meters, to cute cafes with delicious cookies. This room is the first part of a large project, the Beach Hotel in Odessa, which Alexey Gulesha, chief designer, started to design half a year ago.
"The design of this room interior was inspired by the James Bond movies from 80th. I wanted to make one number not like the rest. It will be luxurious, liberated and show a contrast between a brutal "cave" looking walls and a many cozy corners and zones in it."
The bathroom is characterized by a bath bowl made entirely in the same material as the floor in the room. It grows smoothly and it looks like a small pool that naturally arose in the floor. There's also a smart glass between toilet and bath area which becomes opaque, in order to give more privacy if someone comes into the toilet.
The work space was designed without any chest of drawers: the hotel is situated on a beautiful beach and Alexey wanted the clients to spent more time there rather than work. It is conceived only for Skype calls, emails etc.
A steel desk cut the slice of rock behind and emphasize the contrast between human technology and power of nature. The interesting detail is that there's a hidden shelf in this rock, so the books are like growing from the stone.
There's a few restaurants in the hotel, so the kitchen space is just for some small personal needs like small snacks, coffee, cocktails etc. There's even no dining table.
The lounge area opposite of the kitchen looks cozy and very convenient. It is designed for evening chill, reading, and other. The presence of Art creates contrast with the kitchen area, very strong and a bit aggressive by form and light.
Visit Sivak+Partners to know more about the project!
C