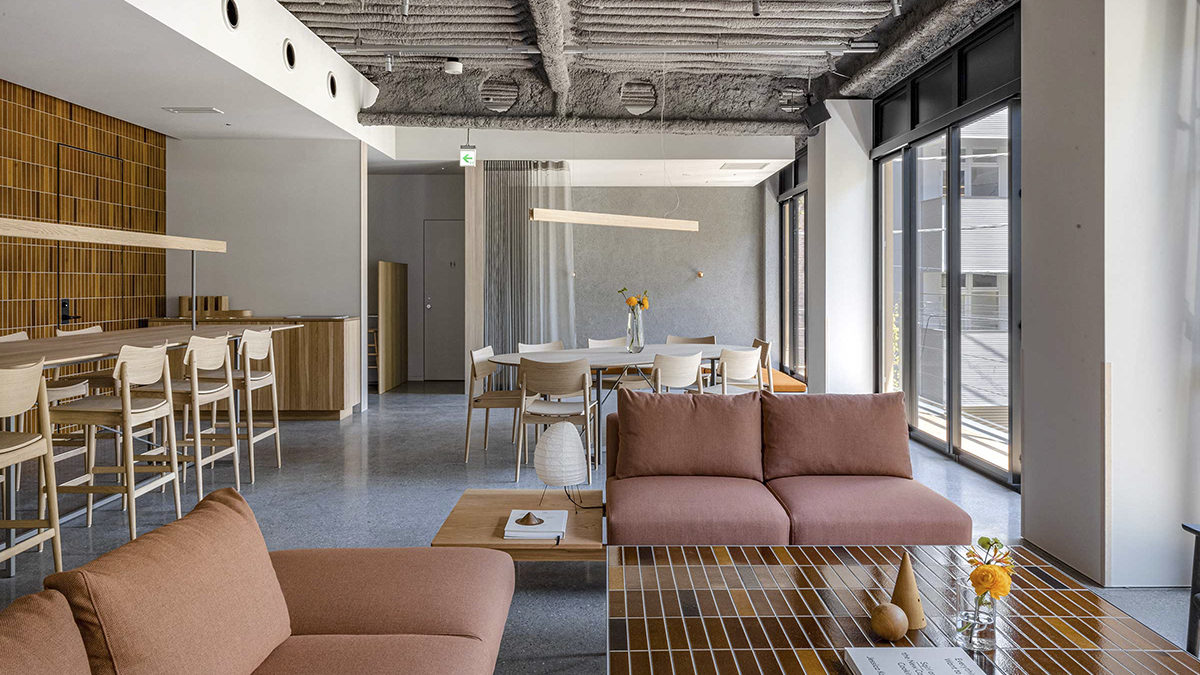 BLUE BOTTLE COFFEE SHIBUYA, Tokio
The Blue Bottle Coffee Shibuya is a minimal space located in Tokyo, Japan, designed by Keiji Ashizawa Design. The café is a few steps from the hectic atmosphere of the center and is an urban retreat located between two parks. Walking through one of these, Kitaya Park, you can see inside the space a large, curved counter that surrounds the kitchen area. This counter is characterized by its tiles, created with a special volcanic ash glaze, which, according to the Studio, is the key material to connect the interior to the exterior. London-based materials manufacturer Dzek produced them in collaboration with the Amsterdam-based design studio Formafantasma. A single skilled craftsman took care of the installation of more than 7000 of these tiles inside the space.
On the ground floor, you can find the aforementioned counter, seats with high stools, and a lower table to enjoy the view of the park. Going up to the second floor there are low tables, a relaxation area, an oval table… different seating options designed to meet the needs of all customers. At one end of the space, the relaxation area, with lower sofas upholstered in an autumn orange fabric, can be separated from the main area by a gray, sheer curtain.
The different variety of seats opens the place to an always different target and the presence of a coffee/morning menu and an evening one with wine and food helps the space to be versatile. Depending on the time, I can go for a quick breakfast and maybe come back with colleagues for the evening to have a glass of wine. All this in the right space. The studio hopes that visitors can enjoy the warm atmosphere as if they were invited to visit a friend's cozy home. To find out more about Blue Bottle Coffee Shibuya and see other projects by the studio visit Keiji Ashizawa Design.

Photograph by Ben Richard / Masaaki Inoue
c