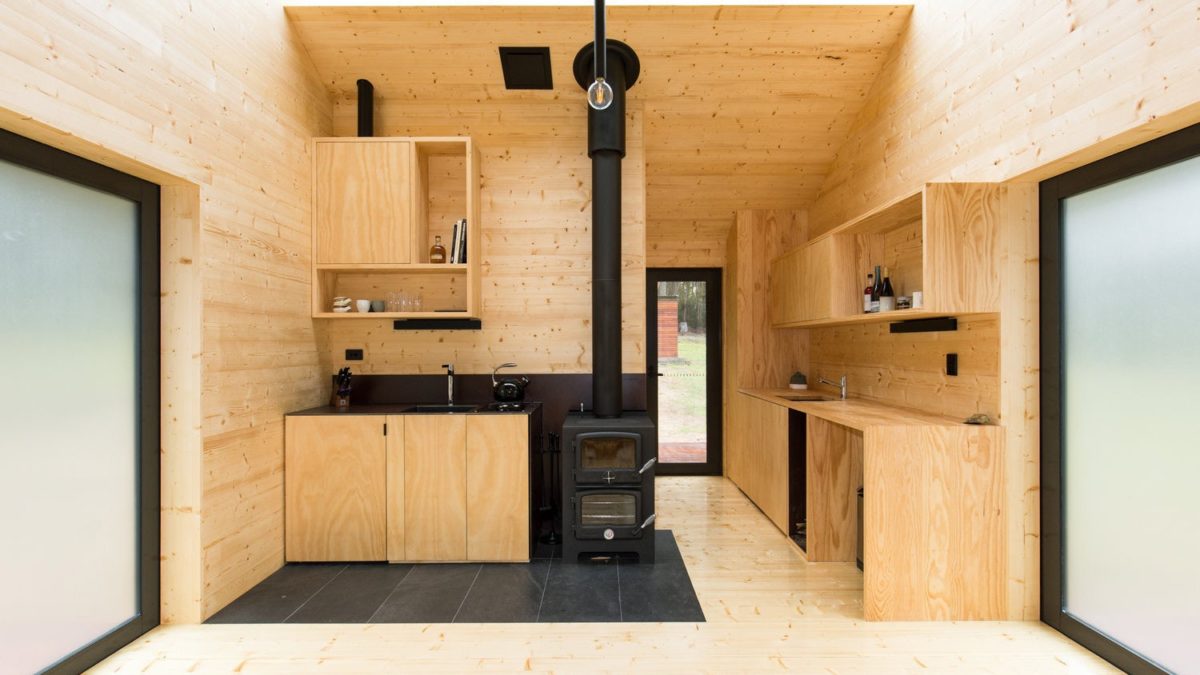 Maguire + Devine Architects is a young and dynamic architecture studio based in Hobart, Tasmania. Hugh Maguire and Dan Devine's shared values about social architecture and sustainability lead them to apply a contemporary design sensibility to form, space and material, responsive to context and climate.
Taking minimal architecture to its extreme, the studio designed Bruny Island Hideaway, a cabin equipped with only the necessities. Inspired by traditional Japanese design, the house is a piece of furniture, and only a low table and mattress for the bedroom are not built in.
The dwelling is located on a private parcel of land in Tasmania, Australia. The exterior is clad in a combination of corrugated metal siding and warm wood paneling. Oversized entry ways on the east and west side of the home open it to the outdoors. As Bruny Island Hideaway is surrounded by scenic Australian wilderness, the sliding doors also serve as portals connecting the home to nature.
Baltic pine covers nearly all of the interior and furniture, washing the residence in a warm, comforting light. One long great room, bookended on either side by the floor-to-ceiling glass, holds the kitchen, dining, and living spaces. Pulling from its Japanese influences, the dining table is elevated on a platform, with soft sheepskin furs laid out for the seats. Recessed shelving holds select personal accessories, while cabinetry hides away items not in use. The kitchen is opposite the dining area, accented with black tile on the floor and backsplash. A wood burning stove is a highlight of the room: at once practical and eye-catching, the stove instantly brings coziness to the entire room. The bedroom is situated on a small sleeping loft on the second floor. The loft is accessed by an elegant ladder built of the same pine wood as the rest of the interior.
On the exterior, the large terraces provide the perfect place for viewing sunrise and sunsets. The sunken tub faces the woods, set at the end of the simple wooden patio. Contributing to its minimal ethos, Bruny Island Hideaway features solar panels on the roof and a small shed for firewood. As a result, the environmental footprint of the home is kept small while keeping the owner comfortable in warm or cool weather.
Visit Maguire + Devine Architects to know more about the project!
Photography by Rob Maver
c
via minimalissimo