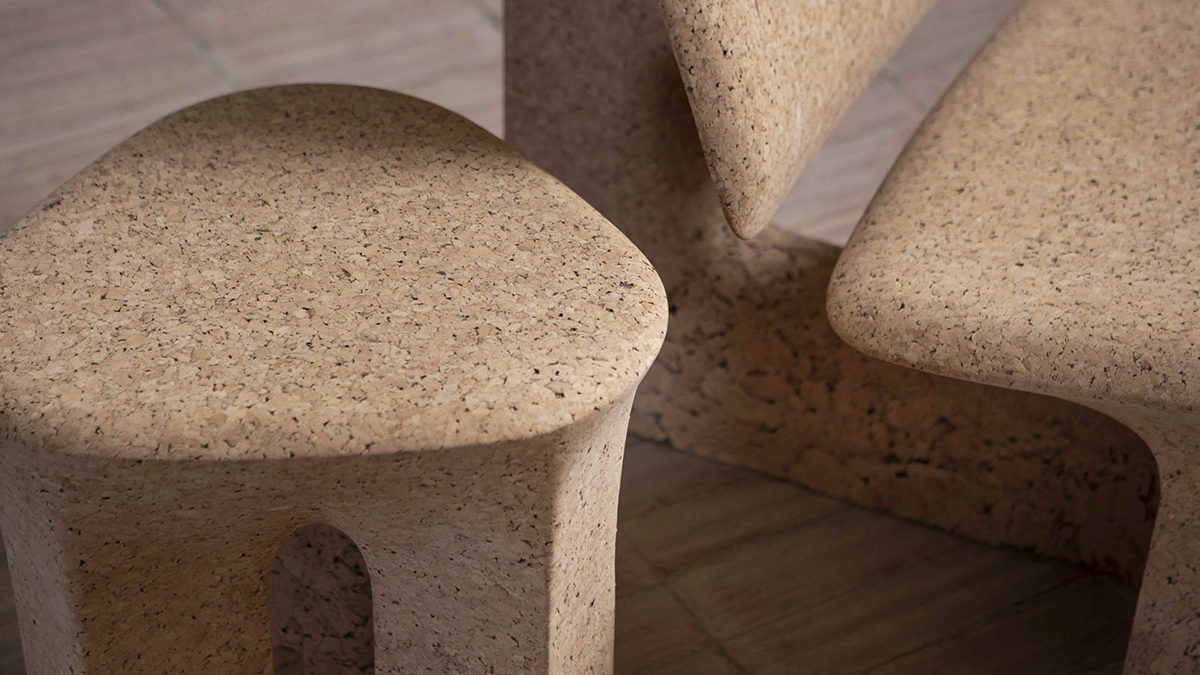 BURNT CORK, Noé Duchaufour-Lawrance
The concept of this furniture collection was born in the summer of 2017 when the designer moved to Portugal for the first time. Driving from France for three days, Noé encountered the result of the devastating forest fires on the hills of Pedrógão Grande along the way. The real experimentation began in October 2018, when with his studio Made in Situ, as part of interdisciplinary exchange, they visited NF Cork, a small family-run cork production plant in Faro. There, the designer learned about the process of turning cork bark into blocks and the industrial waste of this supply chain: burnt cork. An opportunity to finally design a collection that was born from fire.
c
The designer was therefore able to reproduce the process and incorporate different sizes of granules with the goal of achieving a gradient effect ranging from the fine grain of traditional cork to a bark-like texture where the charcoal of the burnt material dominates.. Thus was born Burnt Cork, a collection of soft and curved seats and backs that welcome the body and tables that form rounded tops that invite you to touch. The series pays homage to Portuguese and burnt cork whose value it's emphasized thanks to the arrangement of the material in the block.
The furniture was carved by another Portuguese company, Granorte, using a seven-axis CNC machine capable of sculpting organic forms. This makes the Burnt Cork series a fusion of both handmade and industrial processes, with both companies pushing their techniques into new terrain. The full collection consists of a dining chair, lounge chair, chaise longue, dining table, two low tables, and a stool. The project is the second of Duchaufour-Lawrance's studio, Made in Situ, which is based in Portugal. For other projects visit Made in Situ.
c
via dezeen