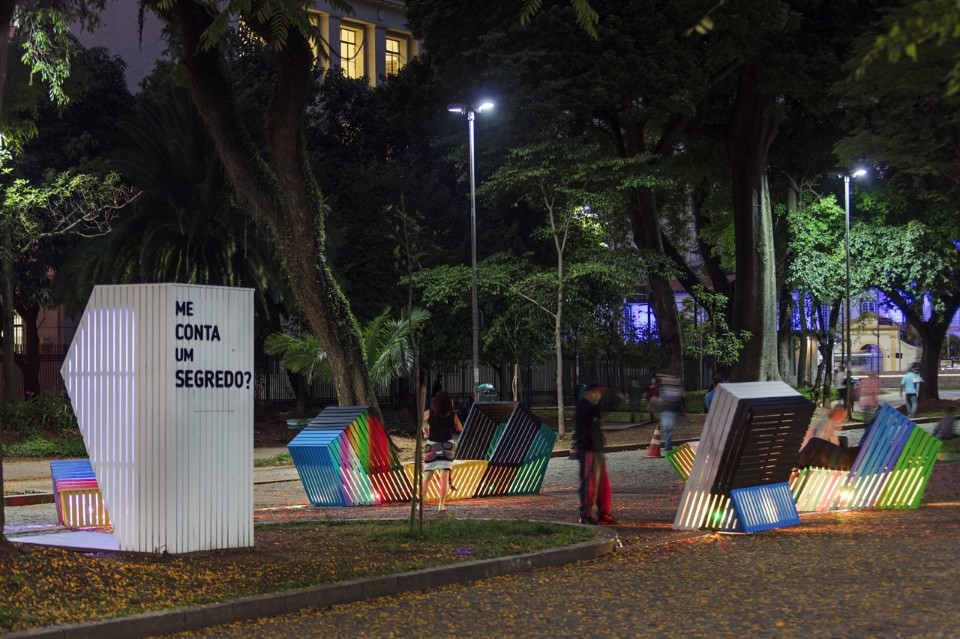 CAN YOU TELL ME A SECRET?
Can You Tell Me a Secret? is a set of interactive urban furniture created by Estudio Guto Requena, a Brasilian practice that reflects on memory, digital culture and poetic narratives in all design scales. The installation was made for URBE – Public Art Exhibition 2016 that took place in November in the Bom Retiro neighborhood.
The work is composed of five wooden benches located in the Coronel Fernando Prestes Square in Bom Retiro, a stronghold of immigrants in São Paulo. A sixth element in the form of a phone booth contains an old-style telephone and displays the phrase "me conta um segredo?", inviting passers-by to come in and share their stories, recorded and played back randomly inside the furniture via speakers. The color of the installation was inspired by the different flags of the area's immigrants, like South Korea, Greece, Bolivia, Italy and Haiti. At night the installation transformed into light sculptures, vibrating and changing colors in warm tones. The work is an invitation to reflect on the invisible and symbolic limits of the private and the public spheres, and seeks to add poetic layers to the experience of everyday urban life.
All Rights Reserved to Estudio Guto Requena