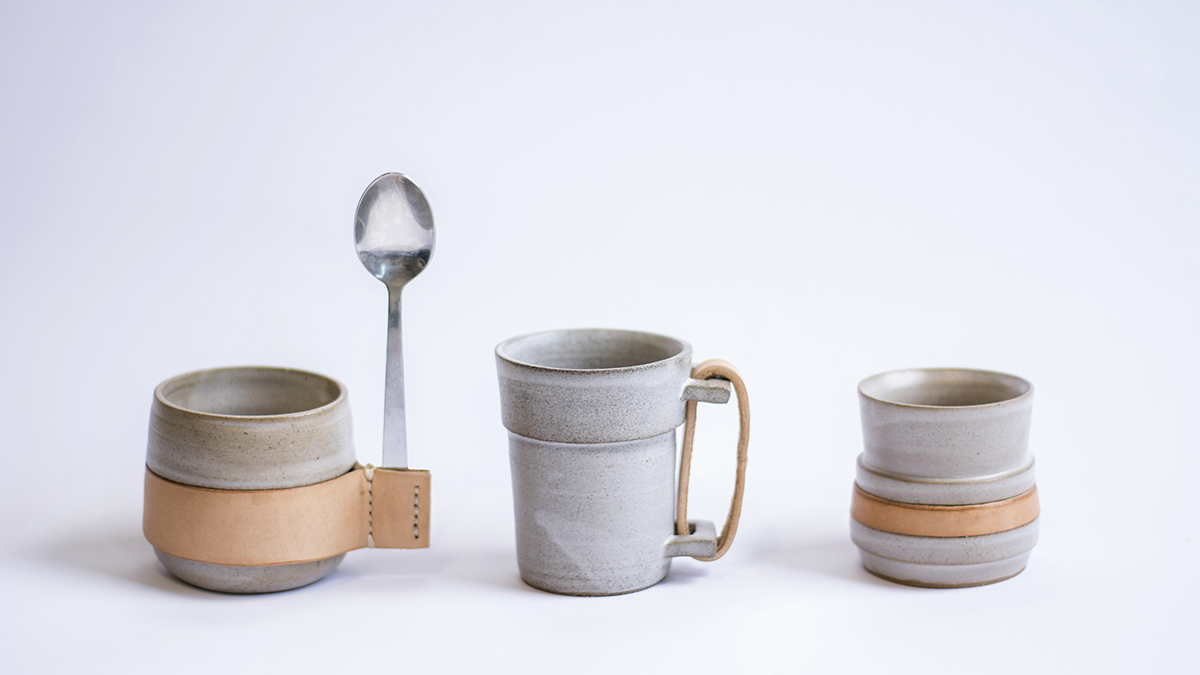 CERAMIC+LEATHER_Roee Ben Yehuda
Roee Ben Yehuda is a Tel Aviv-based designer that grew up interested in fashion and graphic design and he will be starting a bachelors degree in product design this coming October. In the past couple of months he took Ceramics classes at a local studio.
For his projects Roee usually tries to merge different design fields and disciplines: "When I'm starting a new project, I'm thinking about using different media and aspects of design – looking into architecture to create a graphic poster, or watching a fashion show to get inspired for a ceramic piece. I am excited about this kind of fusions. In my opinion they're necessary if you want to create something new that will appeal to people from different backgrounds."
For Ceramic+Leather, he wanted to bind two craft techniques and aesthetics together and to take on a different approach about creating ceramic mugs. Roee was also interested in designing a piece from start to finish and thinking about the next step while progressing through the project. He started working on the wheel while thinking where and how to place the leather parts, so taking also into consideration the shape of the ceramic and the thickness and weight of the leather. Later on he started the leather work: trimming and shaping it, making it softer enough to bend and blend. In the latest phase, he sewed the leather parts together and finished the edges for a cleaner look. Now he wants to develop more pieces, experimenting with different types of leather, clay and glazes. "I think there is also more to explore in terms of usability and concept, finding new ways to bind those two materials together."
He's latest project is about "A Small Temple", a small lantern with a heavy Japanese influence. Now he's looking forward to design a new object, and since he'd like to explore a lot of fields, he still has to determine which kind.
Follow Roee on his website and Instagram!
All Rights Reserved to Roee Ben Yehuda
Please seek permission before using