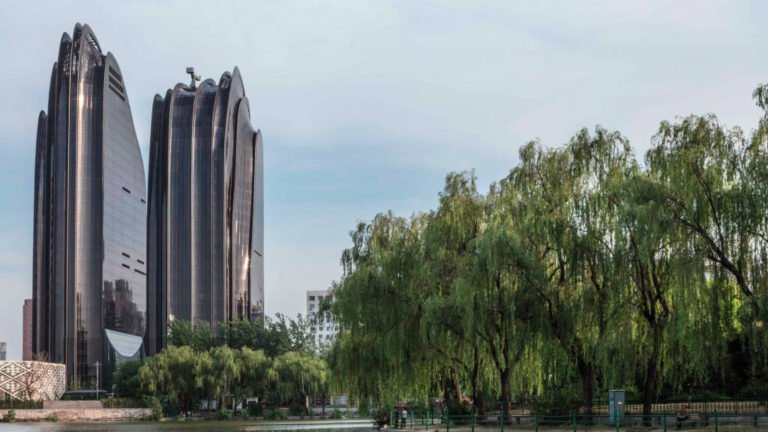 Chaoyang Park Plaza marks another milestone in one of the practices of MAD's design theory; it pushes the boundary of the urbanization process in modern cosmopolitan life by creating a dialogue between artificial scenery and natural landscapes.
Located in the central business district (CBD) of Beijing, and composed by over 120,000 square meters of commercial, office, and residential buildings, the site is on the Southern edge of Chaoyang Park, one of the largest public parks in Beijing. By transforming features of Chinese classical landscape painting, such as lakes, springs, forests, creeks, valleys, and stones, into modern "city landscapes", the urban space creates a balance between high urban density and natural landscape. The forms of the buildings echo what is found in natural landscapes, and re-introduces nature to the urban realm.
Ridges and valleys define the shape of the exterior glass facade, as if the natural forces of erosion wore down the tower into a few thin lines. Flowing down the facade, the lines emphasize the smoothness of the towers and its verticality. The two towers are connected by a tall courtyard lobby with a ceiling height of up to 17 meters. The site and sounds of flowing water make the entire lobby feel like a natural scene. At the top of the towers, multi-level terraces shaped by the curving forms of the towers are public gardens where people can gaze out over the entire city and look down at the valley scene created by the lower buildings on the site. The project was awarded the "Leadership in Energy and Environmental Design (LEED)" Gold certificate by U.S. Green Building Council. Its use of natural lighting, intelligent building, and air purification system make this project stand out from others being built today. The ideal of "nature" is not only embodied in the innovation of green technology, but also in the planning concept. By exploring the symbiotic relationship between modern urban architecture and natural environment, this project revives the harmonious co-existence between urban life and nature.
All Rights Reserved to MAD