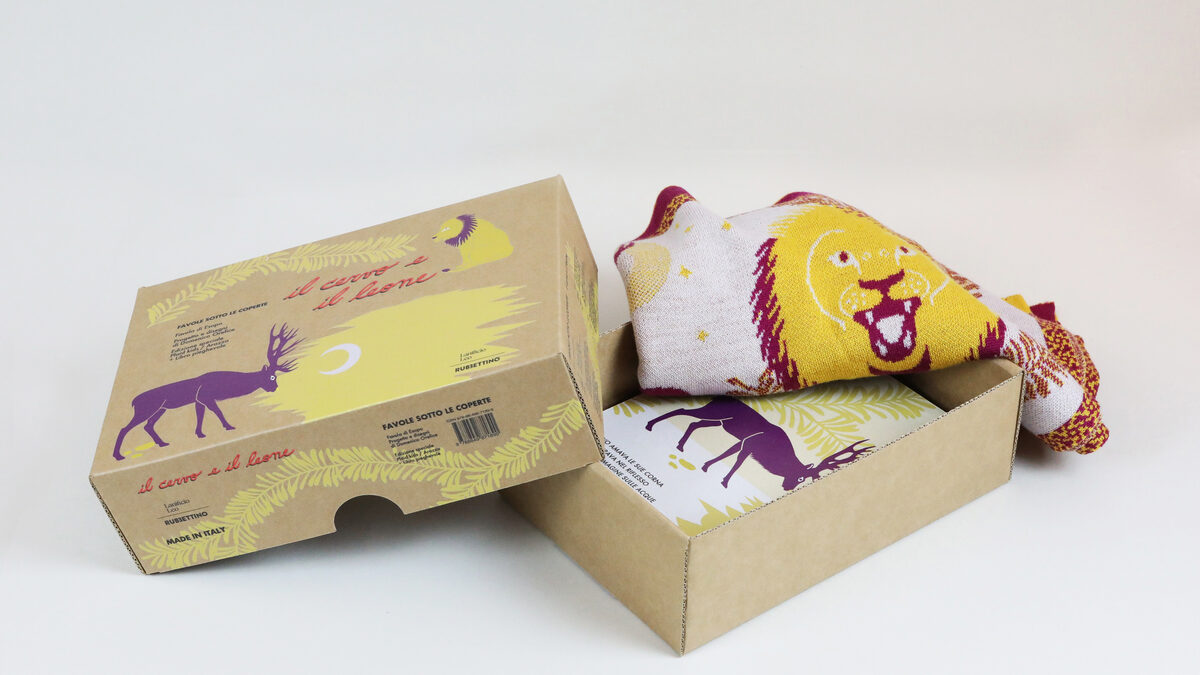 Design and books with FAVOLE SOTTO LE COPERTE
Born from the idea of the ​​designer Domenico Orefice, previously on WeVux, and created thanks to the manufacturing expertise of Rubbettino and Lanificio Leo, Favole sotto le coperte is one of those projects that is easy to fall in love with: an innovative publishing and design project conceived for the magical moment of reading fairy tales, to unite children and parents in a multi-sensory experience.
It's a series of children's books that combines each issue with a jacquard knitted illustrated plaid made by Lanificio Leo. The first two titles in the series recount two of Aesop's Fables, "The Tortoise and the Hare" and "The Deer and the Lion".
The books, produced by Rubbettino Print, are conceived as a continuous drawing that develops over several pages bound together with fabric hinges. Handmade in Italy, they are made with the utmost care in FSC © certified recycled cardboard. Thanks to the continuous drawing, each book can be opened completely and positioned horizontally or vertically, becoming a game, almost an illustrated landscape, a three-dimensional story.
c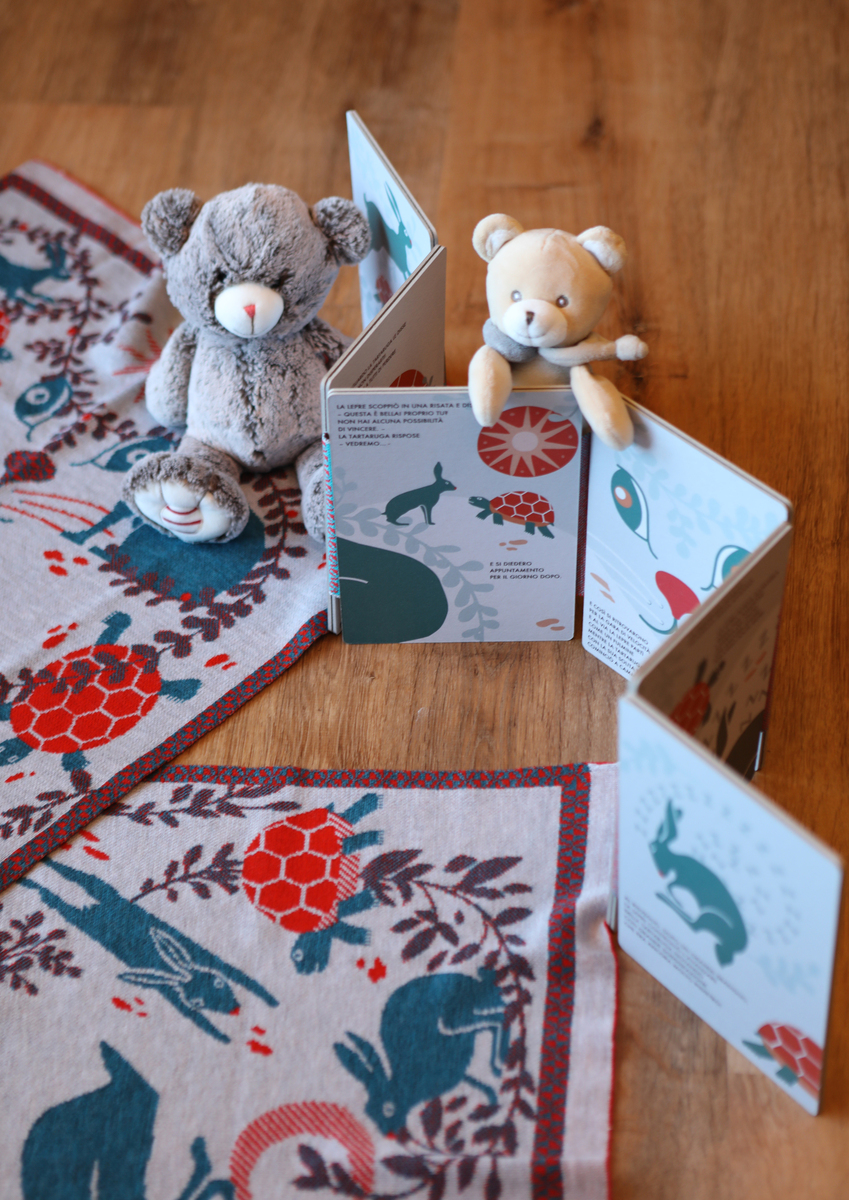 c
The special boxed version combines each fable with a version of the same story created on a mini plaid / tapestry in merino virgin wool woven by Lanificio Leo. It's a soft support on which even very young children can visually follow the story told by the parent through the figures that illustrate the story, while immersing themselves in a warm embrace. The plaid can accompany the child from the first months as a blanket, up to childhood as a decorative tapestry for the bedroom.
"Fables under the blankets" is a high quality, Made in Italy project that follows the tradition of the book intended as a design object, an experimental edition for children that focuses on the cognitive development of the child. Dedicated to the daily moments of closeness between parents and children, such as that of bedtime stories. Favole sotto le coperte will transform the moment of reading into an opportunity for sharing and creativity, allowing the little ones to combine the experience of the story with the stimulation of tactility and imagination.
A beautiful project that shows the strength of Made in Italy: interesting ideas that give life to objects and enrich the user experience, produced thanks to manufacturing expertise and with high quality materials. Favole sotto le coperte was exhibited during Edit Napoli 2022.
To purchase Favole sotto le coperte you can visit Rubbettino and Lanificio Leo, while for more information you can find the contacts here:
Domenico Orefice Studio – @domenicoorefice_studio
Lanificio Leo – @lanificio_leo
Rubbettino – RubettinoEditore
Photography by Paolo Belletti
Edit Napoli photography by Serena Eller Vainicher
c