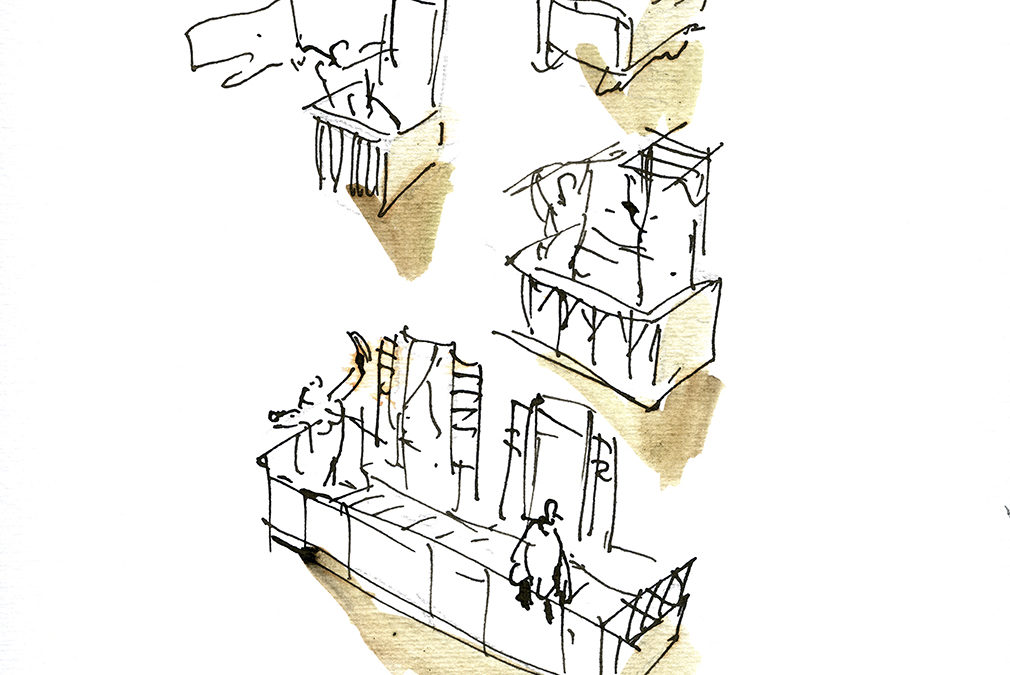 Throughout the fifty-six days of the quarantine, "staying at home" was the most effective means to fight the virus. Staying at home meant not being able to go out: it forced us to rediscover our house, whose memory had been lost, to reconstruct daily relationships with spaces and objects.
In those days Ugo La Pietra and Corrado Levi – spontaneously and completely autonomously – worked on notebooks with texts, drawings and sketches, and recorded their moods, reflections, emotions, landscapes granted by the confined space of a window or balcony.
On the occasion of Festivaletteratura 2020, from September 4 to October 30, Galleria Maurizio Corraini (Mantova) collects these testimonies and unites them in the exhibition entitled Diari da casa, Riflessioni dalla quarantena di Ugo La Pietra e Corrado Levi, with the original writings and drawings made by the artists/architects; the notebooks created during the quarantine also become two publications that will be released by Corraini Edizioni on the occasion of the exhibition.
For Corrado Levi, a multifaceted and heterodox artist, architect and writer, creating a text to which a drawing is associated was an almost daily exercise, like "walking through the rooms so as not to let your legs die".
Ugo La Pietra, artist, designer and architect, has been investigating the meaning of living in space, private and public since the 1960s. Between March and May 2020 he wrote stories in time of viruses, sometimes combined with a sketch or a drawing. Reflections on the lost habit of staying at home, on the practice of furnishing, on the re-appropriation of the city and the domestic spaces, advice for a new proxemics, stories of days marked by the actions that take place outside the window.
Diari da casa, Riflessioni dalla quarantena di Ugo La Pietra e Corrado Levi, at Galleria Maurizio Corraini, Mantova. 4th September – 30th October
c