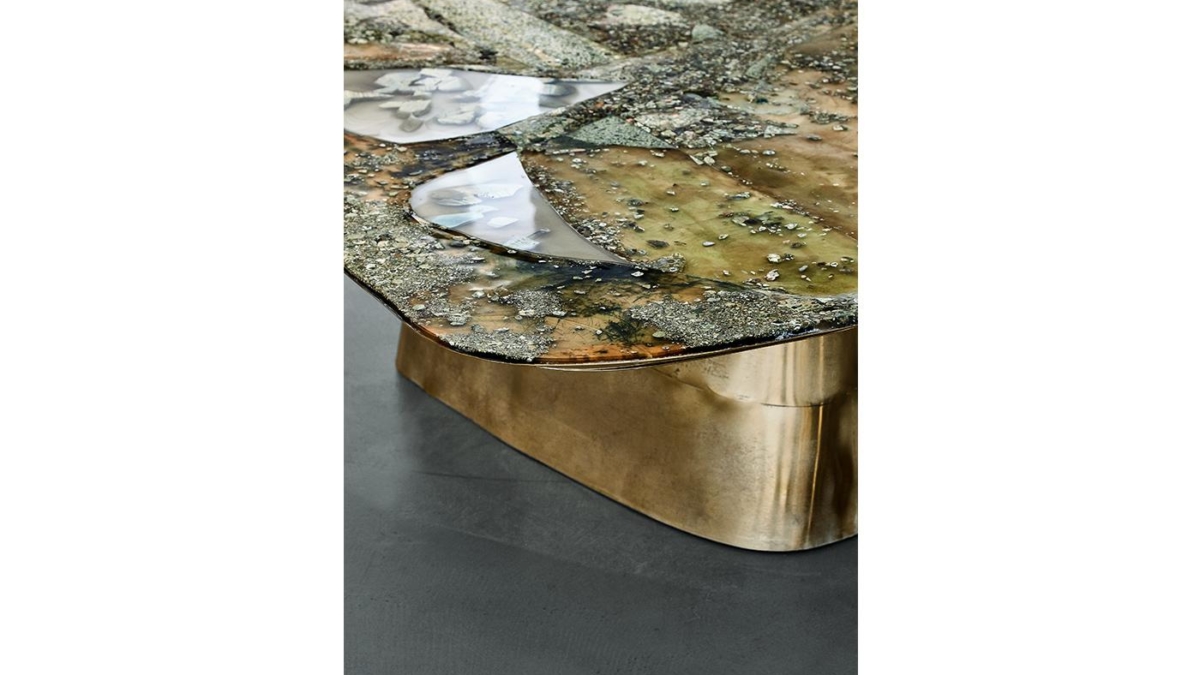 EN PLEIN AIR_ Vincenzo De Cotiis
Italian architect Vincenzo de Cotiis is presenting 20 pieces of sculptural furniture at the Carpenter's Workshop Gallery in Mayfair, London. De Cotiis has been collecting fiberglass for years, investigating how it changes over time. For this event, named En Plein Air, he combined recycled fiberglass with precious materials.
Each piece comprises semi-precious stone and cast brass set in resin, alongside elements of fibreglass and Murano glass. The designer said his approach was slightly back to front – he started by thinking about the surface of the objects he was creating. "I start from a design or a sketch that then builds the materiality of the piece… In this specific project it was a more complex process, because I started from the point of view of painting. Treating a sculpture as a painting is a bit contradictory."
The name of the exhibition, En Plein Air, came from the late 19th century French painters who left their studios to work outside. The designer sees no strong distinction between art and functional pieces, but rather sees the two as intrinsically linked. He believes that each of the objects has a soul, so it is important how people connect with them. As for the unusual combination of recycled and precious materials used in the pieces, he is particularly pleased at how his experimentations with glass give an almost 3D effect.
The show opened at the Carpenter's Workshop Gallery on Albermarle Street on 15 September, to coincide with London Design Festival, but continues until 23 November.
All Rights reserved to Carpenter's Workshop Gallery and Vincenzo De Cotiis