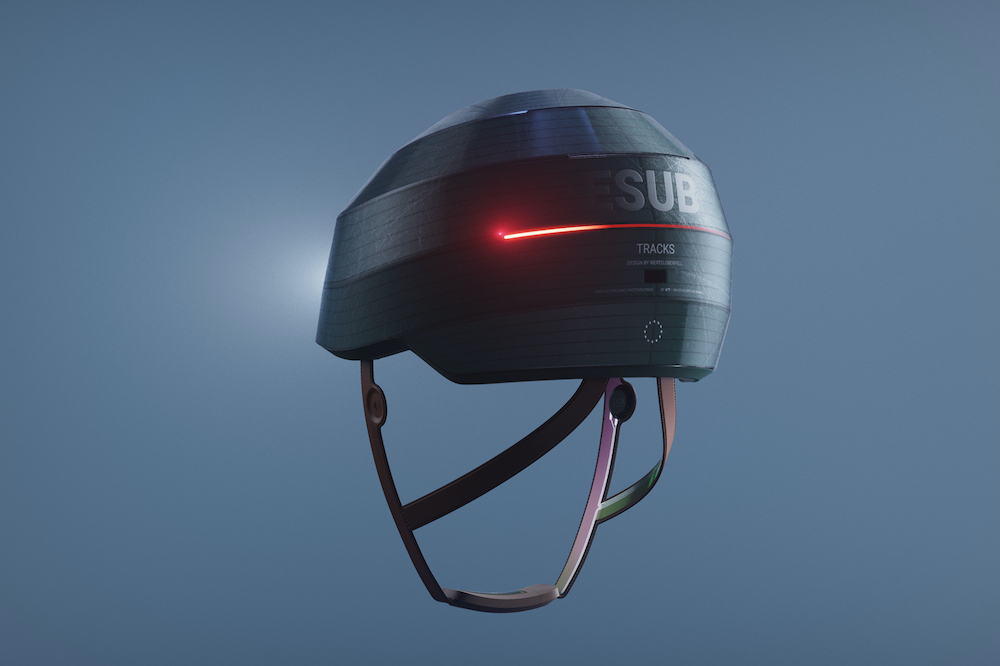 WertelOberfell was founded in 2007 by Gernot Oberfell (1975) and Jan Wertel (1976). Both studied Industrial Design in Stuttgart at the State Academy of Arts. Their work ranges from furniture, lighting and industrial products to experimental research pieces for companies such as Braun, Neff, Philips, Panasonic, Sony, DuPont Corian and many others. One of their latest projects is Esub Tracks:
c
c
ESUB Tracks is a smart, energy self-sufficient urban bicycle helmet. This design concept originates from an EU funded collaboration between designers and material scientists, material suppliers, end-users and manufacturers. It explores how novel materials can help to improve safety and the user experience while commuting or cycling for leisure.
One of the goals of this EU Horizon 2020 project was to stimulate interdisciplinary design and material research, process optimization and to develop less toxic and more eco-friendly alternatives in the field of printed electronics.
The unique helmet shape derives from wrapping flat printed organic photovoltaics around the form in order to use the whole surface for recharging the printed organic batteries to power all electronic components. One of these are the printed piezoelectric bone conduction speakers, heat pressed onto the leather straps. An embossed form ensures that the speaker surface is slightly pressed against the area in front of your ears. The speakers connect via Bluetooth to your smart phone and deliver audio without reducing awareness of your surroundings.
Proximity sensors monitor the area behind the cyclist. If a fast vehicle is approaching from behind, left & right piezoelectric haptic actuators start vibrating to warn cyclist. The printed piezoelectric microphone is able to understand basic voice commands and controls the turn signal indicator lights. Once the chin buckle is closed, an electric drive fastens the straps until the helmet sits comfortable & safe. All electric components are controlled by a Nano Arduino and are powered by the printed organic batteries. Both are contained in one unit that sit in the lower rear part of the helmet.
This project has received funding from the European Union's Horizon 2020 research and innovation program under grant agreement No. 761112
Visit WertelOberfell to know more about Esub Tracks!
c
Images via WertelOberfell