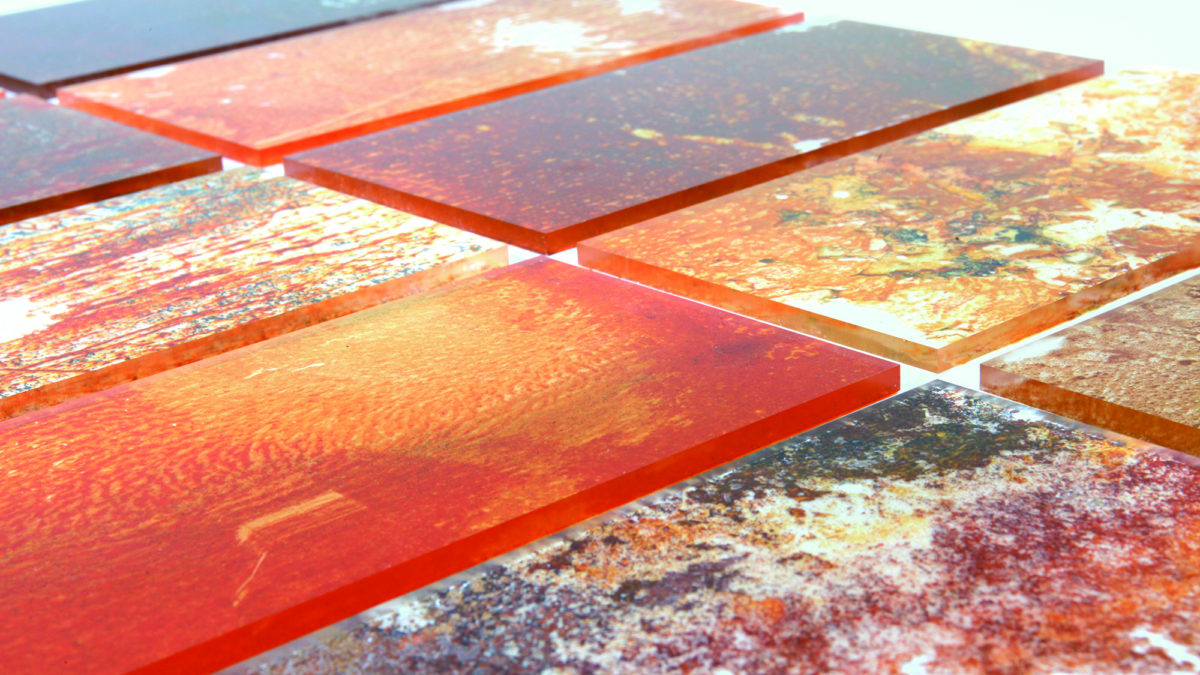 EXPERIMENTAL CREATIONS #MDW17
Experimental Creations is a platform for Young Japanese designers on show in Via Ventura 15 during Fuorisalone 2017. This edition six young talented Japanese designers experimented to find the most inventive way to exploit materials. New challenges using food wastes and bounties of nature, explorations of rust texture and colors, experiments on electronic scanners, CT scanners and 3D printers.
AMAM is a young interdisciplinary design practice based in Tokio – K. Araki, N. Maetani and A. Muraoka – that won the Grand Prix winner of the Lexus Design Award 2016 for Agar Plasticity project – a potential usefulness of agar derived from red algae as an alternative to synthetic plastics. With "Green Solid Collection" they want to present a sequel to the previous project, this time working with pine-resin, vegetable-wax, rice, sawdust and Japanese washi paper. "Even though each composite in this collection is comprised of plant-based materials, which are probably too familiar to be rediscovered, it still achieves properties which could be regarded as unachievable without using materials containing synthetic resins.
Kairi Eguchi Design  (previously on WeVux) presented Deeper Paper, an experimentation with milk cartons and food wastes (orange peel, avocado peel, tea leaves, egg shell, chickpeas, coffee, coconut fiber, etc). Japan has a strong culture on paper and there exists a special paper making process involving drawing methods. They are looking forward to bring out textured papers.
Jun Murakoshi – awarded MA at Design Products, Royal College of Art, UK and MEng – used polyamide to create nuno, a collection of "textile-like" products. "A high precision CT scan originally used for non-destructive inspection of automobile parts is taken and used to create digitalized shape of the kvadrat textile placed naturally…"
oog design studio, a young practice established by N. Ogishita and K. Oishi, worked with egg shell (calcium carbonate), gypsum (calcium sulfate) and silicon. "We may be able to create a container of entirely new values by replacing these features (egg's one) with another figures." In this experiment they focused on the texture, color and cracks of the shell.
Studio Yumakano was founded by Yuma Kano after working as an assistant to artist Yasuhiro Suzuki. The studio experimented with iron, brass, copper, cutting sheet and acrylic resin to present Rust Collecting. "…when you look at the rust carefully, you will discover that the various colors are mixed complicatedly in very beautiful patterns. Therefore, we thought of ways to control the occurrence of rust, utilize the patterns drawn on its own, and collect variety of beautiful rust developments in different environments…"
Last but not least, 3-1 design that used electronic devices and urethane resin to create a magic collection "An electronic device that normally functions internally without electronics. We feel mystical in seeing devices that deliver functions, without any wiring work or exterior treatments."
Visit the Experimental Creations page to know more about them!
All Rights Reserved to Experimental Creations and WeVux