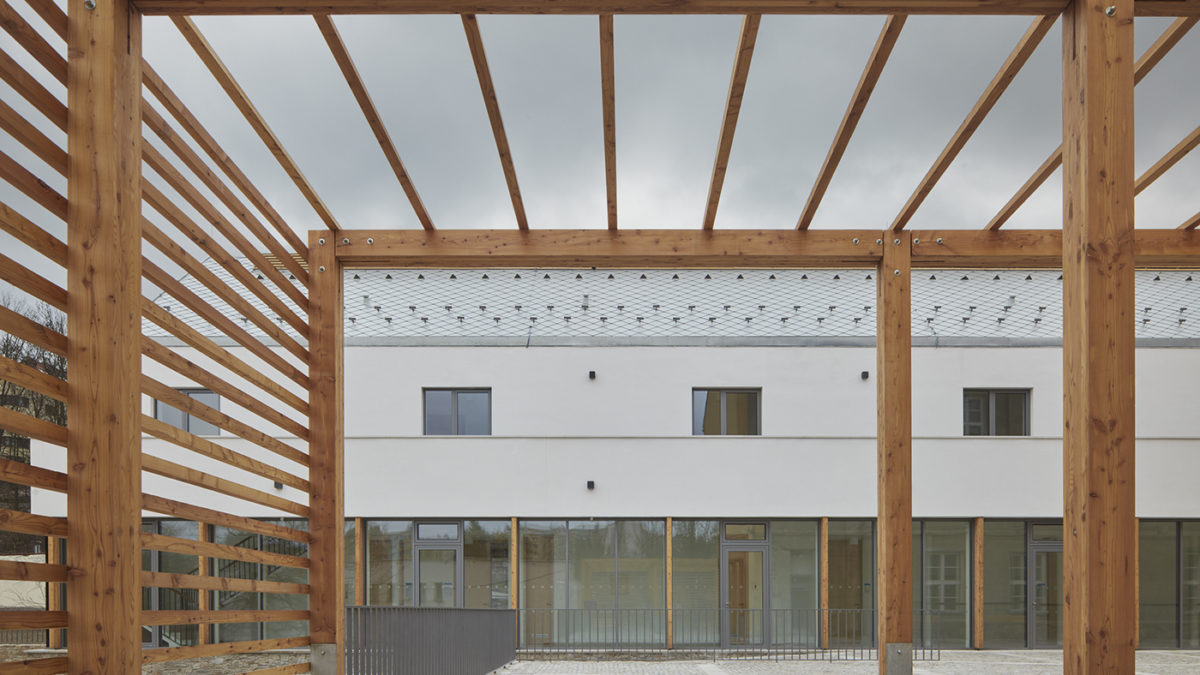 EXTENSION OF THE CATHOLIC GYMNASIUM
The Extension of the Catholic Gymnasium is an architectural intervention into the existing school complex, located in the former Capuchin monastery in Třebíč- Jejkov, by Atelier Tišnovka. Founded in 1992 by 5 architects, the studio believes in collaborative work, respect for the basic values of European material culture, as well as in the effort to address the deeper nature of the problem and the assignment. The new building replaced the one-storey temporary one from the totalitarian era.
On the south side, the extension follows the direction of neighboring monastery buildings; on the north side, it creates an inner courtyard for the relaxation of students. Two-part layout scheme opens on ground floor through a glazed recess hall into the courtyard, on the first floor the corridor is oriented to the opened terrace. Classrooms, laboratories and teacher's offices are organized according to the specific requirements of the school.
Architecture is articulated as a basic follow-up archetypal shape, which integrates the basic proportion features of the historical buildings of the monastery, but at the same time it consistently works with contemporary expression means, setting the building into timeline. The time difference with regard to the historical part of the school is emphasized by the glazed gap with integrated transparent construction of the elevator.
Construction uses the combined system of load bearing walls made of ceramic blocks, reinforced concrete columns and ceilings. The selection of the used materials is based on the conceptual two-dimensional proportion of proposal: they dispose the temporary character, and at the same time they integrate potential of dialogue with the place.
Materials used in the exterior are: light limestone plaster on the corpus of the house, cembrit boards on the roof, scrubbed terrazzo on plinth, aluminium windows and grey polished steel on locksmith elements. Stone walls, levelling the terrain differences, are made of layered gneiss. Materials used in the interior are light edged terrazzo in the hallways and oak parquet floors in the classrooms and teachers' offices. The doors, the view-throughs into classrooms and built-in furniture are made of maple wood.
Photography by BoysPlayNice
c