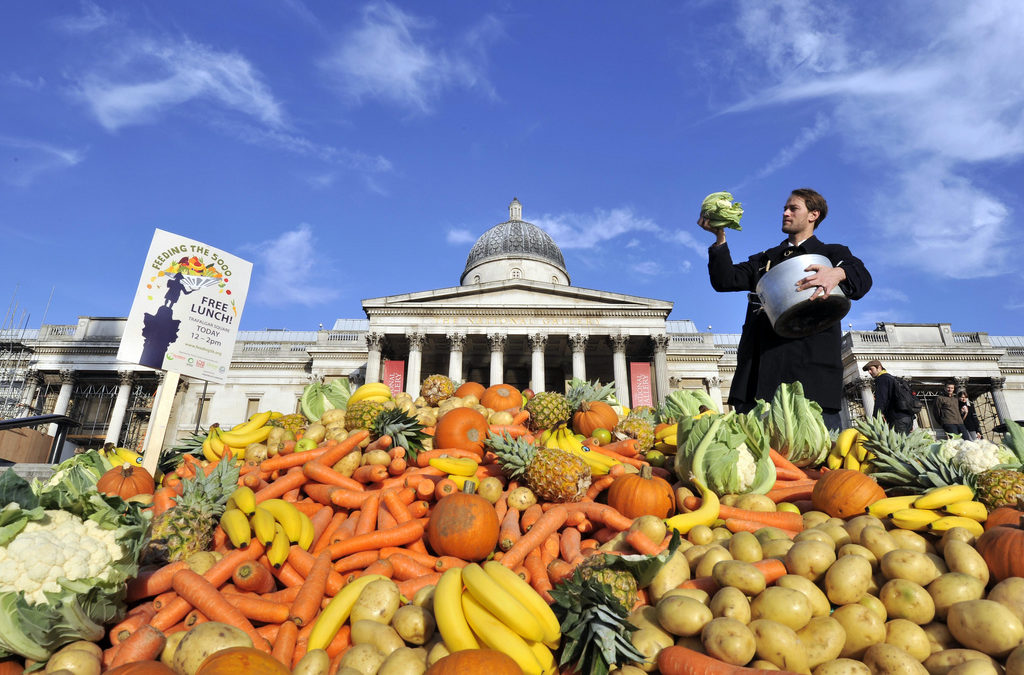 FEEDING THE 5k – FREE FOOD TO FIGHT AGAINST FOOD WASTE! – Bruxelles
Bruxelles, April 1st – Grasmarkt – 12.00/16.00
On Tuesday 1 April at the Marché aux Herbes/Grasmarkt in Brussels, Feeding the 5000, a
global campaign to catalyse action on food waste, will serve 5000 lunches made entirely out
of fresh food that would otherwise be wasted. The event is co-organised by Feeding the 5000
and a coalition of Belgian and international organisations including 11.11.11, Oxfam, the Belgian
Federation of Food Banks, CRIOC, EU FUSIONS, Komosie, Disco Soupe Brussels, Slow Food, Social
Groceries Flanders, Velt, Green Up Film Festival and supported by Ingrid Lieten, Flemish Minister in
charge of Poverty Reduction.
Feeding the 5000 Brussels will be a spectacular public celebration of the positive, solutions to food
waste. Feeding the 5000 has used similar events to launch national food waste campaigns in cities
around the world including London, Paris, Amsterdam, Dublin and Sydney among others, catalysing
national and international action on tackling the food waste scandal. The Brussels event is part of
FUSIONS, a four year project to tackle food waste across the EU.
From 12-4pm, a group of campaigners, charities, volunteers and prominent supporters will serve lunch
to over 5000 people. There will be live cooking demonstrations by chefs including Philippe Renoux
and the public will have the opportunity to participate in the solutions to food waste available at home
and across the food supply chain. The menu will include a curry made from surplus vegetables
including misshapen potatoes, wonky carrots, blemished beans and oversized aubergines that were
cast out because they are not cosmetically perfect or are surplus to requirement, as well as a range of
dishes, including offal delicacies, cooked 'live' by well-known chefs.
Disco Soupe Brussels invites volunteers and the public to help peel and chop hundreds of kilos of
surplus fruit and veg that will be turned into healthy and tasty salads served for free to the public. All
this will be accompanied by live music, DJs and dancing in true Disco Soupe style.
Feeding the 5000 volunteers are harvesting hundreds of kilos of vegetables from farms near Brussels
that would have been ploughed back in the ground because they don't fit strict retail specifications.
Source: http://feeding5k.org/events/brussels