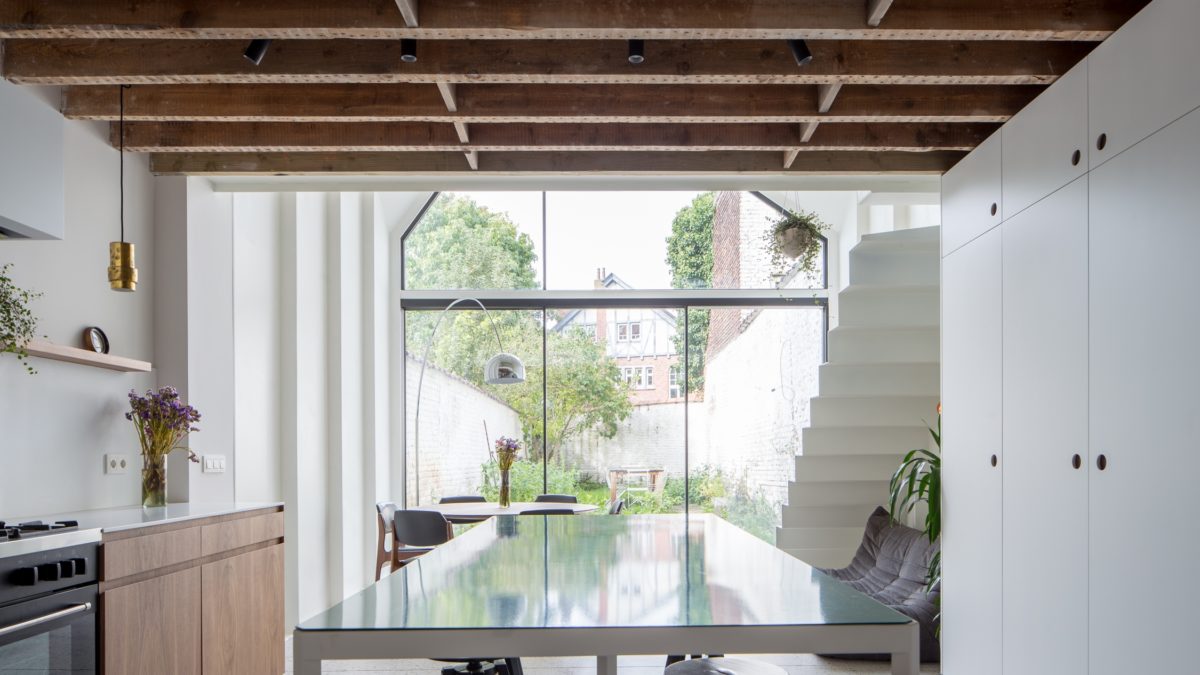 Created in 2011 by Cédric Callewaert and François Vliebergh, AUXAU brings together a team of architects who are willing to participate in the development of quality, sustainable projects with wisdom and simplicity. One of their latest project is Fetis, a minimal house located in Brussels, Belgium.
The project transforms and enlarges a small house located in the center of the capital. The architectural intervention is limited to the addition of an extension at the rear facade that connects the living spaces to the existing small garden. The added volume is carved near the adjoining terraces for respect of the direct neighborhood.
The small width of façade (less than 5 meters), the formal complexity of the volume developed, the limited timing of construction and the difficulties of access have oriented the architectural design towards the prefabrication of a steel shell. The ancestral methods of boilermaking, and modern welds, together with a thorough reflection of the structural capabilities of steel sheets have reduced to a strict minimum the amount of material required for the realization of the module. The new shell consists of a single sheet of steel 5mm thick. It is stiffened by a set of 5 stiffening gantries of 20mm thick for 100mm deep.
This simple structure makes it possible to optimize the space generated by the intervention. The new envelope regulates all interior finishing details, this allowed to integrate the staircase to the envelope to minimize the cost of implementation. With a simple painting, the steel becomes the visual
signature and the inner skin of the project.
Photography by Severin Malaud
c