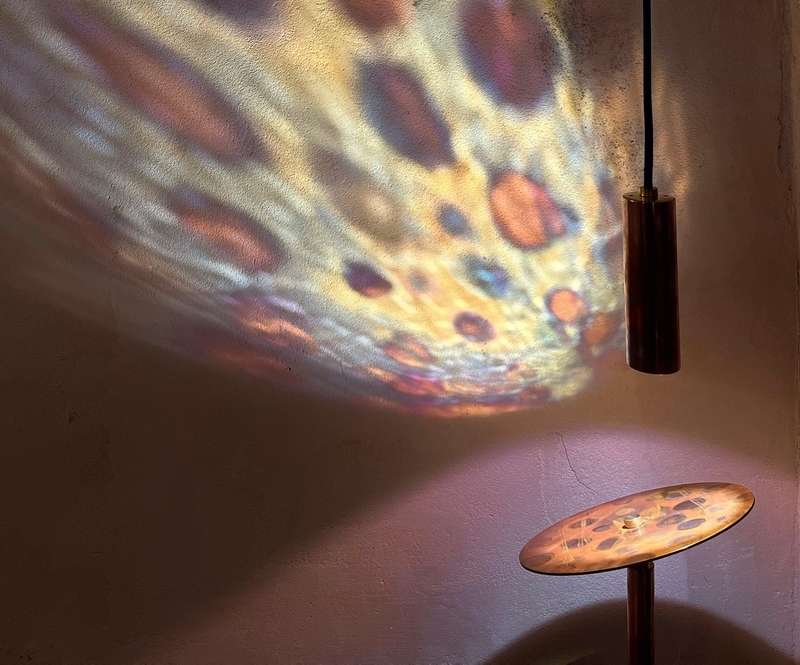 FIREPRINTS COLLECTION, metal that shapes light
Gianmarco Guarascio is an Italian designer who presented his Fireprints Collection at Makers 2 at Caselli 11-12, Milan – open until 30 June. It's a collection made up of four models of lamps (or rather light projectors) which encompass the entire educational path and thinking of the designer.
After nine years of experience as a plumbing and heating installer for the family business, in which he comes into contact with metallic materials – such as copper – and various manufacturing processes, Gianmarco discovers the desire to design and create: he decides to attend a Bachelor's degree in Habitat Design at Quasar Institute, Rome, where he meets and begins collaborating with Alessandro Gorla, founder of Studio Algoritmo. Then, he continues his journey with the Master in Product Design & Made in Italy which allows him to get even closer to production with collaborations with Italian companies such as Very Simple Kitchen, Delta Light, KeepLife – previously on WeVux. The theme of the light is deepened thanks to the collaboration with Neeo Design, founded by Marco Corsi and Emanuele Lanzi, a laboratory that produces lighting products with flexible LED neon.
Fireprints collection condenses Gianmarco's experience of these years: four projectors that exploit metal workings to create a decorative effect thanks to the use of light.
c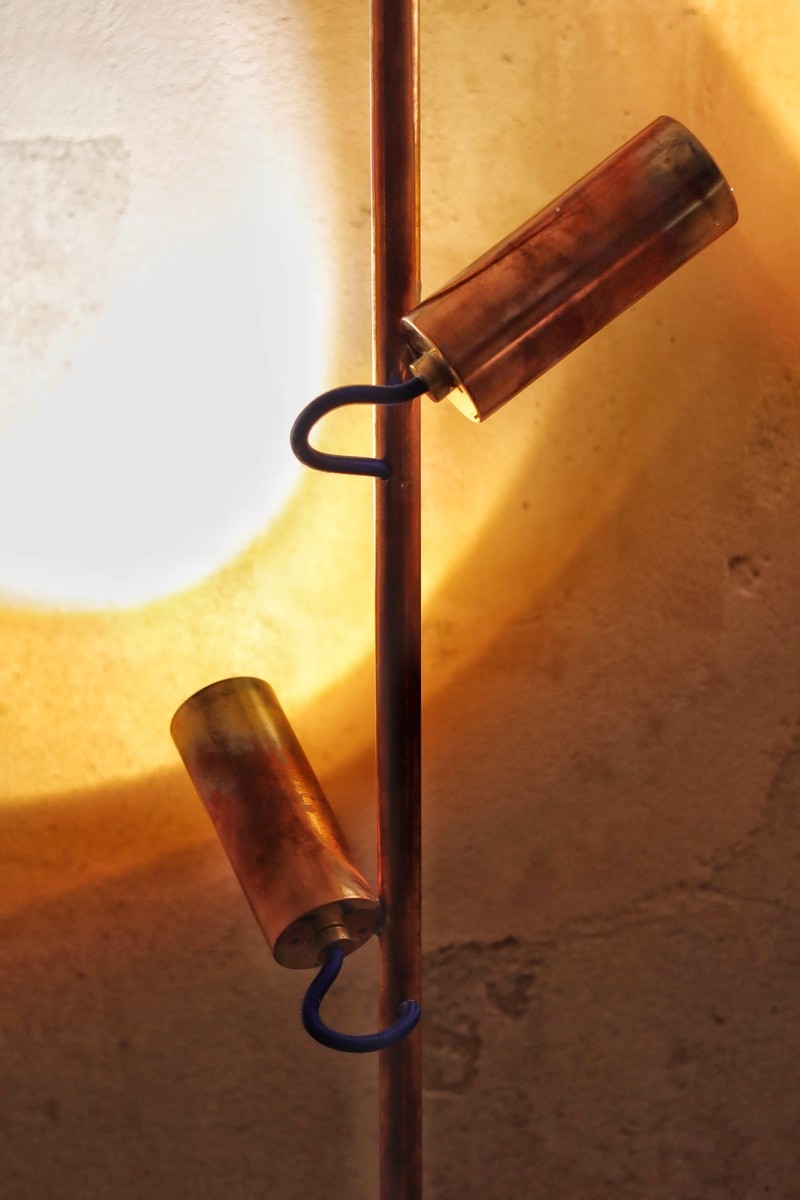 c
Each model of the Fireprints collection is completely handmade – excluding the electronic components – and has its own characteristic: the floor and table projector have a solid concrete base that gives stability to the piece and the structure ends with a processed copper disc that reflects light and can be directed to investigate its effect in space. The other models, suspended with one and two light points respectively, exploit the very structure of the copper tube to create a soft luminous decoration, in contrast with the tension of the product. Welds, burns and brazing take shape and are amplified by the light source.
"Light was a pretext for investigating this poetic side of copper working" Gianmarco tells us. Through much research and experimentation, begun before starting to attend the bachelor's, the designer has practically managed to sample the different colors that can be obtained – "The flame must be held for a certain time at a precise temperature, changing these variables changes the result. For example, to have a purple color, copper must be kept under the flame for a long time, after the yellow color it will turn purple. However, it is a process carried out with fire, there are parameters but the result will never be identical".
A story of an experience developed over several years and many experiments that translates into an aesthetically sculptural but functional object. "I like to tell stories" specifies the designer, and it is clear not only from the Fireprints Collection but also from other projects such as Vacanze it-Aliene, designed for KeepLife, a game that contrasts the idea of the traditional urban scenario with that of the "different" idealized with an alien spinning top, or Trevi, a souvenir created for Fab Iter with the historic marble workers of San Lorenzo, a tribute to the Trevi Fountain, a pocket emptier that ideally takes us to Rome and to the coin toss in the Fountain.
Gianmarco's projects start from an observation, a need, a curiosity and are subsequently developed down to detail, with a great balance between production and functionality, to reach everyone. His goal is not quantity, but quality: to use artisanal and digital techniques to find new inspirations and to create high-quality products and accessories that last over time, in which everyone can recognize himself/herself.
For more information on the project, visit Gianmarco Guarascio's website and follow the designer on Instagram too! Fireprints Collection photos by Valerio Guarascio
c