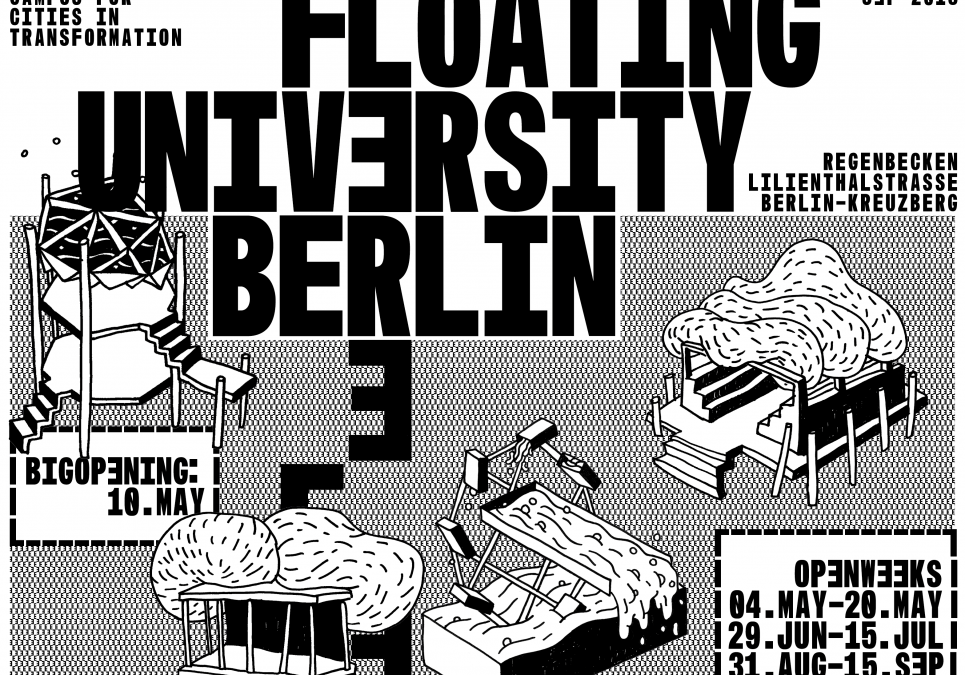 FLOATING UNIVERSITY BERLIN
From May to September 2018 Raumlabor Berlin created a visionary inner city offshore – laboratory for collective, experimental learning, knowledge transfer and the formation of trans-disciplinary networks to challenge routines and habits of urban practices – the Floating University Berlin.
A rainwater basin next to the former Tempelhof airfield has been the gathering place for visiting students and scientists from more than twenty international universities as well as artist from all over the world, local experts, architects, musicians, and dancers. All of them came together to research and investigate the daily routines and practices of urban living and to formulate visions and ideas for an organizational transformation. In the experimental area around the rainwater retention basin the Floating University is looking for contemporary, resilient forms of urban practice with a visionary focus on an unknown future.
Students and their teachers from Berlin, Europe and elsewhere collaborated on building the campus: learning spaces, workshops, an auditorium, a laboratory tower for experimental water filtration systems, a kitchen, a bar and of course the toilettes. They created a space for exchanging knowledge within experimental, educational formats. A place where trans-disciplinary research teams and various positions came together to investigate on the complex questions of urban practices: how can cities cope with risks, strains and chances of global warming, the shortage of resources, superdiversity and hyper-accelerated development – nowadays? Which tools do we need to live and work well and in a resource-efficient manner in the future?
With this temporary project, Raumlabor Berlin team was able to reactivate an abandoned area through architecture, quickly and effectively. Not only creating a program, but an experimental experience in which people and culture were the main characters.
All Rights reserved to Raumlabor Berlin