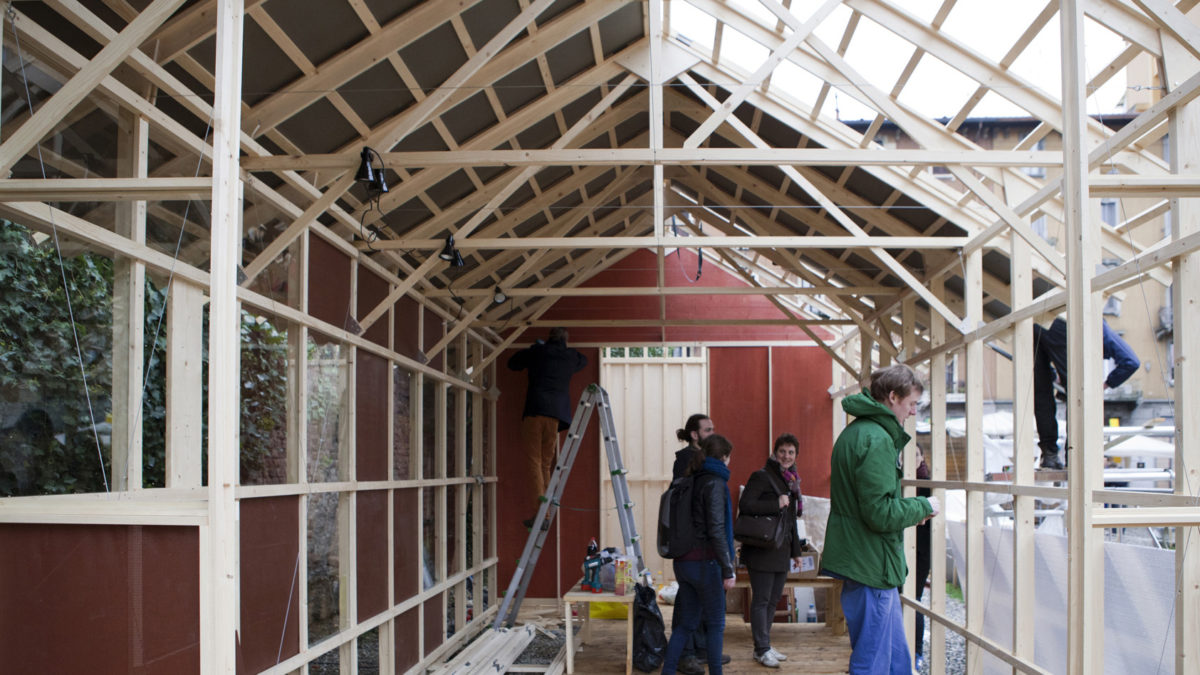 GIULIANA ZOPPIS and her work for a sustainable future
This article was written for Salone del Mobile.Milano and previously published on salonemilano.it digital platform
Architect and journalist Giuliana Zoppis writes on architecture, design and furniture, with particular regard to circular design, bio-architecture, and the social and environmental responsibility of the housing sector. In 2006 she and Clara Mantica founded Best UP, Circuito per la promozione dell'abitare sostenibile. She is currently the Coordinator of the Sustainability Committee of ADI (Adi Design Index / Compasso d'Oro). For over twenty years, Zoppis has been looking into matters that have since emerged as issues of major concern, such as how to reduce the environmental impact of industrial activities and the importance of acting at a systemic level, both of which were among the themes explored at the latest "supersalone". The following conversation to understand how the world of design is getting along today and if it will be able to face the new challenges of the post-Covid era.
How has the world of design's approach to sustainability changed in the last twenty years?
The real big change is in the way it functions as a system, so that we all, whether companies, institutions, associations or simple users and consumers, now feel part of a global process that is itself in search of new paradigms. This change has helped everyone to redirect their aim onto the things that really matter. Two very relevant texts come to mind. The first is from Roland Barthes: "The essence of an object has something to do with the way it turns into trash." The second is taken from a document of the UK Design Council: "Sustainable design involves the strategic use of design to meet current and future human needs without harming the environment. It means (re)designing products, processes, services or systems to resolve imbalances between the needs of society, the environment and the economy, and to mitigate the damage already done." So it is a question of designing and producing without generating more waste, and of creating objects and buildings that are both long-lasting and, once decommissioned, readily transformable into useful new materials. Sustainable design is a powerful tool that can be deployed for the betterment of human wellbeing. When we talk about social design like we are now, we are referring to a discipline in which the scope and extent of the social responsibility of companies and professionals are determined. Basically, social design is where public and private entities come together to develop sustainable economic projects for communities. Social design projects seek to effect positive behavioural change and find ways of encouraging deeper social engagement.
As many have had occasion to mention, the pandemic seems to have spurred the development of eco-sustainable solutions both in architecture and in the sourcing of the materials used in design. What are the most important challenges for companies and designers today?
The biggest challenge is doing the right thing right away. In a recent interview on Italian television, the environmental justice activist Greta Thunberg was very clear: we must continue to urge everyone, governments, political parties and businesses, to commit themselves without delay to protecting the planet. Each according to their skills and abilities. The manufacture of objects and machinery, and the construction of buildings are part of a global phenomenon, and we all know exactly what they cost in terms of emissions and damage to biodiversity and world health. The pandemic is just one of the effects of the climatic and environmental imbalances that concern us all. The media coverage of the pandemic attests to the urgency of the economic and financial situation into which it plunged the world, causing the governments of the wealthiest countries to undertake an escalating number of budgetary and financial support actions. If we could only act so decisively and far-sightedly in preventing the waste of natural resources and raw materials, and in drastically reducing waste, then half our work would already be done.
How does Associazione per il Design Industriale (ADI) support sustainability in its field?
ADI is an official partner of the New European Bauhaus, which intends to build a centre of experimental work in furtherance of the transformation of Europe into a more open and inclusive place both in the manufacturing of goods and in the utilization of local economic resources. We at ADI see the ethics of culture and design as being inextricably connected with scientific and technological innovation. We are working towards the common goal of developing advanced, and environmentally and socially responsible solutions across the board. ADI invites designers, architects, engineers, scientists, students and creatives to propose projects for the transition to sustainability. The projects we want are those that emerge from an ongoing stakeholder conversation between designers, members of the public, businesses and institutions.
Best UP has been going for fifteen years. Founded in 2006 with Clara Mantica, it "promotes sustainable living and carries out activities to raise awareness and disseminate a culture of sustainability." It is a network of professionals and companies. What kind of services do you offer? How do you operate?
For the past 15 years, we at Best UP have always been on the lookout for opportunities to reconcile "design for the planet" both with the current best practices of Italian firms and with local realities. We encourage sustainability projects and offer ongoing support for their progressive improvement. Right from the start, the Association has tackled the problems of sustainable living from this perspective, and has always been aware of the good things that several companies are already doing (some without taking sufficient credit), from project conception to production, distribution, consumption, all the way up to the recovery/recycling or reinvention phase of the cycle. Social and environmental sustainability are the values that underpin our activities, which are amply documented on our website. We offer training courses for schools and businesses, help build regional networks between the artisan sector and industrial supply chains, and give seminars and educational presentations on consumer behaviour.
Has the way you work changed as a result of the recent pandemic? Have there been more requests for help from companies and individuals?
The promotion of design as a vital tool of sustainable development and agent of change is leading us increasingly in the direction of recognizing the importance of social responsibility, which necessarily raises questions of rights and poverty. This was already happening well before the pandemic. We have our finger on the pulse of the situation, thanks to our active local presence in regions well outside our base in Lombardy. Each associate has made a practical commitment to take action in the areas of contemporary living where the need for change is most pressing. In recent years, some associates have dedicated themselves to meeting the primary needs of the most vulnerable members of society (those who measure wellbeing in terms of mere survival); some have chosen to make their contribution via international movements for the prevention of ecological devastation; some have expanded into the field of research and social life-cycle assessment (S-LCA) to examine how product and process life-cycles affect social assets; some have deepened their own participation and that of Best UP in global networks such as O2GN, which brings together eco-designers from dozens of countries; and others have focused their energies on urban regeneration through sustainable food production in abandoned buildings. We are participants in projects and activities based on a common desire to overcome prejudice and division, so that we may live in the world in full awareness of the truth that every creature and all living things on the planet are interconnected and interdependent.
The 2010 manifesto of the Association addressed many contemporary topics, such as the importance of building a system, how to minimize environmental harm through longer product life-cycles, recognition of the work done by women, the companies of the future… Your Association is both far-sighted and forward-looking. Given that these points remain as relevant now as ever, if you were to rewrite Best UP's manifesto today, what would you add to it?
The manifesto shows how Best UP, which many recognize as a pioneer in the area of sustainable living, advocated a systemic approach from the very outset. Point 9 of the manifesto, cited by Ezio Manzini at the presentation of the Association at the Triennale, declares that companies of the future "are those that generate positivity," and that "they are those who build a sustainable economy whose strength lies in its 'relationship capital.'" Looking back across the space of so many years, I can obviously see certain aspects that should have been emphasized more, beginning with the importance of circularity in manufacturing processes, from the extraction of raw materials and the sourcing of secondary materials to distribution, maintenance, repair and reuse. We ought to have underscored more boldly the fact that nothing loses value in a circular economy in which products are accompanied "from the cradle to the cradle," so to speak. There should have been a stronger commitment to the use of renewable energy. As we have seen, the resources of the planet are not infinite, so we need to transition as quickly as possible to non-fossil fuels. As regards our living spaces and environments, we have various different options depending on the climate of our location and the resources it has to offer. Another crucial necessity that warrants our unstinting effort is the drastic reduction of waste, which needs to occur upstream, at source, where it is created. We need a total paradigm shift that will decisively change our behaviour as individuals for once and for all.
So how did the recent "supersalone" exhibition go? The next trade fair appointments are scheduled for April 2022. Do you expect to see a "green" relaunch?
As many colleagues from the worlds of sustainable design and communications have noted, the 2021 edition of the Salone del Mobile was a success as a trade fair event given the planning time and resources that were available after two years of stoppage, and given that it took place a few months after its 60th anniversary. But it was also a success in terms of its messaging because it was a resonant, concise and effective statement of intent from the furniture industry in response to the challenges it now faces. It is a message that has been heard across the world and has prompted even some of the most sceptical to express their solidarity and appreciation. Once again the city's "Fuorisalone" events, which are adjacent to but separate from the main trade fair, have proved a great success. For over 20 years, Fuorisalone events have accompanied and supported Design Week and, this year more than ever, they remind us that only through collective action and the adoption of a more human dimension can we create the new contexts and formats we need. As for the "green relaunch" that you mentioned, my answer is that there is simply no alternative to embracing environmental and social responsibility in every area of production and consumption. If we are to thrive in the present and give meaning to our business ventures and companies, we must return to our field of activity armed with the tools and knowledge of ecology and biology accompanied by – or "fused with" as I would put it – our project management skills. To do this, we need to put nature and human wellbeing at the centre of our attention, incorporate them into our planning and design and embed them in the reality that we build. It is a challenging prospect for us all.
Click on the projects to find out more!
Manifesto Best Up / The Natural Circle 2015 / Ciclo di Vita / O2Italia / Urban Farm Design
c