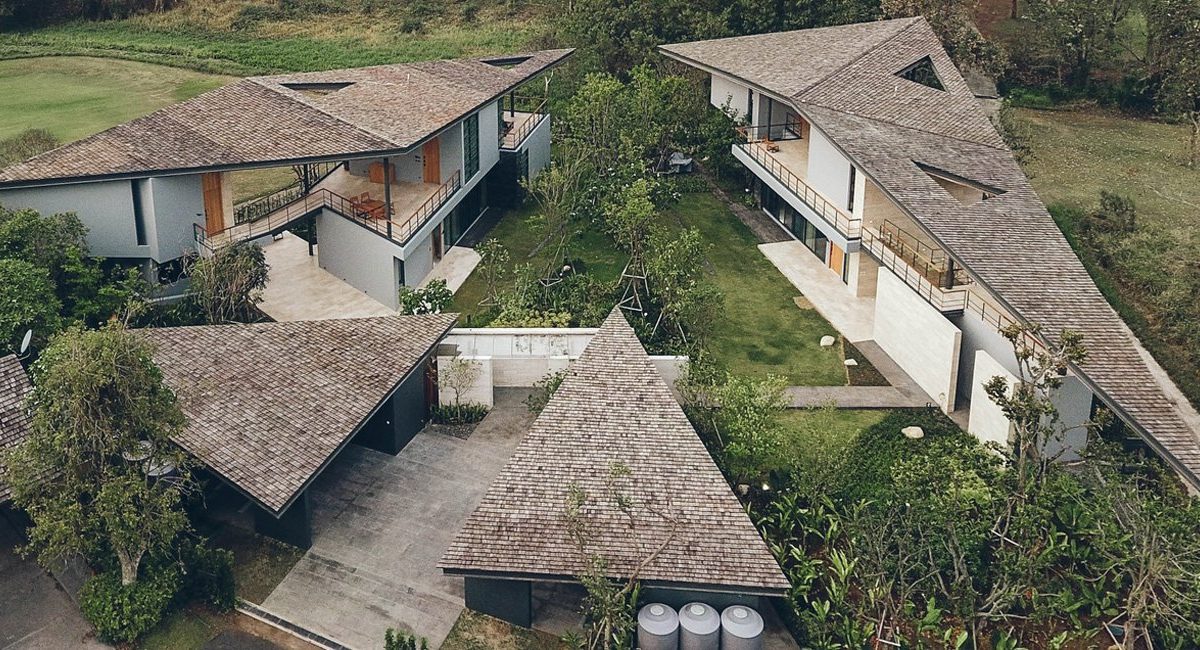 Located right next to the magnific view of Khao-Yai mountains (Bangkok, Thailand) and designed by STU/D/O Architects, Gliding Villa is a property with two villas, a single-floor parking and a service building. The studio was commissioned to realize two dwellings on the originally single land, dividing it into two equally plot. Both houses are proposed to be located along the boundaries of the site, maximizing the landscape in between, creating privacy for the inhabitants but also preventing them to be seen directly from the public road.
Inspired by the surrounding mountains, the long span steel-structured roofs visually characterize the architecture. Each of them with a triangular shape, they create the visual connection among the villa: looking from above the roofs of the two houses are connected with conceptual lines, which give the effect of a single geometric shape. This helps the viewer to perceive the structures as a single residence. Under the covering roof, the walls are opened as much as possible. The common living areas are opened to both the surrounding and the central garden as a large open space.
Visit STU/D/O Architects to know more about Gliding Villa!
Stu/D/O Team:
Apichart Srirojanapinyo
Chanasit Cholasuek
Adrian Smiths
Park Lertchanyakul
Landscape Architect: Field Landscape Studio
Lighting Designer: Siriluck Chinsaengchai
Structural Engineer: Ittipon Konjaisue
Mechanical Engineer: Sutanya Sukprahan
Consultants: Yutthana Pratumpo
Contractor: Smart Builder Tech
Visualizer: Stu/D/O, DOF
Photography: Stu/D/O, Pirak Anurakyawachon
C