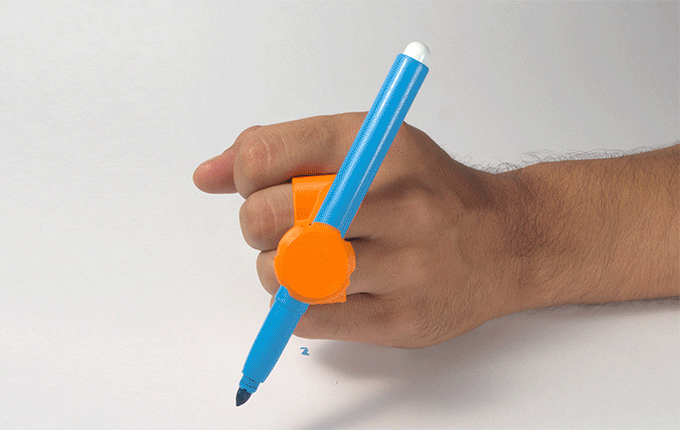 GLIFO, the custom-made writing aid
One of the many fields in which contemporary design operates is Design For All (or Universal Design). Its aim is the design and construction of buildings, products, and environments accessible and inclusive for all categories of people. In our opinion, this is one of the most interesting typologies of design: it's not a marketing-dominated sector and requires a collaborative design method, as the designer must get involved and operate in a complex field with help from researchers, therapists, doctors, and patients. Without the sharing of information, the designer wouldn't be able to create something effective in this field. A successful example of this method is Glifo.
The idea of Glifo was born to satisfy a specific need: help children with a complex neurological disorder write and draw so that they could leave their marks. A need brought up by therapists, as they witnessed how important it was for children to engage in these activities, like their schoolmates. TOG therapists needed an aid that would support children as well as stimulate them, a tool that would enhance their capabilities despite the complexity of their pathologies. This aid had to reduce the contraction of the hand, but it also needed to be easy to use, nice to look at, suited for both at school and at home, and most importantly tailor-made to fit each user. It was back in 2014 when the first Glifo was developed as the result of an intense collaborative process by OpenDot's makers, therapists, designers, and students together with the families of children with these impairments.
The outcome was functional, low-cost, accessible, beautiful, and therefore an inclusive solution that, thanks to 3D printing, could be tailor-made for each child.
c
c
At the end of 2020, OpenDot and TOG launched a Kickstarter campaign for the new design of Glifo ( lighter and easier to use) and aimed to raise funding to develop an online configurator that will enable anyone to personalize their own Glifo, tailored to their specific needs and taste. The configurator will allow users to be able to choose the correct dimensions, tilt, and color, using a simple and accessible interface. Glifo's latest design will be lighter, smaller, easier to use, and capable of holding more types and sizes of pens, pencils, and markers to let kids choose how they channel their creativity.
The Kickstarter campaign was a great success and the help received will be used to create the configurator, and will also allow us them to donate Glifo to those who cannot afford it (the "Glifo Sospeso", inspired by the Neapolitan "suspended coffee", offered for those who cannot afford it), to organizations, schools, associations and hospitals that work with children who may need it.
Glifo is part of a series of objects that goes under the brand of UNICO – a collection of custom made aids designed to help children with disabilities achieve autonomy and quality of life – created by OpenDot and TOG Foundation. This campaign is supported by careables.org, project funded by the European Union.
Visit OpenDot e TOG to know more about Glifo and UNICO's products!
c