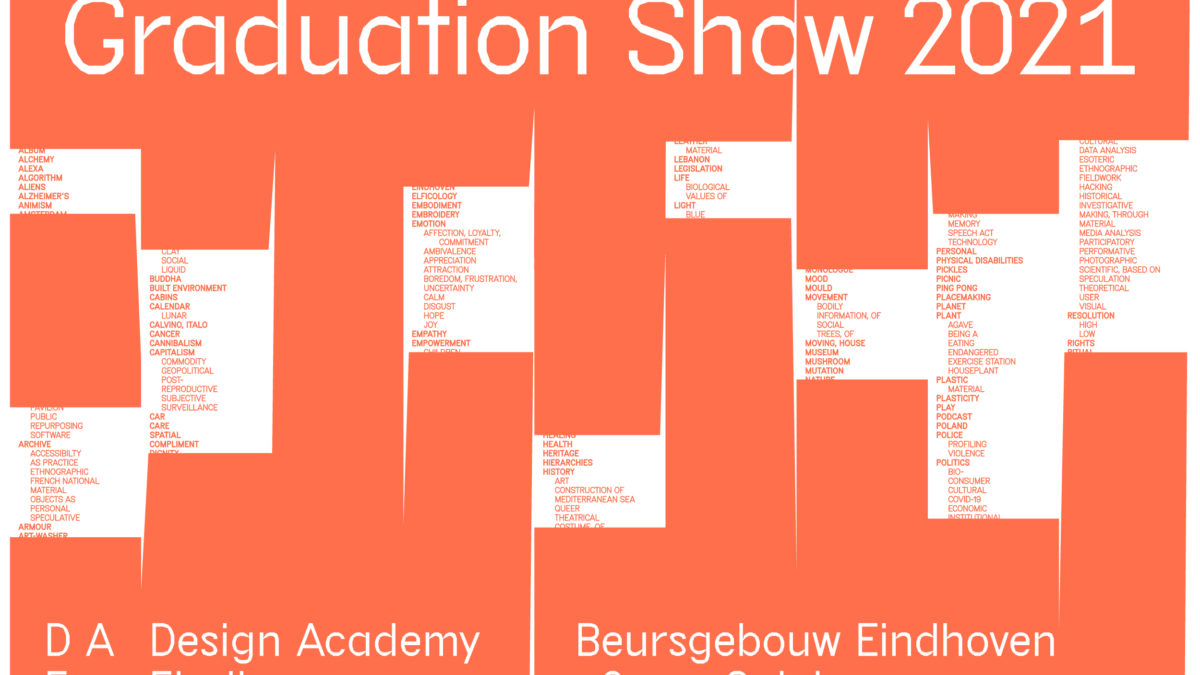 GRADUATION SHOW OR PERFORMANCE?
Once again Dutch Design Week is back and after last year's enforced halt, the new edition proves to be one of the most interesting events in northern Europe. As we said yesterday, design has taken over the city of Eindhoven again, from the former Strijp industrial area in the far west to Sectie C in the east, a hub for makers, artisans, artists and designers. Among many exhibitions, one of those with high expectations is undoubtedly the Design Academy Eindhoven Graduation Show, this year at the Beursgebouw (a few steps from the station). The 2021 edition hosts more than 160 degree and master thesis projects by Design Academy students, but the show is very complex and a little below expectations. Speaking with local journalists and designers, the general idea is that the school has lost the sense of these shows.
In the almost dark industrial space of about 8,000 square meters, the projects illuminated with a dramatic and theatrical spot light create a very confusing scenario. Walking through the show, you have the sensation of witnessing many small performative installations, the stranger they are the better. Many current and urgent issues addressed are somehow penalized by the tendency to favor aesthetics over the content. Often, these are personal representations of a theme, or questions already asked by others and reworked by students (stop working on apples, there's a world of food leftovers!). Ampoules, neon lights, the setting is the subject of the exhibition. Of course, not all projects have these characteristics, it was an inspiring exhibition, but the school should understand the goal of its show: to make a performance or "reveal potential future"?
A trend highlighted by the sector and which can help to understand better the problem of contents, especially in The Netherlands, is self-labeling as a minority even before being recognized as artists: so we have gender-fluid artists, black artists… This is not wrong, but perhaps the artist works should speak before the label that he/she/they impose themselves as artists/designers.
Another problem that has led to the spectacularization of graduation shows in The Netherlands is the education system. There are no public schools, they all rely on state fundings. Hence, with better results you can get more money. When the resonance of a university graduation show is worldwide, the result is guaranteed. The problem with this approach is that, nowadays, Dutch design schools tend to focus more and more on the final aesthetics of the result, leaving out the initial process and research that led to a certain conclusion. We can no longer afford to carry out important research on urgent topics that then result in a vase or yet another chair.
c