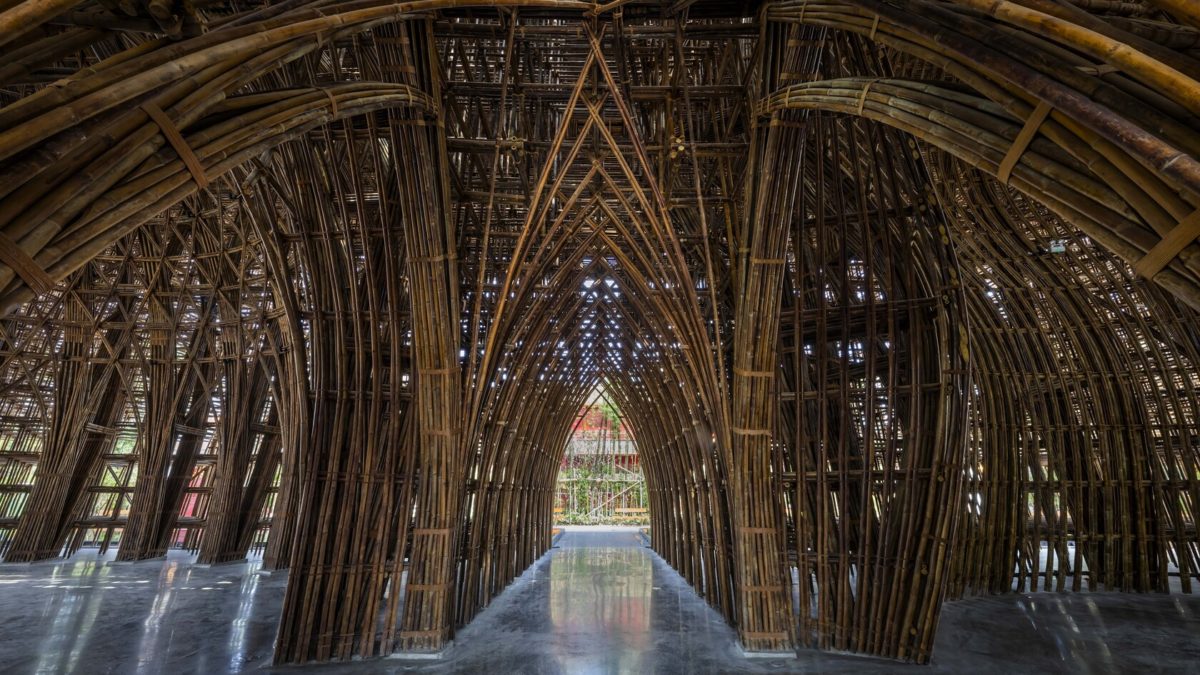 Grand World Phu Quoc Welcome Center, VTN Architects
Vinpearl Project is the welcome center of the Grand World Phu Quoc master-plan, which is part of the massive Phu Quoc United Center, Southeast Asia's top resort, entertainment, and shopping supercomplex. The scope of the project is impressive, with a building area of almost 1500 sqm.
The client asked VTN Architects to make a bamboo structure that embodies Vietnamese culture, becoming a symbol of the entire master-plan project and attracting tourists. Therefore, VTN, previously featured on WeVux, used two traditional symbols: the lotus and the bronze drum, carved into the thick layers of the bamboo grid.
Ecologically, the project is energy efficient, using natural and low-cost sustainable material (in design and in construction), for example ropes and bamboo pins to connect bamboo culms together. No artificial air conditioning is used, and artificial lighting is minimized to only be used during nighttime.
c
Vinpearl Project is a pure bamboo structures with a massive amount of material, counting up to 42,000 bamboo culms. The construction process of this material itself is unique. With great experience in the realization of these structures, the studio has perfected its method, which here is a bit more advanced in terms of transportation and precision (several systems together require utmost precision). The final structural system combines Arches, Domes and Grid systems together, developed by the studio over time.
The spatial quality is influenced by the hybrid structural systems: the space is very open and bright, the modular nature of the frames gives transparency and lightness to the structure. Despite this, the natural color of the material creates a warm and intimate atmosphere.
Visit VTN Architects to see other projects and follow the studio on Instagram!
Principal Architect: Vo Trong Nghia, Nguyen Tat Dat Design
Team: Nguyen Van An, Tu Minh Dong, Bui Quang Huy, Manh Trong Danh, Thai Khac Phuc
Photography: Hiroyuki Oki
c