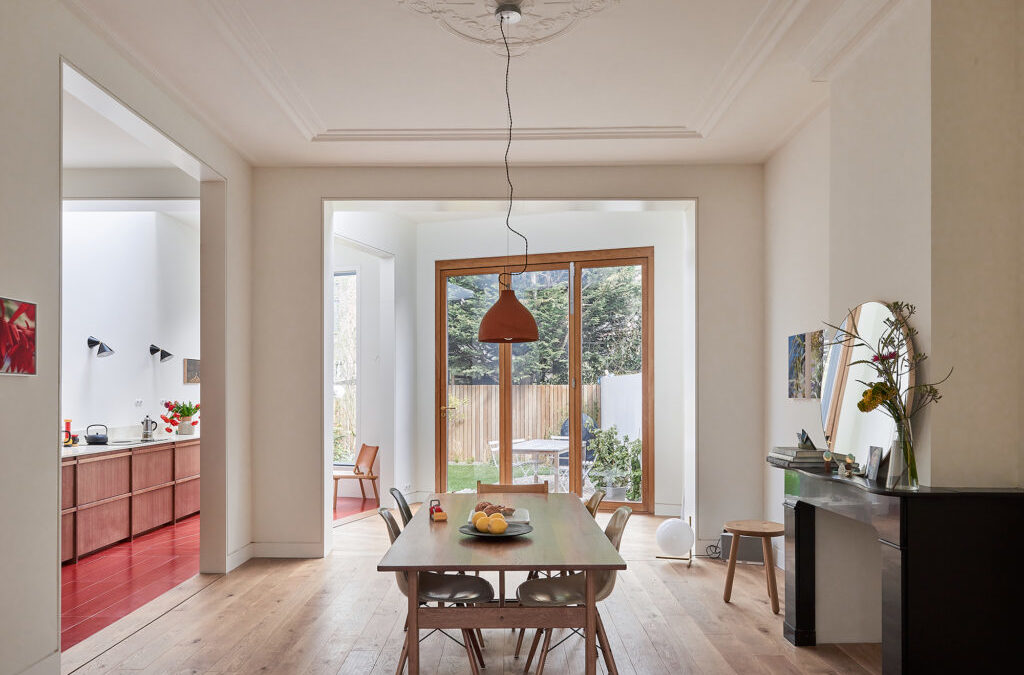 HAARLEM HOUSE by Unknown Architects
Haarlem House is a three-story dwelling located in Amsterdam, in the wonderful green district of Haarlem, and designed by Unknown Architects. The house has been completely refurbished and extended in close collaboration with the clients. The original layout consists of a narrow and wide area: the first houses the entrance, the staircase, and the kitchen, while the other the living room and the dining room, connected by an internal decorated door. The project proposal is the result of an in-depth study of the different layouts in relation to the program and their relationship with the garden.
The ground floor plan is conceived as a collection of connected rooms with different sizes and shapes. The spaces can be perceived differently according to the point of view: from a certain area, the house might be perceived as a collection of rooms, while from another angle it can seem to be a singular large space with a central column. In the flooring of the ground floor, the original division between "service" and living is still visible. Colorful tiling that matches the tones of the original terrazzo entrance floor is used in the hall and kitchen. In the living, dining, and garden room an aged timber floor is used. The color palette of the floors and walls is developed together with the clients and not only draws inspiration from the original stained glass in the sliding doors on the ground floor but is also in harmony with their furniture and art collection. The first floor is arranged around a v-shaped hallway while the top floor and roof terrace, added in the 1970s, have been refinished and redecorated.
The architects tried to keep the exterior of the extension understated. The facade is clad with charred wood in a carefully designed pattern of ribs and planks. A timber folding door connects the garden room to the terrace, while a large fixed window provides a view of the garden from the entrance and kitchen.
To know more details about the project visit Unknown Architects!
Photography by MWA Hart Nibbrig
c