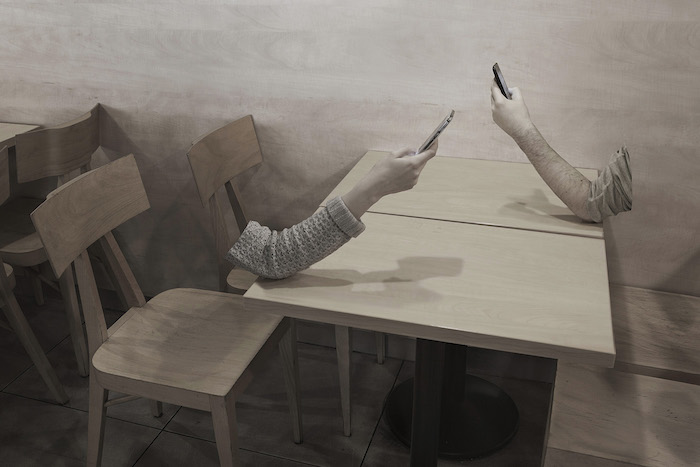 Kamil Kotarba is a freelance creative photographer from Warsaw, Poland.
In his latest collection, "Hide and Seek", he wants to show how the rise of mobile screens negatively influences the way we connect and interact with others. His photographs capture daily scenes, such as a dinner for two and an evening on the couch, but he wants to show relationship so all we see is an arm with a mobile. On the inspiration behind the series, Kotarba says: "A virtual world always competes with a real world. Instead of focusing on interaction with other people, we prefer to stare at a small mobile screen which constantly offers us new incentives. The incentives which we choose without any restrictions of space and time in which we are currently in. Thanks to this diversity, this form of activity seems to be far more interesting than what we are doing. Maybe it's really more interesting? Although we are still in a real space, it seems like we aren't there. The real life happening around just eludes us. We are somewhere 'in between'. We don't bother being. We choose the lack of participation. At the same time we are online – still in touch with our friends. We hide behind mobile screens. We play hide and seek."
More photo on his Facebook page!
All Rights Reserved to Kamil Kotarba