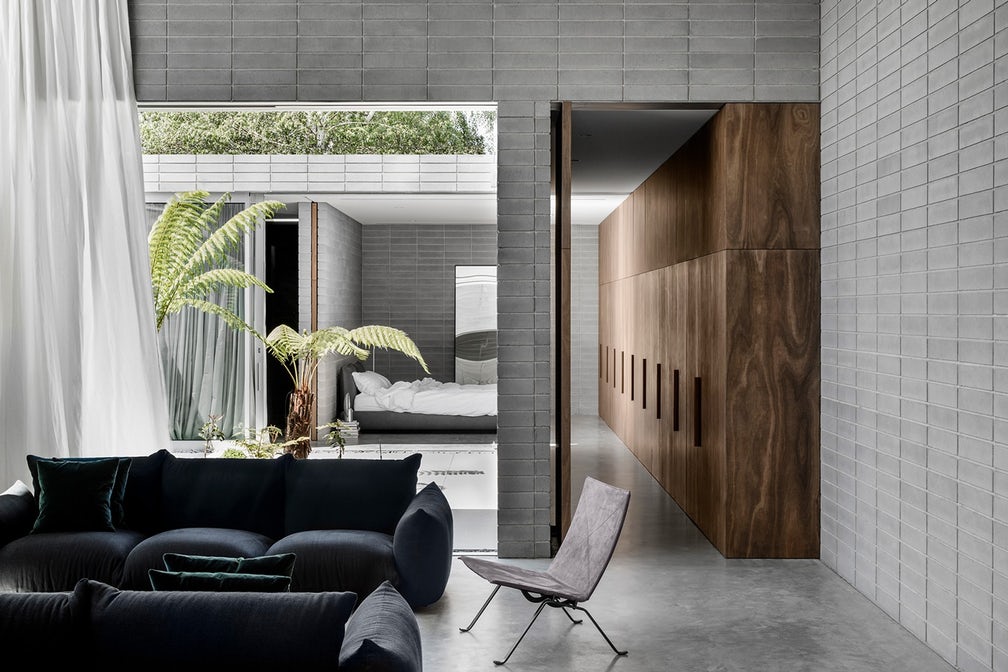 Highbury Grove is one of the special project in which the home is designed by the occupant, in this case the residence is designed by Gilad Ritz of Ritz & Ghougassian. Gilad designed both the architecture and interiors, culminating in an expressive dwelling that is not afraid to break the rules of what a home should look like.
Locates in Prahran, Australia, Highbury Grove is a renovation and expansion of an existing structure. While most of the home is very modern and minimal, the exterior of the home reveal the original structure, a traditional A-frame with red tile roof, left exposed.
The interiors are characterized by concrete: the floors are grey concrete, as are most of the walls, with blocks stacked atop one another like bricks. The concrete blocks climb all the way to the ceiling, and in some cases extend above it to continue along an exterior wall. To create the perfect contrast with concrete, Gilad used warm wood tones and soft pieces of furniture, playing with the concept of hard and soft in refreshingly new ways.
Highbury Grove consists of two bedrooms, an open floor plan living area, and a courtyard. Wood cabinetry hides much of the more utilitarian features, allowing for a clean and minimal aesthetic throughout. A few elements from the original structure remain as well, such as the fireplaces in the bedrooms. In the centre of the home, surrounded by the living areas, sits a simple courtyard. The serene space is softly landscaped with ferns and low grasses. Easily accessed from multiple rooms in the dwelling, the courtyard ensures the residents are never more than a step away from their garden.
Photography by Tom Blachford
v