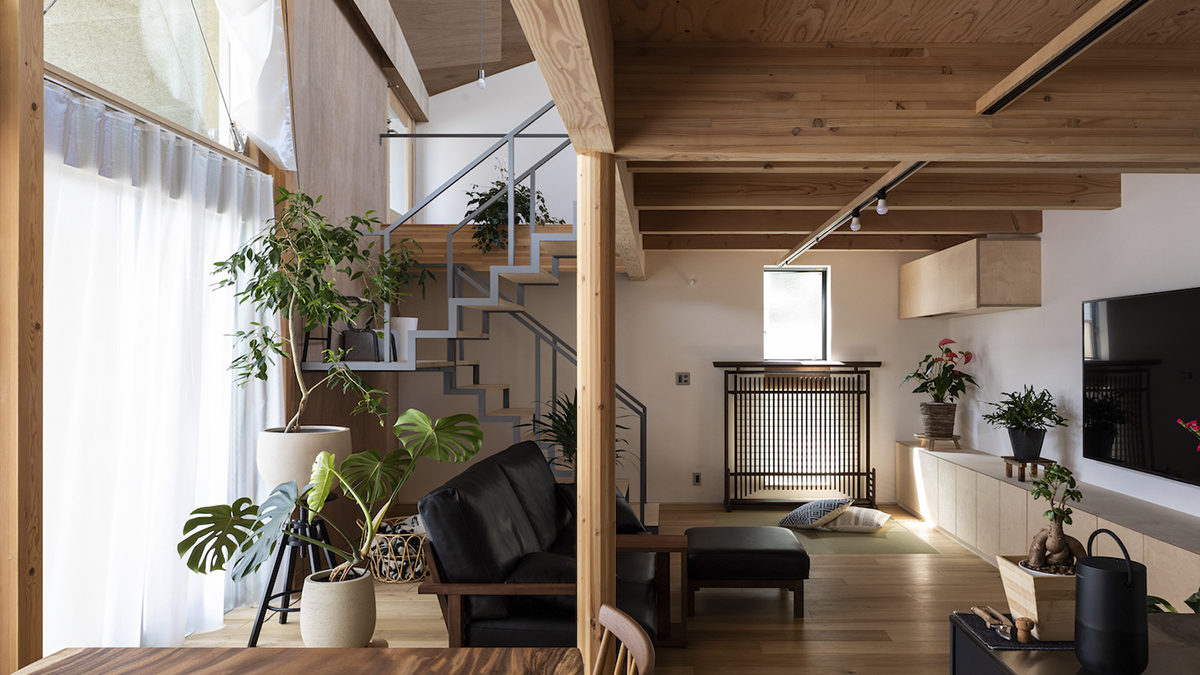 HOUSE HM, Hideo Arao Architects
House Hm is a minimal residence located in Osaka, Japan, designed by Hideo Arao Architects. The site is located in a residential area, on a gentle slope between the Funahashi and Hotani rivers, which flow through Hirakata. Due to the floods, the area is characterized by houses that have an entrance on the first floor, thus creating a difference in height between the street and the residences. While the surrounding houses are being rebuilt and the scenery of the city gradually changes, the studio wanted to use this difference in a proactive way and reinterpret it.
According to tradition, the house is 1.2m above the road. On the ground floor, there is an open space where we can find the living, kitchen, and dining areas. A staircase on the right side of the entrance then leads to the upper floor where there is a very minimal bedroom. The interior spaces are characterized by wood and arranged on two levels, surrounded by a roof that extends outside. This creates a continuity between interior and exterior and tries to stimulate outdoor activities, thus creating a semi-outdoor space between the street and the residence. The area is large enough to also guarantee a parking space or future function changes. The other half of the outdoor space, on the other hand, was designed as a garden: the trees at the top of the slope give privacy to the house while the covered terrace creates the perfect place to stay outside, but protected from the gaze of passers-by. The functionality of the garden then, which we often forget, is not only aesthetic but also emotional: it's the same studio that describes how a lady, who lives in the house across the street, was sad and disappointed to see the flowers on the road, fallen during the rain.
Visit Hideo Arao Architects to learn more about House Hm and follow the studio on Instagram!
Photography by Yosuke Ohtake
c