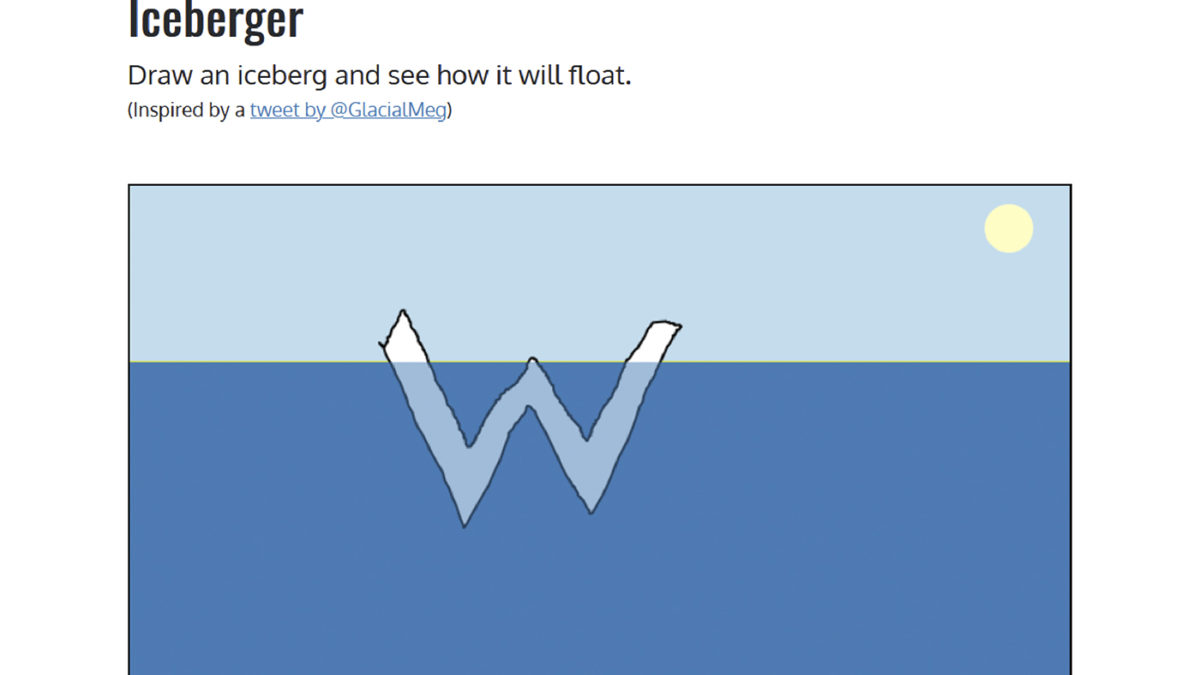 ICEBERGER, playing with natural phenomena
Sometimes we like to share projects and websites whose only purpose is to entertain: from online music generators like Patatap or Incredibox, to websites to inspire your time-waste, like Dawdle. Many have been collected in this article, created to give a series of ideas during the first 2020 lockdown. Today's project is Iceberger, a very simple online game that uses the laws of physics to make us curious. Have you ever seen, in person or online, an iceberg falling (ice calving) and finding its stable orientation? Take a look at this video and you will understand what we're talking about.
Iceberger allows you to draw the shape of an iceberg and then shows you how it would float. The creator, computer scientist Joshua Tauberer, is an activist, software producer, and founder of GovTrack.us, an independent platform that monitors the activities of the United States Congress members. The game is inspired by a tweet from researcher Megan Thompson-Munsen, an expert in glaciology and climate change. A few days ago she launched a fun "petition for scientists to start drawing icebergs in their stable orientations". The tweet refers to the typical representation of the iceberg (an inverted ice-cream cone) which doesn't correspond to the true natural conformation.
So after a few days, we have the opportunity to try to better understand this natural phenomenon, sitting comfortably from home. Nevertheless, as the website says: "Icebergs are less dense than water, so they always float with about 10% of their mass above the water. But which way up? An iceberg wouldn't float exactly like on this page in reality. Its three-dimensional distribution of mass and its relative density compared to the water are both significant factors that are only approximated here."
Visit Iceberger to draw your iceberg and see how it will float!
c