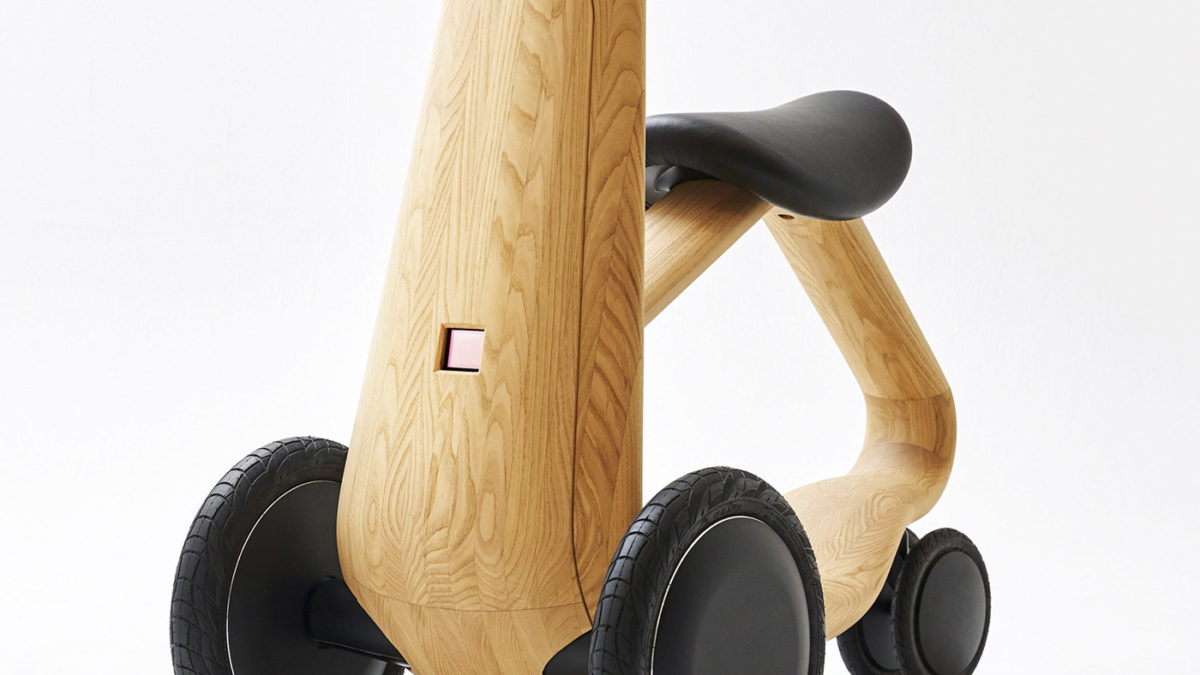 Mikiya Kobayashi, born in Tokyo, in 1981, established his own studio in 2006. Since his beginnings, his creation process was focused on the perception of its designs, looking for uniqueness in minimal shapes. Thanks to his inclination for natural resources, wood has become one of the main material used for his projects over the years. One of his latest project is ILY-Ai, an electric scooter with a body carved from wood.
The concept was developed by Tokyo-based Kobayashi in collaboration with automotive company Aisin Seiki and Karimoku, one of the main wood-furniture manufacturers in Japan. Designed for both indoor and outdoor public spaces, the scooter comprises a frame made of aluminium with a soft wooden casing. The ILY-Ai takes the first part of its name from an acronym for "Innovative Lifestyle for You", while the second half stands for "Active" and "intelligent" and not "artificial intelligence".
The wooden scooter is fully electric, with its components hidden mainly behind the front panel and inside the front wheels. Kobayashi chose to encase the scooter in chestnut wood as it is one of the lightest hardwoods available – around 75 per cent lighter than oak – and highly water-resistant. The bike is topped with a padded leather seat. Kobayashi wanted to use the wood to give the scooter a "warm and friendly" feeling that isn't usually associated with the vehicles, which are typically made from metal.
The scooter is suitable for use by people of all ages over 16, it is specifically designed for those with mobility issues, such as elderly people. Since the ILY-Ai is electric, its speed can be configured, but as it is designed mainly for large indoor spaces like event halls and shopping centres – much like a mobility scooter – its speed is set at four kilometres per hour (around 2.5 miles per hour), which is close to walking speed. It also features an integrated safety sensor that brings it to a stop in case of any obstacles.
The wooden scooter is just a concept model for now, but Kobayashi, Aisin Seiki and Karimoku may consider plans for commercialization in the future. Other unconventional Japanese scooter designs include an inflatable model designed by research organisation Mercari R4D and a team including students from the University of Tokyo, called Poimo.
Photography is by Yosuke Owashi.
c
c
via dezeen