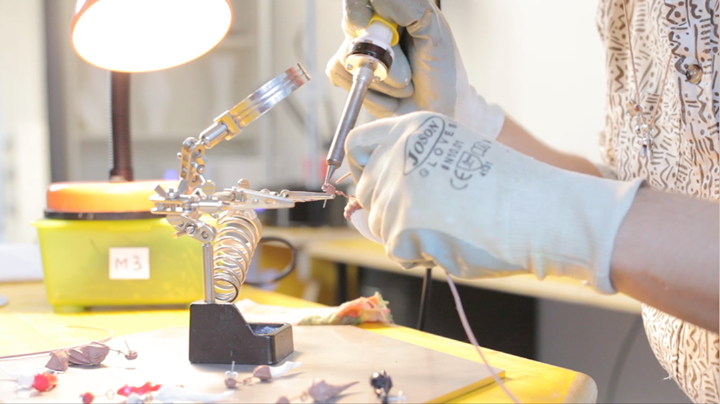 #INTERVIEW: CARACOL DESIGN STUDIO
"Caracol Design Studio is the meeting point among 3 different worlds: Design, Engineering and Rapid Prototipation. Supported by 3D printing technology they shape ideas into reality, Caracol wants to be part of the digital revolution." The studio opened in March 2015 and is based in Viale Col di Lana 6, Milan, near the Navigli design district. WeVUX interviewed the team behind Caracol Design Studio.
 – Tell us something about your beginnings. Where does Caracol come from?
Two of us met by chance five years ago in Brighton. Only after three years we met again, we were both attending the Design Faculty at Politecnico di Milano. Jacopo, the economist with a great passion for the digital-world, Giò and Paolo, the two designers, and Felipe, the engineer, we left our faculties and jobs to try to realize our ambitions. "Caracol" means snail in Spanish, in honor of Felipe, it was chosen because the snail shells are built slowly, layer by layer, creating a spiral of golden proportions, a strong natural method comparable to 3d printing technology.
– What are your ambitions? Why these tools?
3D Printers and makers worlds develop daily and have an unlimited potential. We have been first fascinated by these instruments, which in one day allow you to start from a quick sketch and to end with a an amazing accurate prototype. We immediately realized the importance of the practice, the understanding were critical steps to optimize our products. Currently we produce not only prototypes, but also finished products, with the purpose to emphasize "3D printer aesthetic", rather than hide it, and to try to dialogue with traditional materials.
– How is own a studio at 23 years old?
We design and set up the studio and we built the furniture. What we needed after years of study was a link with reality in the design world and by taking this decision we found a world certainly not familiar to most of us. Being part of a good multidisciplinary team is the fundament to face better this challenge.
– What advice do you have for younger designers?
Not to be afraid to seek their reality in the projects, something that the Italian academic world almost tend to forget … The keys are the theoretical and conceptual studies but also the practice, the stubborn trials to build what you have in your head. We should go and find this substance beyond academic boundaries, in parallel with studies if necessary, to do what we learnt. In this way we believe we can gradually develop the two basic tools for the design: the head and the hand.
– What about the future?
We are now focused on the development of manifacturing technologies to enable us to create spatial scale projects, not only products, and on the material research, to add value to our products. We firmly believe in the beneficial contamination that design does with the makers world and at the same time innovation and production technologies do in the design world.
Thanks Caracol!
You can find them on Facebook and on their website!
All Rights Reserved to WeVUX
All Images Reserved to Caracol Design Studio