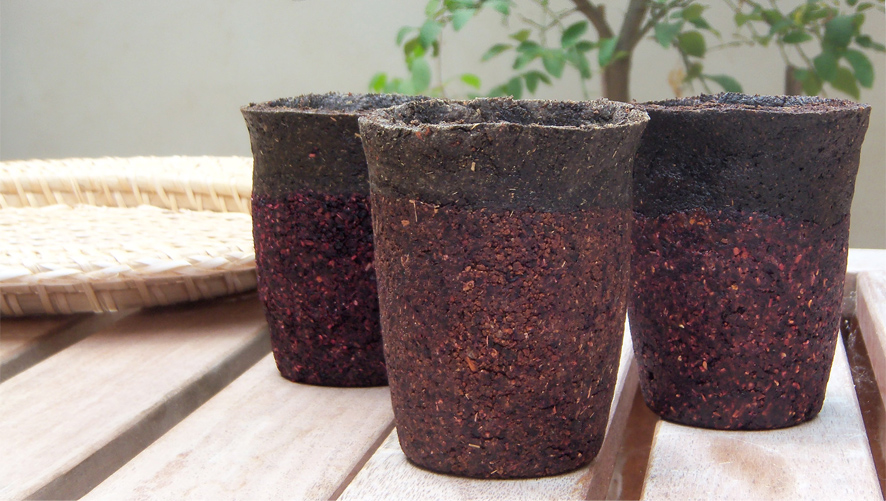 #INTERVIEW: EINAT KIRSCHNER & EINAV BEN ASHER – DISPOSABLE TEA CUPS
We have already talked about their beautiful disposable tea cups ("TEA CUPS BY EINAT KIRSCHNER & EINAV BEN ASHER"), but today we want to go further. They are young and brilliant, and they have developed these beautiful tea cups after a long material research.
Today we gonna explore the iceberg part below the water!
-Hi Einav and Einat! We have already posted an article about your beautiful disposable tea cups, but today we would like to deeply understand how they were born! Firstable, can you tell us something about you?
We are both product designers living and working in Israel. We have studied together at the Holon institute of technology in Israel, and graduated 2 years ago.
– So, when – why and how did you design your tea cups?
The tea cup project was created during our industrial design studies as part of a course called – material technology. We were asked to conduct a material research of any material of our choosing. Since were both big tea drinkers, naturally we chose tea leaves for our research.
– I feel this experience as a romantic and poetic ritual. How did you design the user experience?
Since in this case the material exploration came first, the design aspects came later. We wanted the shape of the cup to resemble a disposable cup so that its use is easily understood. It was also important for us to maintain the natural beauty of the tea- colors, texture and aroma. We left the rough texture of the tea leaves in order to give them a natural feel while their colors indicate the type of tea used. To make the cups user friendly and durable we created smooth edges and thickness so that they could hold water longer.
– Let's talk about the material: how is it?
The material was created after a long process of research combining the tea leaves with other, natural materials.
– How was the design process? Did you get crazy by creating something waterproof? How is it possible?
We started to add different materials and tried many different manipulations on the tea leaves, until we discovered that we could get the tea leaves to be in a solid form and hold water. It was only then that we thought about creating a cup that is made out of tea. And then our mission was to find natural and non-toxic materials that would give the right form and won't harm the usage or the look of the tea. The material is not completely waterproof since it starts to disintegrate after about two hours. That's the beauty of the material, since it allows you to drink the tea and even refill the cup but is also degradable.
– How is the process to create them?
The cups are created in a mold and heated in order to maintain their shape.
– Can you tell us a funny moment during the project realization?
There wasn't something specific, but the whole process in the beginning was pretty funny because we had no specific goal, so we just tried weird things such as freezing, mixing with glue, burning and melting the tea leaves and so on… And then later on, when we actually had to drink tea from the cups we tried out, both of us where very hesitant about it since we didn't know how it will turn out.
– Is there anyone interested to produce them at the moment? Just to know, cause actually, they can be the "best xmas/birthday/graduation/name day/valentine day(…)" gift ever…
This was a school project and therefore changes and further exploration will have to be made in order to make the manufacturing process suitable for mass production, maybe in the future we will continue to develop and eventually manufacture them.
– In closing: what about your future? Are you continuing this material research?
At the moment we are both working in design studios and focusing on other projects, so we haven't had the chance to continue with this project, but we would like to get back to it in the future, and continuing development because it has a lot of potential and novelty.
Thank you very much girls! It was really interesting interview! Please, keep us updated about your next steps!
Good luck from WeVux!