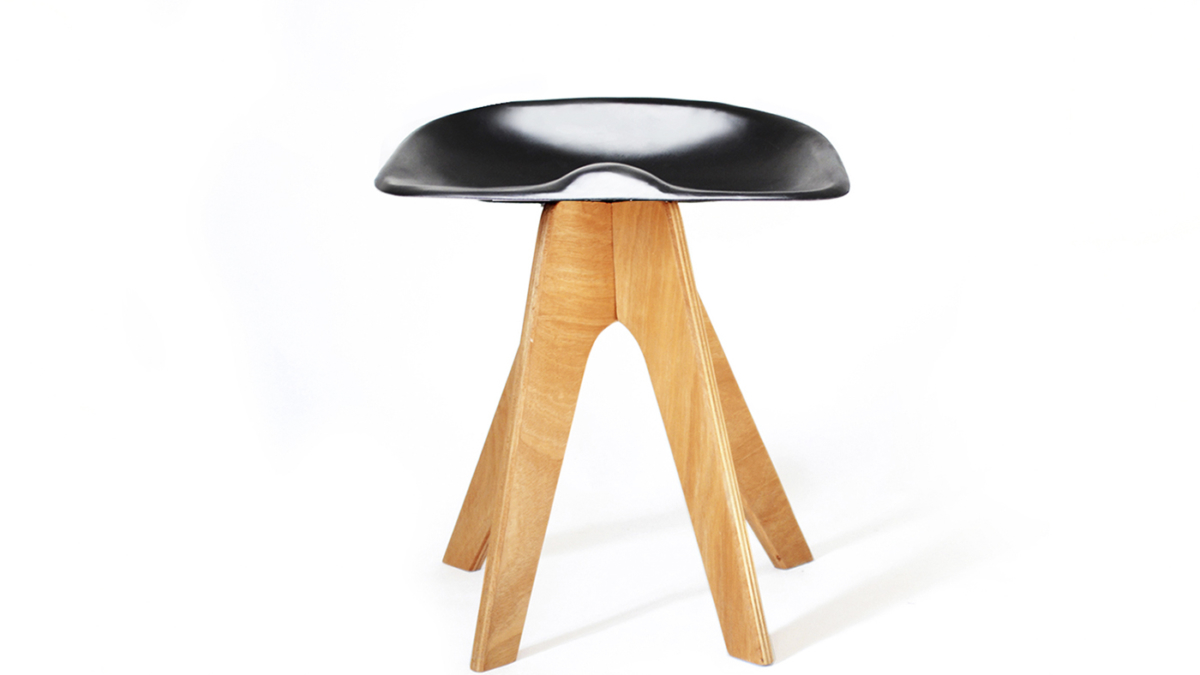 #INTERVIEW: FIBERFLAX_ Francesco Frulio
Born in London, Francesco Frulio is an Italian designer with a MA in Product Design for Innovation from Politecnico di Milano and a MA in Systemic Design from Politecnico di Torino. He has also accomplished a diploma at the honor program at Alta Scuola Politecnica.
I had the chance to discuss with him about his final project for his BA at DADU (University of Sassari), Fiber Flax (2014), an interesting material experimentation which mixes the automotive world and Sardinian tradition:
v
– Hi Francesco, can you tell us a bit of your story? how did you come across the design world?
My story begins in London, the city where I was born and in which I've lived for some years. I came across with the world of design very early: my father is a craftsman and antique furniture restorer, I grew up between wood dust and machinery noise. Nevertheless the first real revelation I had, happened in London, precisely when I saw Alexander McQueen's show "The Horn Of Plenty", a critique of the modern consumerist society that builds the new world over its own garbage. The clothes, the scenery and the atmosphere left me breathless, a real 'Gesamtkunstwerk', using a term dear to Walter Gropius. From that moment on, I decided that design would have become my profession.
Back in Italy I attended the faculty of Architecture and Design of Alghero, where I had the immense fortune to meet masters such as Tobia Scarpa, Isao Hosoe and Paolo Deganello from Archizoom. Thanks to their influence, my interest has shifted towards a design that is narration, able to make people reflect and create new realities and points of view. After the BA, I continued my studies in Milan, one of the world centers of design; along with the MA in Product Design at the Politecnico di Milano, I attended the Alta Scuola Politecnica, thanks to which, at the same time, I obtained a degree in Systemic Design at the Politecnico di Torino. Outside the university, I have always carried out research and personal projects: I am a very curious person and often, while walking down the street or during one of my 'flaneur' sessions, which I sometimes dedicate myself to, I am often the victim of enlightenment that gives me ideas and inspirations for new projects. This is why it was always difficult for me to concentrate exclusively on university projects.
c
– What is FiberFlax?
FiberFlax is a new bio-material created with the aim of replacing fiberglass in the making of furniture. Since fiberglass is a material that requires large amounts of resources and it's potentially harmful to man and the environment, the project wanted to exploit natural and sustainable materials used in the manufacturing tradition of my island, Sardinia, together with the most modern production technologies of the automotive sector, to obtain a material that had the same mechanical characteristics as fiberglass but with a lower environmental impact.
I found the solution by combining two materials: linen fabric and wool felt. These two materials, stacked according to a precise order, are combined with the aid of a sustainable resin based on waste oils and waste paper processing. The result is a material that equals fiberglass but with an environmental impact more than 60% lower.
s
What is the link between glass fiber, linen and wool felt?
Glass fiber is a widely used material in furnishing, but it is a disaster for the environment. It cannot be recycled, it is toxic and it consumes a lot of resources. I had to identify ecological materials that could match the mechanical properties of this material, it was a difficult task. My research has focused on two fronts: on one hand the natural materials of Sardinia and their mechanical properties, on the other, the world of composites to better understand where to act and how. Only when you deeply know one thing, you can start thinking about how to change it. I discovered that flax fiber is the natural material that comes closest to the properties of glass fiber, especially in traction, it shows very similar values. But still, it was not enough to match the fiberglass; in fact, the linen fiber resists very well in traction but not so well in compression. At this moment, felt came to help. In the world of high performance carbon composites, filling materials, such as polyester felts, are used between the various layers of fabrics, to lighten the material and making it more resistant, plus, they have excellent properties of compression. The wool felt performs this exact function, it lightens the material and compensates for the flaws of the linen fiber thus creating a material that is close to the fiberglass, with the advantage of being obtained with natural materials. Linen and wool felt are sustainable, recyclable and with excellent qualities. Through the use of these materials FiberFlax showed that a natural and eco-friendly alternative was possible.
c
Why did you decide to experiment on materials?
I am the kind of designer that likes to build things as well as design them. I have a very practical approach to design and that's why all the prototypes of my projects have been made for the most part by me personally. in my In my opinion, manipulating matter is the main foundation of the designer job. The materials can often represent limits in the design process and only by working and manipulating them it is possible to understand how they behave and how to make the most out of them. You can understand many things about an object even by touching it. Generally you start with already existing materials and you "just" have to remove the superfluous or to create a specific shape through the aid of molds. On the other side, experimenting with materials means having control over all the creative act: before designing the object you have to design the material with which it is made! It is pure creation and it is also very challenging, because it opens up to new problems, the most important is: how to give it a shape? Experimenting with materials allows you to touch the entire production cycle of an object and you realize how much work, time, economic and, above all, natural resources are behind the simplest of the products. That's also how I realized the enormous impact that a simple pencil sketch on a piece of paper could have on the lives of others and on our planet. Experimenting with the creation of a new material is an educative exercise that I would recommend to any designer, to understand the responsibility and importance that this profession can have and that the designers themselves often underestimate.
c
The production technology is linked to the automotive and aerospace industry, tell us something more about this choice.
As I said before, when designing a material it is necessary to understand at a certain point how to give it a shape, how to physically realize it. One of the peculiarities of FiberFlax is to be developed from natural materials present in the Sardinian handicraft tradition. Part of the challenge of the project was also to make sure that it could be built on the island, which however does not have a great industrial tradition and therefore does not have highly technological companies to rely on. For these reasons, I looked for a production method that could be implemented without large industrial plants, almost in a traditional way; after various research I discovered VARTM, or Vacuum Assisted Resin Transfer Molding. This procedure is usually used to create shells of vehicles or aircraft in carbon and kevlar, almost completely handcrafted but using technological materials and tools. The process begins by stacking the fabrics in the right order and placing them in the mold; subsequently the mold is inserted into a vacuum bag which is hermetically sealed. At one end of the mold there is a nozzle which sucks the air left inside the vacuum bag and between the fabrics; on the other side there is the resin container. Once the air inside the bag is sucked away, the vacuum pump begins to suck the resin placed at the other end of the mold, which binds the fabrics together permanently. Through this method the fabrics are impregnated gradually and homogeneously, using only the resin that is strictly necessary. This technique allowed me to obtain a thin composite using a minimal amount of resin compared to composites assembled by laying the resin manually, reducing waste to the minimum and obtaining the maximum result from the materials used. Being a completely self-produced composite, through VARTM I was able to make FiberFlax in-house throughout the process, bringing together the highly innovative world of this technique with tradition and craftsmanship.
c
– Another project, Manfred Table, is linked to the aerospace industry. What is the link with this field?
FiberFlax was born from the desire to use traditional materials of craftsmanship, assembling them through the use of techniques of the automotive and aerospace industry to give shape to the final composite. With Manfred, on the other hand, the reflection on the aerospace world has been reversed: first, we started from the engineering sculptural structure of the first wooden planes and then we created a table by using modern techniques such as CNC cutting and water jet technologies. Many of the objects and technologies that we use every day are born in fields such as aerospace and automotive, so, in a certain way, if today we want to have a glimpse of tomorrow we must keep an eye on these technological industries. Even when these technologies are outdated they can be inspirational, if you look with curiosity and the right eye. Exactly what happened with Manfred.
c
– What do you want to communicate and achieve with FiberFlax?
With FiberFlax I wanted to show that it is possible to create innovation starting from tradition. Since the beginning of the industrialization and the machine society, every day we have been witnessing the clash between those who strenuously defend the tradition – as a lifeline – and those who see technology as the only means of progress. On one hand, the past gives us security, it is not risky, it has already happened and you already know what was going on, it's reassuring. On the other hand, the future is uncertain, unknown and scary, but as often happens, the truth lies in the middle. With FiberFlax I wanted to show how the past and the future can happily coexist and draw strength from each other by cooperating to create something new.
x
– What will be your next steps? Do you want to continue your material research?
At the moment my attention is directed towards rethinking and re-evaluating objects that are so accustomed to pay no attention to. Anonymous objects of not great aesthetic value, often ignored in a world so devoted to the appearance and so unwilling to look beyond the first impression, beyond the wall of our preconceptions. It is here that design should intervene, destroying walls and building bridges; and often materials can help in this burdensome task. I will definitely continue to experiment with different materials in my projects and I will carry forward FiberFlax to improve it and test its potential by making other furniture pieces and looking for other manufacturing sectors where this material could bring benefits.
n
In 2014, while still a student, Francesco exhibited his FiberFlax Stool at Fuori Salone – result of his research, FiberFlax. The FiberFlax Stool was won the A' Design Award in 2016.
Visit Francesco Frulio's page to know more about him and his projects!
v
All Rights reserved to Francesco Frulio
Please seek permission before using