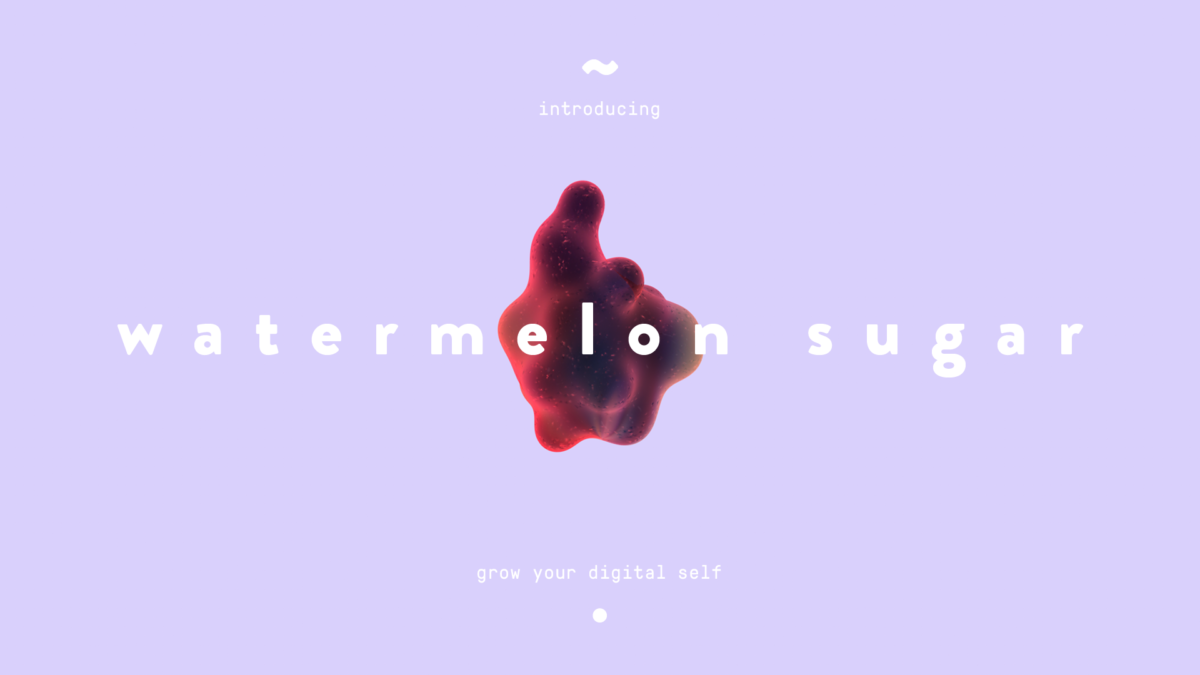 #INTERVIEW: PAMM HONG, Watermelon Sugar
We recently talked about Watermelon Sugar, a beautiful master degree project for the future of big data and data visualisation, by Pamm Hong. We were so fascinated by this project that we interviewed her.
-Hi Pamm, can you tell WeVux something more about you?
My name is Pamm Hong. I was born in Singapore and raised by misadventures around the world. I'm a graduate from the MA Material Futures course at Central Saint Martins, London and most recently, was listed as one of the Top 20 Disruptors by the Global Futures Forum 2016 for my work, Watermelon Sugar.
-What is your background?
My background is in graphic communication. I worked as a graphic designer for 10 years, specialising in print and brand storytelling for a multitude of clients from independent music labels and cultural institutions to global advertising campaigns.
I started playing around with video which led to a more digital approach. I began to uncover the wonders of animation and projection through 3D, motion graphics and processing. I started seeing more possibilities of design through audio visual collaborations. Collectives like Brainfeeder, United Visual Artist, Universal Everything and AntiVJ inspired my work to become more than just static graphical representations. It encouraged me to broaden my skillset and allowed my work to become more versatile for every brief I get.
-How do you usually get inspiration?

Museums, shows, music, people, nature, mistakes.
I love meeting new people, discovering new music and sharing what I know. I go out alone a lot. When you're alone, you get to experience the world through your natural curiosities. I then apply those everyday observations to my work. I can't stress how much good, genuine conversation has driven many discussions that sparked new projects for me.
I also make sure I experiment with new technologies, soft or hardware, in order to know what's available out there and what I can afford to learn.
– How did you get to the Watermelon Sugar app concept? Is it available?
Watermelon Sugar derived from a discussion where I wanted to turn data, this intangible body of information, into something that humans would take notice of and care about.
The idea started to grow as more research poured in and I started to realise just how much data we are essentially generating every single day with our collection of connected devices, applications and the proliferation of the Internet of Things. I love technology and I want people to love it too and be able to trust the world that we're progressing towards.
It's not available at the moment. I'm currently gathering a team in Berlin and London, two of my most favourite places in the world and where I can feel most comfortable at, to develop the concept further. It should be available in the app store soon.
– So, what is the next step now?
The next steps for Watermelon Sugar is to fund the research and development of the app so that we can officially release it to the public and see where it goes.
Looking at the future, to quote William Gibson, "the future is already here, it's just not very evenly distributed." My role as a designer is to shape a credible relationship with our technology so that we can live synonymously among our creations and democratically amongst ourselves.
Thank you Pamm!
To know more about Watermelon Sugar, visit her official website!
All Rights Reserved to WeVux and Pamm Hong
Please seek permission before using.