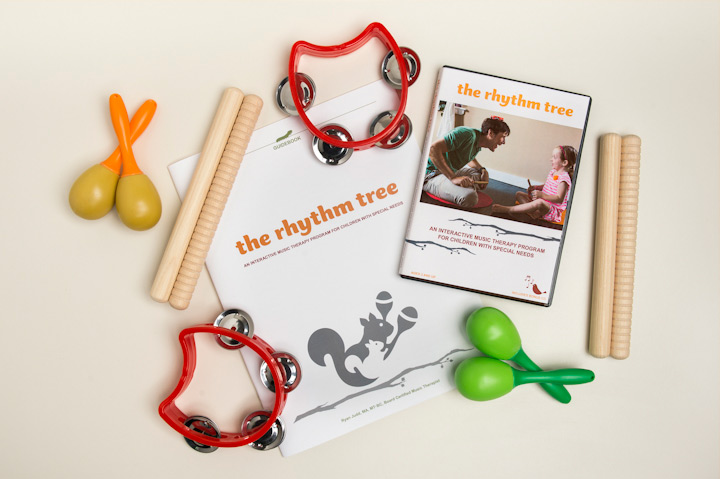 #INTERVIEW: RYAN JUDD, THE RHYTHM TREE – OPEN SOURCE MUSIC THERAPY
Hi guys!
Today I would like to introduce to you Mr. Ryan Judd, a board certified music therapist in New Hampshire. He works with people with special needs since more than 14 years. His mission is to help individuals with special needs reach their developmental goals and improve their quality of life.
"The Rhythm Tree" is a fantastic video-blog where Ryan shares his knowledge about this, in order to help people getting closer to it.
We have found this really interesting, so today we have the pleasure to interview him!
Hello ryan! Can you tell us something about your beautiful job?
Whenever I think about my job as a music therapist, I feel very fortunate. It is such an innovative, engaging and rewarding line of work. Music therapy feeds the souls of my clients, as well as my own. It is truly a symbiotic relationship.
"I love music as well and I am a follower/fan of your video-blog "the Rhythm Tree". Can you tell me when/how it was born?"
A couple of years ago, I decided to develop a DVD and music kit for children with special needs. I wanted to build a beautiful site that would feature this product and also educate others on how to use music to help children with special needs. I'm lucky enough to have a very talented brother who is the creative art director and director of design at an amazing ad agency in San Francisco, called Hub Strategy. He designed my logo, website and product packaging and helped me in numerous other ways.
Video was always the heart and soul of my music therapy presentations and workshops, so it made sense to use this medium on my website. Starting a video blog was a challenging process, but I'm so glad that I stuck with it. People really need to see music therapy in action to get it. If a picture's worth a thousand words, then a video's worth a million!
 "Sharing knowledge is the future. We can grow better and faster, if we help each other. I think The Rhythm Tree is a nice example of this way sharing information. How does it feel to be a "pioneer" of open source in music-therapy?"
I feel honored to be considered a "pioneer," but I'm just humbly following in the footsteps of those who came before me, like Paul Nordoff and Clive Robbins. I feel privileged to have access to the technology to make this information accessible worldwide. One of the coolest things is to get an email from someone in a country like Iran, saying how much they appreciate this info.
"I see you do a lot of research about finding new objects or gestures to enhance the communication skills of your users. How do you develop these techniques/musical instruments adaptation?"
I wish I was the one to develop those techniques! I'm just synthesizing what I have learned from many of the talented therapists that I have been lucky enough to work with. My teachers and mentors have been music therapists, speech therapists, occupational therapists, physical therapists, play therapists, etc. There are so many incredible professionals in the special needs field and connecting with and learning from each other helps enrich all of our work.
"Do you think designers can work together with music-therapists creating new "hacked" musical instruments for therapies?"
Without a doubt! When a music therapist gets together with a designer or engineer, brilliant things happen. Music therapists know the limitations that traditional instruments can pose to their clients and the designer or engineer knows how to transform the instrument so that these limitations dissolve.
"How do you think music-therapy will develop in the next 10 years?"
Internationally, I think that music therapy will become an established field of study and profession in many more countries. It is already in more than 70 countries worldwide, but that will increase.
In the US, I think that it will become more commonplace in settings such as hospitals, nursing homes, and schools. We are rapidly growing as a field and there are new positions being created on a weekly basis. There is also more research being done worldwide and this will help guide the work of future music therapists.
"Dr. Eric Miller (Mc Gill University), in his book Bio-Guided Music-Therapy, propose how to use bio-feedback in music-therapy. What do you think about this new kind of support? "
I think that Dr. Miller's work is brilliant. This is the kind of research that will help guide our profession and establish our place in medical, psychotherapeutic and rehabilitative settings.
"Could bio-feedback be a good tool to support the music-therapist during the session?"
Definitely. I have not had the privilege of using these tools in my work, but it makes so much sense. It would be so helpful to have real time analytics on how music therapy interventions are affecting the physiology of our clients.
 "Thank you very much Ryan! It was really really interesting! Please, keep us updated about your next steps! Good luck from WeVux!"