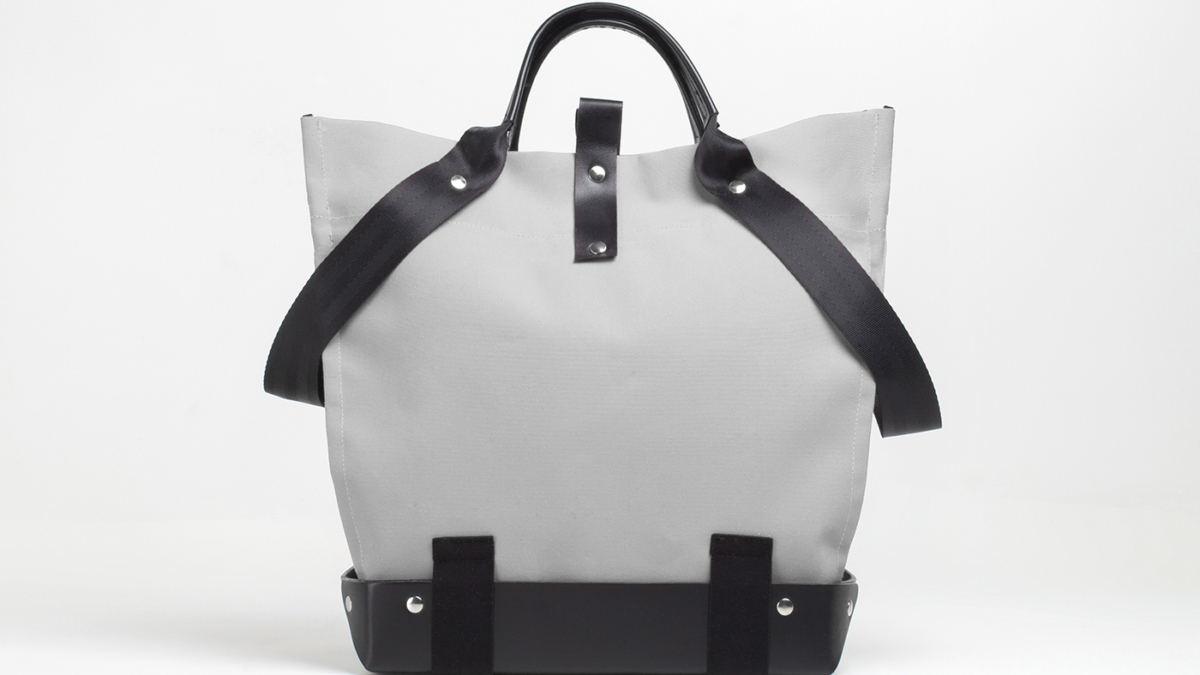 #INTERVIEW: TRASPORTAPROJEKT_ Alain Zanchetta
Alain Zanchetta defines himself as a "creative thinker and Universal Design enthusiast". He believes in Design as tool to realize useful and engaging goods or experiences that can convey emotions. I had the chance to talk with him about his Trasportaprojekt, a bag made of high quality and long lasting materials, easy to use for anyone.
b
– Hi Alain, can you talk a bit about yourself? how did you come across the design world?
I'm a Designer, I'm 29 and I live in Switzerland, an hour far from Milan. I have always had an interest in the world of product and space design. The path that led me to be a Designer was not linear: I started as a furniture designer, then I studied architecture and at last I approached Product Design. It is a very wide discipline which allows you to move and work in various sectors, where it is required. It's difficult. Determination, will and courage reward and allow you to find a niche in which you can act and develop your skills.
g
– How did Trasportaprojekt start?
The "Trasportaprojekt" began as a school project, for the three-year BA in Product Design at the Hochschule in Lucerne. It was not clear what I wanted to design. I knew I wanted to tackle the subject of disability since I have a motor disability myself. To further tighten the field I focused on the paraplegia, beginning to explore its peculiarities. My goal was and still is to design functional objects, beautiful and above all non-stigmatizing. The questions I ask myself are: why does an object designed for a disability always have a therapeutic look, should not it be cool?! Can I consider disability on a different perspective to design a product that can work for everyone? The answer today is yes! Starting from these questions, listening and collaborating with people using a wheelchair, the creative process has led us to develop a multi-purpose bag. Transporta.
g
– Let's talk about the Creative Hub, what was its role in your project and how did you start a collaboration with them?
After graduation I worked in another sector putting aside the school project, knowing I wanted to resume it in the future.
The search for a challenge as a designer and the need to acquire new skills led me to apply with the Trasportaprojekt to the Creative Hub coaching program. A promotional program designed to accompany young professionals from the world of Swiss design towards creative entrepreneurship. Trasportaprojekt has been accepted and our collaboration has begun.
b
– And then Ikea Foundation, what was the approach comparing it to the Creative Hub?
The Ikea Foundation Switzerland provides financial support for training abroad, projects and events in areas ranging from architecture to design and crafts. There are many projects and initiatives that the foundation supports every year, and my Trasportaprojekt was one of these.
Thanks to them I have been able to realize the prototypes I have tested with the wheelchair Users and much more. For a young designer, such support is fantastic and I am very grateful. The Ikea Foundation supports experimentation, research and prototyping but does not provide advice as the Creative Hub.
b
– What did you learn from the Ikea Foundation and the Creative Hub?
The Creative Hub program helped me to structure the work and pushed me to think entrepreneurially or, at least, start doing it. Through coaching with experts in clothes ranging from branding to communication and commerce, Trasportaprojekt became AtoZED.
For young designers and creative people it is great to have the opportunity to participate in similar consulting programs. The work does not take away from it, they increase it by providing new knowledge and useful experiences for those who want to live and design in the future. The program is now finished and I am grateful to have been able to join it.
b
– You designed with your final "target". Did you choose to use a collaborative approach? What did it bring you?
As mentioned above I did not know what product I would have develop following the goal I had set myself. If from the first idea, ​​a folding tray for wheelchair users, a multifunctional bag was born, I owe it in large part to the people with whom I was confronted. How would I know what is useful and works for a paraplegic person, if I had not asked him? Despite having myself a disability and having spent days on a wheelchair, I would never have managed to put myself in their shoes. Design asking regularly for the target feedback was natural. After all, when we suffer from a toothache, we do not turn to the baker but to the dentist, right?
I chose the collaborative approach to design an object that works by considering the ability and quality of people, respecting their sensitivity. Everyone is capable and particularly skilled in something. This is obvious but must be recognized and used at best. Any disability is an obstacle and, at the same time, a driving force for new and creative solutions to face and experience everyday life. The Trasporta bag is born out of these ideas.
Like any Designer working with the final target, I have received positive and negative feedbacks, compliments and delicate and personal discussions. It is a process of exploration, comprehension and listening that is both complicated and stimulating. It is impossible to design a product that works for everyone, even following the principles of Universal Design. When you see that your solution improves 5 minutes of a person's daily routine, you have reached your goal. There is nothing better. Working with people (the target) is a fortune that is not always possible. I had the opportunity and I'm happy with the result so far.
b
– Your project is challenging you, from designer to entrepreneur. How did you feel?
The "Trasportaprojekt" is taking me from the design of the bag to its production and marketing. It was not planned but now I find myself to found AtoZED, a "brand" dedicated to design products with an inclusive design. Design that unites. The amount of work around a product before it can be sold or promoted is incredible. Every day I learn something new, I fall and I get up.
"Embrace frustration!" I am a Designer who works to become a creative entrepreneur. I have not had time yet to stop and look at what and how much I have done in the last year. I am so immersed in the project that I do not see where I have arrived yet. And after all, it is not my duty to judge. Personally, I have achieved my goal by completing the bag project. I'm happy and curious to see where AtoZED will bring me in the future.
b
– You just launched your campaign and website, what's next?
The first mini-bag series will be available on the online AtoZED shop from today, February 25, 2019. AtoZED will be present with the transport bag at the following events:
– Fuori Fuorisalone 2019, a look at Design in Ticino. From 30 March to 6 July 2019 at Space 1b, Central Park, Lugano
– Bern Design Festival, creativity, knowledge, experience. From 3-5 May 2019 Bern
c
Alain's Trasporta bag is an interesting product, simple but for everyone. His experiences and studies helped him to widen the spectrum, creating a product useful with a cool aesthetic. The bag is made of high quality and long lasting materials. The fabric is water repellent and teaproof. The 4mm thick leather tray protects the bag bottom and is comfortable when placed on the lap. You can use it as shoulder bag, tote bag, you can attach it behind your wheelchair, or use it as shopping basket.
Visit AtoZED to know more and to buy Trasporta bag!

b
All Rights reserved to Alain Zanchetta
Please seek permission before using