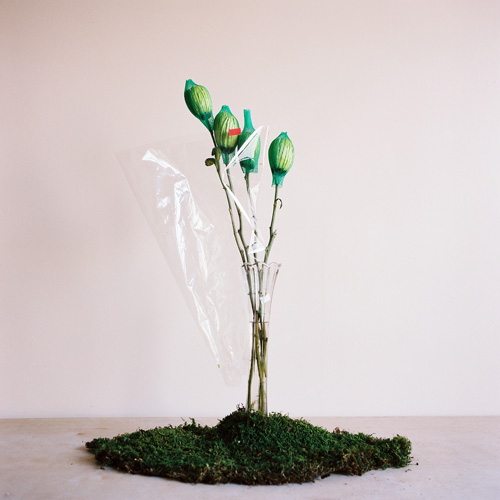 IS IT POSSIBLE TO BE A REVOLUTIONARY AND LIKE FLOWERS?
"Is it possible to be a revolutionary and like flowers"? con questa domanda si presenta Camille Henrot al New Museum di New York proponendo  le sue composizioni floreali-letterarie. Trasformando un'intera (e personale) libreria in composizioni floreali secondo la nota filosofia giapponese degli ikebana, Camille Henrot trova il punto di unione tra la flora e la letteratura: il loro intento di comunicarci qualcosa e la loro capacità di consolarci. Il progetto nasce infatti proprio come un modo per "consolare l'anima": trovare un surrogato a quei libri che l'artista vorrebbe sempre portare con se. Così da trame, citazioni, titoli e personaggi sono nate magnifiche composizioni di fiori, piante, foglie e ramoscelli, il tutto con la precisione giapponese di un giardino zen, in cui anche il vuoto è stato progettato.I nomi dei fiori scelti, i colori, le forme e i tagli, tutto risponde ad altrettante caratteristiche dell'opera letteraria "tradotta". Dai libri ai fiori, lo scopo del progetto è mettere in discussione i nostri pregiudizi su ciò che è offensivo o inoffensivo, tra ciò che appartiene all'arte e all'intelletto e ciò che appartiene al nostro quotidiano.
Per saperne di più ecco il sito dell'artista.
© Camille Henrot