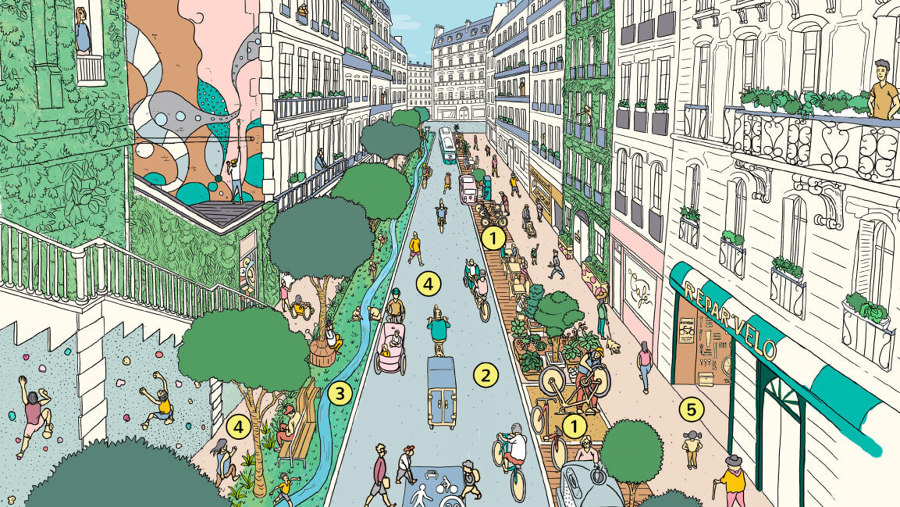 IS THE 15-MINUTES CITY POSSIBLE?
Last year, Milan included references to the 15-minutes city in the public document "Milan 2020 Adaptation Strategy". What are we talking about? This concept aims to guarantee every citizen the ability to reach essential services from his/her home in fifteen minutes, on foot or by bicycle. Anyway, this isn't a brand new idea but has very distant origins. This urban typology was developed by Clarence Perry and emerged in 1923. The "neighborhood units" provided compact residential neighborhoods that, through the combination of services, housing, and public spaces, could give a social and cultural identity on a local scale. The plan failed because there weren't enough funds and a collective vision supported by the federal government.
In 2015, during the COP21 Paris Climate Conference, the C40 Cities Network's mayors met to discuss new alternative ways of sustainable development in line with the objectives of the Paris Agreement. The new urban concept, promoted years ago by the Sorbonne professor Carlos Moreno, has been popularized by Anna Hidalgo (Mayor of Paris) and Ada Colau (Mayor of Barcelona). Contemporary neighborhood units have different declinations, from the city of 15 or 30 minutes, up to the 20-minutes neighborhoods, but the principle is the same as in 1923: to reprogram infrastructures and activities in order to create areas where citizens have the ability to reach all essential services in a few minutes.
c
c
Of all the European cities, Barcelona is the most advanced: started in 2016, the urban redevelopment, which saw the end of the first executive phase in 2019, was shared with inhabitants, traders, and public service managers. The result is two superilles, Sant Antoni and Poble Nou, blocks of 500 × 500 meters in which traffic is excluded and services, pedestrian and public areas upgraded. At the moment, there are some significant data from the analysis of the effects of the intervention, such as a reduction of NO2 (caused by vehicular traffic). In any case, these are central districts, already well supplied with services and connections. The real result of this new urban typology can only be assessed when the interventions in the suburbs begin, for any city, from Barcelona to Milan.
However, to guarantee all essential services 15 minutes from your home, it's not only necessary to rethink the urban fabric but, above all, the economic one. If many of us are forced to spend a couple of hours on public transport or in our vehicle every day, it's because is necessary. To have a real 15-minute city, we need to rethink the economy of the city itself: workplace, education but also the real estate system. Domestic isolation has made us understand how important is the economy of proximity: those who live in a more central area already have everything they need within a few kilometers, but those who are in a peripheral and residential neighborhood need to move further. In this case, the real estate offer is fundamental: the difference n the market value of the properties between central and suburban districts creates an economic gap in the neighborhoods themselves and therefore a different lifestyle. The city of 15-minutes imposes an urban development that has the well-being of all citizens as its ultimate goal: cities must be inclusive, that is, to guarantee everyone (from children to the elderly) the necessary services, in an equal and non-discriminatory way.
To conclude, is the 15-minutes city possible? Yes, but it will take a lot of effort from everyone. Each neighborhood should have services such as schools, offices, businesses, bars, restaurants, hospitals, municipal offices, green areas, fountains, cycle paths, and pedestrian areas. We must therefore question the division between city-countryside, center-periphery, and thus also our dependence on vehicles. Everyone should be allowed to have an education and a job within 15/20 minutes from home: hybrid solutions would be needed here, even smart working can play a fundamental role. So even digitalization, to provide everyone with fast and stable connections to work, study and access online services for citizens. We need flexible and multifunctional spaces that can satisfy different needs without the need to construct new buildings.
Of course, also we as citizens have a fundamental role in this transition. We need a paradigm shift: we often say that "time is money" and then we live in cities that force us to use vehicles and public transport to get around, we spend an average of 8 hours away from home and on the weekend we run away in search of relaxation and nature. It's time to redefine our well-being, re-evaluate the idea of time, work, and lifestyle we have. This is the only way to contribute to the creation of more sustainable cities.
c