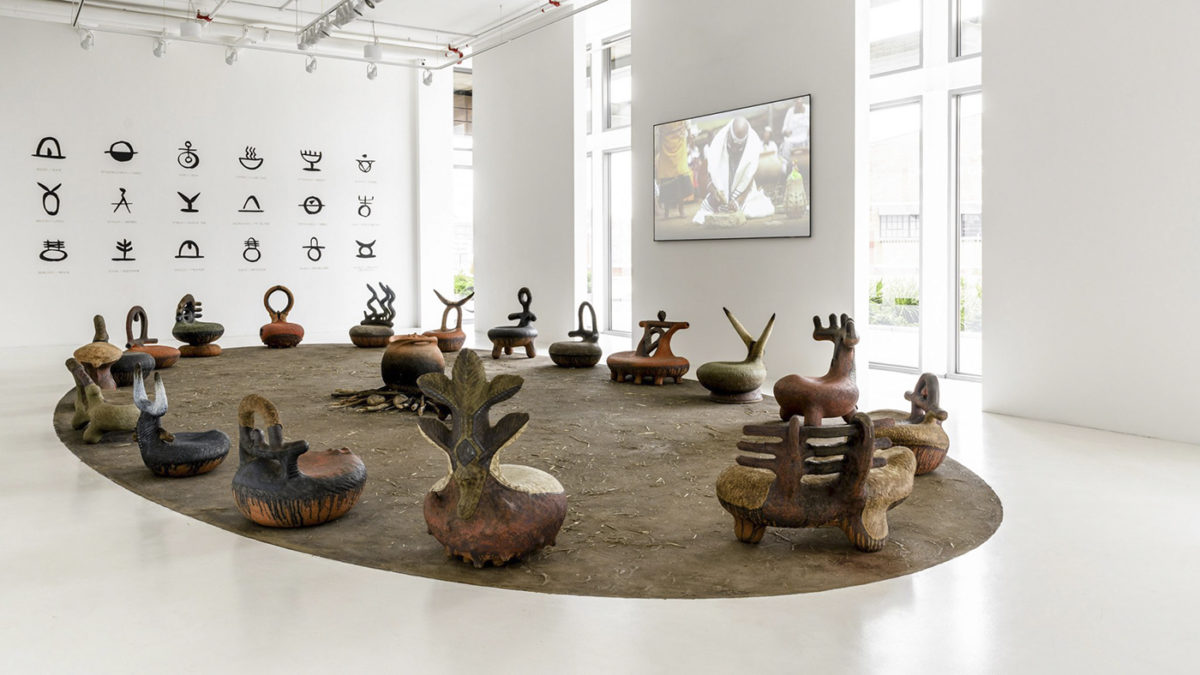 ITHONGO SEATING COLLECTION, Andile Dyalvane
Dyalvane was born in 1978 in Ngobozana, a small village in South Africa. His work with clay or "umhlaba" (mother earth) reinforces an innate human bond with the soil, a connection that Dyalvane discovered while learning to farm as a child. In 1999 he received a National Degree in Art and Design from Sivuyile Technical College and in 2003 a National Degree in Ceramic Design from Nelson Mandela Metropolitan University. After graduation, Dyalvane founded Imiso Ceramics in 2006, a company that produces decorative ceramic objects. One of the artist's latest projects is the sculptural iThongo seating collection, crafted from hand-coiled clay and inspired by the Xhosa language.
The ceramic collection consists of 18 stools and chairs with each piece representing one of over 200 symbols that Dyalvane has created. Each symbol stands for an important word in the language spoken by the Xhosa people in South Africa's Eastern Cape, where the artist was born. The name of the collection means ancestral dreamscape, and the chairs symbolise words including entshonalanga (sunset), igubu (drum), umalusi (herdsman) and izilo (totem animals).
c
c
As Dyalvane explains in an interview, his works speak of transitional periods throughout his growth, both literal and spiritual. His projects acknowledge and celebrate his ancestral lineage, heritage, and community that raised him. In this project, even the symbols themselves were communicated to him a few years back as messages from his ancestors through the ancestral dreamtime landscape which they call iThongo.
The ceramic collection evokes traditional seats that were designed to sit close to the earth, which was revered as a portal for ancestral communion. The products have generous, rounded bases and decorative backrests that can measure almost a meter in height. These feature sinuous, undulating shapes, as well as the faces of animals, horns, and geometric backrests. The shapes are a nod to enclosures for livestock and traditional buildings forms, as well as circular geometry, which plays a role in Xhosa spiritual practices. As well as being sculpted into chairs, the symbols themselves are also carved into the seats, creating decorative reliefs and patterns.
The iThongo collection was first shown at Ngobozana, to his family and the extended community before traveling on to the gallery. As in other works, Dyalvane's aim is to help the community remember their traditions and spiritual bonds, in order to stay balanced and connected. iThongo was on show at the Southern Guild until 25 February 2021 and will be at Friedman Benda, New York, from 29 April – 22 May 2021.
Photography is by Adriaan Louw for Southern Guild.
C
via dezeen