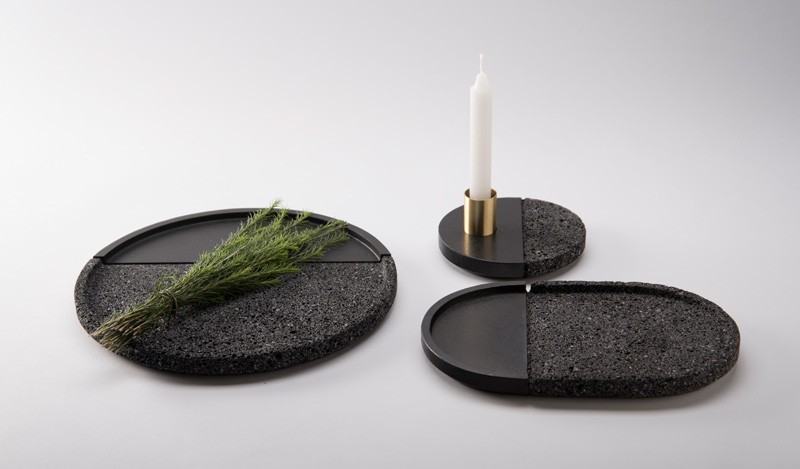 Questa serie di piatti in pietra vulanica e ottone è stata progettata da PECA, studio di Guadalajara, Mexico, ed il design curato da Caterina Moretti e Ana Saldaña:
"Carved in volcanic stone, illuminated by a brass accent, this set of plates reenacts our roots in a contemporary proposal. In the hands of the craftsman who caresses and polishes it the wild stone texture becomes a sensible and humane object. A sculptural display that supports a living light throbbing in the shades."
Scolpito nella pietra vulanica, illuminato da un accento di ottone, questo set di piatti ricostruisce il nostro percorso verso una proposta contemporanea. Nelle mani di artigiani, della loro cura e dedizione, la ruvida texture della pietra diventa un oggetto sensibile e umano. Un aspetto scultoreo che diventa una luce animata che palpita nell'ombra.
Una serie di piatti dal diametro di 30 e 14 cm il più grande ed il più piccolo, a base circolare, l'altro di 27×17 cm, impilabili tra loro. Degli oggetti che sembrano delle vere e proprie opere d'arte. Se siete interessati ad altri lavori visitate il sito dello studio!
All Rights Reserved to PECA