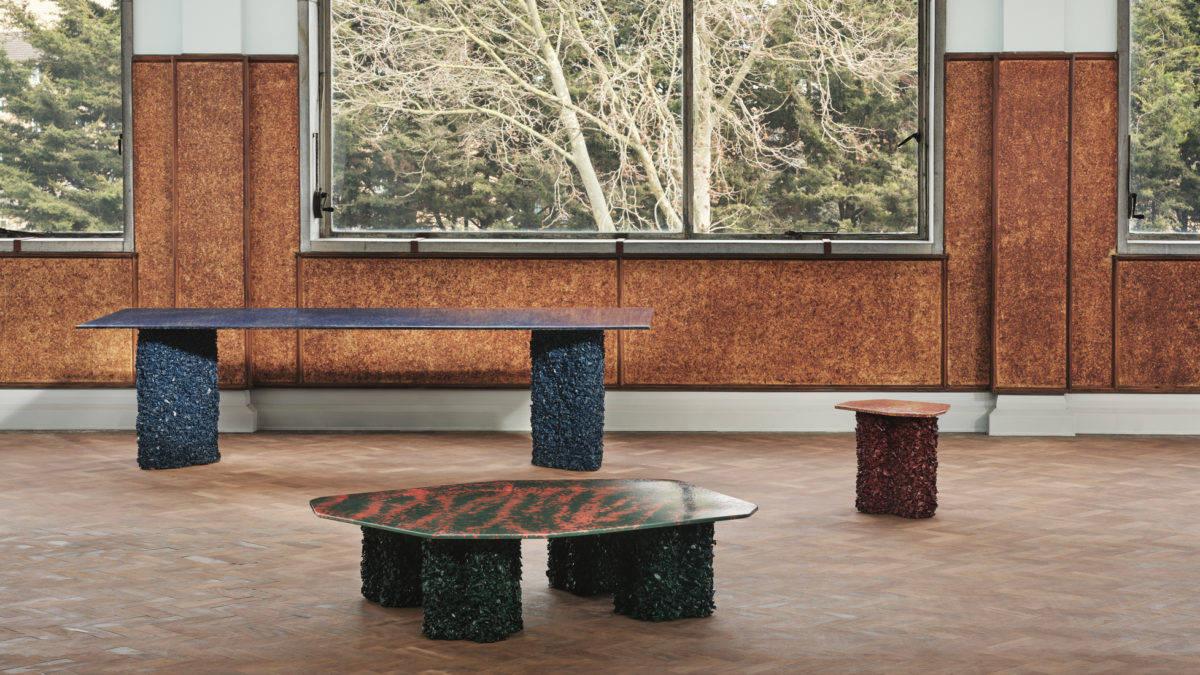 LIQUID GEOLOGY, experiment with contrasts
Liquid Geology is a collection of tables designed by the London-based architecture studio CAN. The series features a dining, coffee and side table and continues CAN's experimental research into innovative material use in unexpected contexts.
The products are characterized by chunky rubber coated bases and slimline, steel enamel tops. The steel is hand cut and lightly bent to form a soft lip around the edge. The table tops are coated with rich blue, green or orange enamel and fired in a kiln at 820 degrees celsius, before being hand splattered in a contrasting tone and re-fired.
c
c
The rough, craggy bases are coated in 'rubber rock', a unique material composition of recycled rubber chips and resin developed by CAN whilst researching alternative material uses in furniture production. Each base, which varies in size and form, is hand cast and coated in deep gloss paint to enhance the texture.
CAN's Liquid Geology explores the idea of contrast through scale, texture and materiality. The collection was inspired by rugged coastal scenery, underwater deep sea landscapes and Claude Monet's 1880's paintings of sunrise and sunset on the River Thames. CAN drew on the rich detailing and colouring of the impressionists' work alongside the practices' own ongoing research into geographic contexts to arrive at furniture with an otherworldly feel. The table tops offer a reflective, lightly undulating surface like that of a lake which appears to float on rocky underwater outcrops, resulting in a collection of sculpture-like furniture designed to intrigue.
CAN founder and Director Mat Barnes says: "Liquid Geology is the culmination of our research into underutilised materials to create hyperreal spaces and products. The distorted scale of the super thin steel on chunky bases hints at looking through the tables through a watery lens, or a cross-section of a mountainous lake."
Liquid Geology embodies CAN's unique studio personality, unencumbered by style and influenced by kaleidoscopic colours, classical art, geography and pop culture. If you want to know more, visit CAN's website and follow them on Instagram!
Photography © Felix Speller
c
c
Do you want to see your project featured on WeVux? Feel free to send us an email at [email protected] to know more, or visit our About page