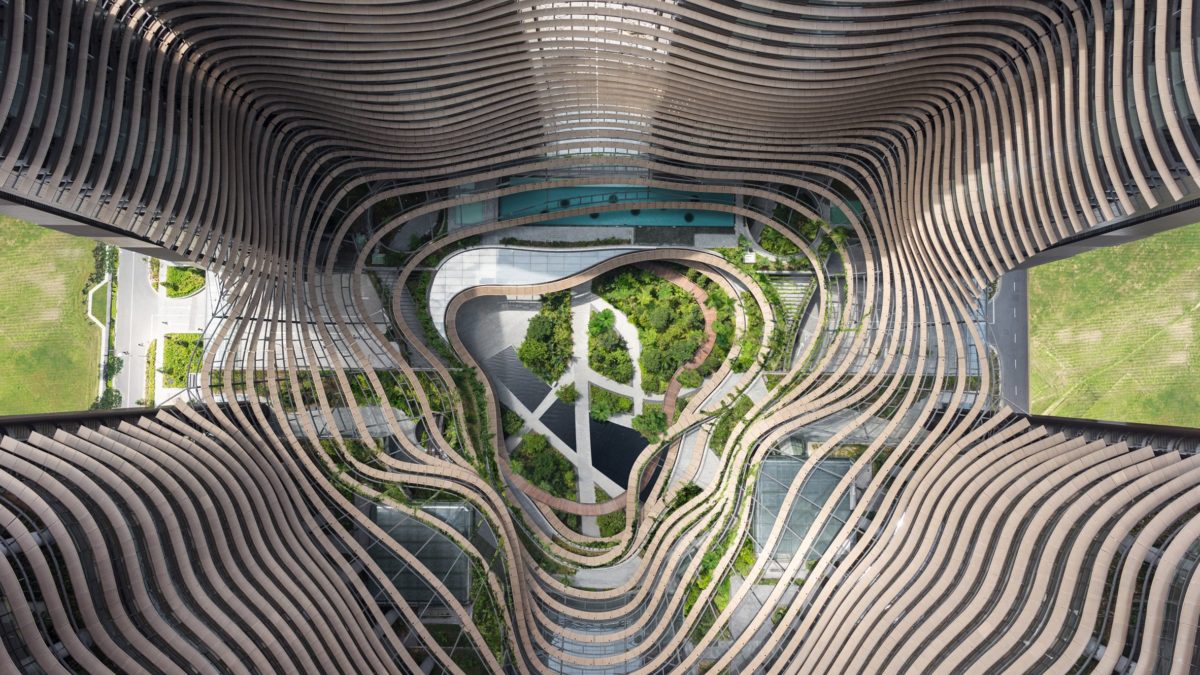 Marina One was designed by German studio Ingenhoven Architects and local firm A61 as a plant-covered "mountain" with four high-rise blocks arranged around a central garden created by London-based studio Gustafson Porter + Bowman. The complex, which is set to open at the end of 2017, is located within Singapore's Marina Bay financial district. The towers accommodate offices, residential and retail functions, and terraces that accommodate over 350 types of trees and plants spread over a total area of 37,00 square meters.
The buildings are arranged around an outdoor space called the "Green Heart", described by the architects as "the largest public landscaped area in the Marina Bay Central Business District… Inspired by Asian paddy field terraces, the green centre formed by the four towers – with its multi-storey three-dimensional gardens – reflects the diversity of tropical flora and creates a new habitat" said the architects. The green space contributes to an improvement in the microclimate at the heart of the complex, while the organic shape of the surrounding walls enhances natural ventilation. The lowest level of the garden features pathways connecting the various towers.
Residents, office workers and visitors have access to restaurants, cafes, retail areas, a fitness club, pool, supermarket, and food court located on the open terraces around the perimeter of the garden. Wooden walkways, stone paving and bronze tones used for the facade louvres and interior spaces complement the garden's natural aesthetic. An exhibition telling the story of the building's design and construction through a documentary film, interviews and diagrams is on show at Aedes Architecture Forum in Berlin until 30 November 2017.
All Rights Reserved to Ingenhoven Architects, A61, Gustafson Porter + Bowman
Photography is by H G Esch
(via dezeen)