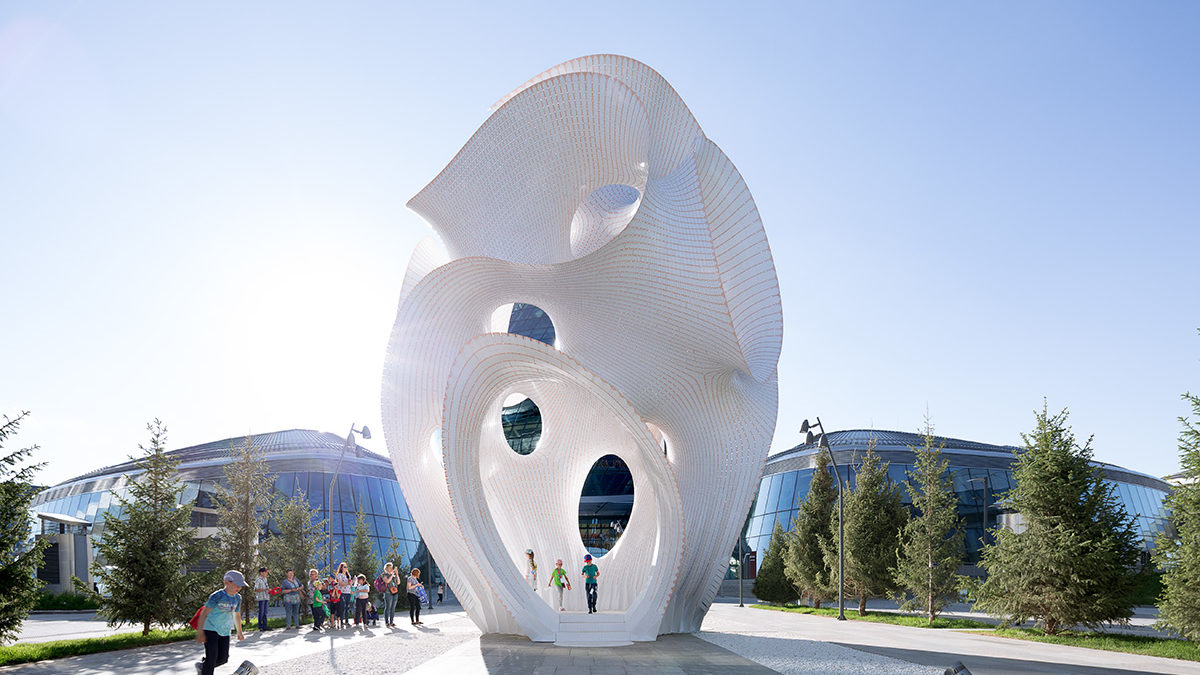 Minima | Maxima is a pavillion present at the World Expo 2017 in Astana, Kazakhstan, created by Marc Fornes / THEVERYMANY, known for their innovative fusion of computational design and architecture to build organic self-supporting structures. This piece was commissioned by World Expo 2017 and now stands as a permanent structure in Astana, Kazakhstan. With an impressive height of 13meters, the core material used to build Minima | Maxima are 2mm strips of aluminum.
"Minima | Maxima evolves the studio's invention of 'Structural Stripes' — a signature material system for building self-supporting curvilinear structures — with a step in a direction that offers even more structural potential: multiply composite. Three layers of flat stripes — white and white sandwiching pink — are constructed in tandem, supporting one another as they assume curvature and gain height. One layer never exists independently, but contributes to and benefits from the unified whole as it is built.
The system warrants comparison to fiber technology — such as carbon or glass fiber — yet is unique in that unlike fibers, each individual component does not need to be in tension (a straight line), and/or their processing does not require any mold or temporary scaffolding. Also such a composite system is mechanically bonded, allowing for recomposition and corrections during construction."
Visit THEVERYMANY's website and follow them on Instagram!
All Rights Reserved to THEVERYMANY